Update No. 11 - March 3, 2023
Tēnā koutou katoa
Greetings! I'm at the end of my first week back after a lovely warm and mostly sunny three week break in the lower South Island. Te Wai Pounamu is certainly the place to be. I'm sure you share my concern at the devastating flooding and impact on people's lives in the North over the last few weeks. For those of you who have whānau and friends affected, we are thinking of you.
Key points today:
The Health Reforms Corner !NEW!

Measles

Temporary uplift in Immunisation administration fees

Primary Care Feedback on for surgical department

South Island Regional Eating Disorder Service Workshop

Partners in Primary and Community Pānui

Te Whatu Ora Care in the Community Update

MPox Vaccination Records

Covax Update

Comirnaty vaccine changes webinar recording

Infant 6 months – 4 years Covid Vaccination

Tamariki Vaccine Information

Vaccine Wastage

Podcast of the week !NEW!
What's new

The Health Reforms corner
I'm keen to start including information and updates on the progress of the health reforms agenda, as we move towards achieving Pae Ora.


So for today, the new Public Health Communication Centre published a report this week 'Breaking the inequity loop', as part of the centre's launch. It is written by Assoc Prof Jason Gurney, Māori epidemiologist, and Professor Jonathan Koea, Māori surgeon, and really worth a read. It is available at https://www.phcc.org.nz/briefing/breaking-inequity-loop
Thinking about measles
The recent imported case of measles up north has been a real wake up call for us all about the possibility of another measles outbreak in the country, with vaccination levels having fallen across the board in the last couple of years. Thankfully, so far, further cases haven't been notified. It is a good time to focus on measles immunisations.
Across Otago/Southland, there are over 18,000 people aged up to 29 enrolled in general practice that records indicate are not fully immunised. This includes 2500 Māori, 900 Pacific, 2300 Asian and 12000 European and 600 tamariki and rangatahi of other ethnicities. Most of these are aged 15-29 (17,200) and 24% of all 15 to 29 year olds enrolled do not show as being fully immunised.
So now is a great time to work with your families and young people who are not fully immunised for measles and lets try and improve our rates across the region.
Temporary uplift in Immunisation administration fees
The National Public Health Service acknowledges and appreciates the great efforts from your teams to protect people in Aotearoa against vaccine preventable diseases and reduce the potential burden of disease on the health system.
In order to support your continued efforts, an uplift to the Immunisation Administration Fee will be applied between 20 February 2023 and 30 June 2023 inclusive for the delivery of childhood and MMR immunisations. This is a temporary uplift on the variation to the PHOSA applied September 2022.
Please refer to the attached letter proving a temporary increase to the immunisation fees until
30 June 2023. This also includes an after hours rate to align with the Covid-19 vaccinations.
Opportunities to be involved
Primary Care Feedback on for surgical department
The digital team and surgical department have asked for primary care feedback on whether you would like to receive their operation notes in addition to discharge summaries.
They have moved to a new electronic system which can easily send their op notes via EDI, but they are conscious of sending too much info and whether this is useful/necessary at your end.
Discharge summaries should always include any pertinent information related to the procedure and if there is something particularly complex or unexpected that could have a bearing on future care, they will dictate an additional specific letter regarding this or make it clear in the summary. The operation notes will be routinely loaded onto Health Connect South regardless, so they are accessible if needed (though at present, this won't follow the patient if they move out of the HCS region).
Please complete the survey here, it is only one question with space for comments.
The survey will be open for two weeks, closing at 5pm Friday 17 March.
Thank you for taking the time to provide this feedback.
Upcoming training and webinars
Otago CME Conference - Save the Date!
The Otago RNZCGP Faculty are planning an education weekend in Naseby on the 12th – 14th of May. More details to come and spaces will be restricted to meet venue requirements but please make sure to hold that date for the event and keep an eye out for further communications from the Otago Faculty on how to register.


South Island Regional Eating Disorder Service Workshop
Date and Time: 12.30 – 2.30pm, 7 March 2023
Location: Matai Room, Invercargill. Online via Zoom, link below.
The South Island Regional Eating Disorder Service Workshop is a great opportunity for GPs and other allied health professionals to query the health pathways or any other questions regarding patients presenting with symptoms of an eating disorder.
If you wish to attend the workshop please book on employee connect or contact Cath.Allwood@southerndhb.govt.nz
Zoom link:
Join Zoom Meeting
Meeting ID: 964 5881 8199
Passcode: 013207
Other general information
Partners in Primary and Community Pānui: 24 February 2023
Update from Te Whatu Ora National Commissioner, Abbe Anderson:
In this edition:
Invitation to meet our Regional Wayfinders
Mental Health and Addiction: Psychosocial response to Cyclone Gabrielle
Te Pae Tata: New co-directors for the Primary, Community and Rural Early Actions Programme
Workforce: Engagement expands to other community sectors about reducing pay gaps for nurses and kaiāwhina
Heads-up: Primary Care funding for Hawke's Bay and Tairawhiti residents
Missed it? Te Whatu Ora funding primary healthcare delivery in affected regions; Measles resources
Read these stories in the full update here.
Covid-19 and mpox (Monkeypox) updates
Southern Numbers
Yep, Covid is still here. Probably O week at Otago University may have something to do with it, but our numbers have bumped up a bit, with the main increase being in the 10-20 year old age group. Covid is obviously no respecter of togas.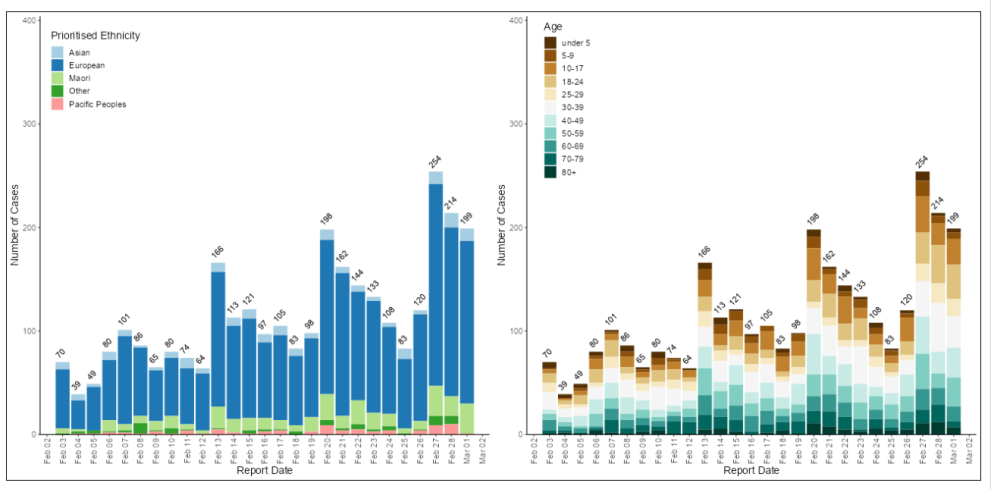 Bedding in the new Covid funding – clarifying definitions of priority populations
This has all bedded in while I've been away, but if you didn't catch it, the definition of 'rural and remote people' is people living in R2 and R3 of the Geographical Classification of Health (thanks to Garry Nixon and colleagues for working to design this new tool over recent years). So it's the mid and dark green areas on the map attached, viewable in more detail at https://storymaps.arcgis.com/stories/da035e374dbb4ea0ae3b31b6777924ad . I accessed this through the HealthPathways page on funding under initial assessment for Covid case management in HealthPathways https://southern.communityhealthpathways.org/728651.htm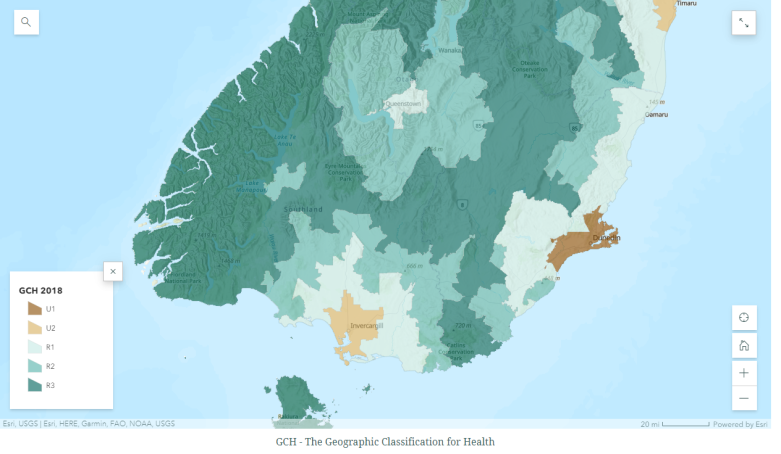 The definition of 'migrant ethnic community' relates to people who are refugees and asylum seekers.
You may well have your heads around the new Covid claiming form, but I've attached a summary of the new form FYI.
Covax Update
With the recent and upcoming changes around the Covid Vaccination programme we want to provide a reminder about when these changes come into effect.
From March 1 the Comirnaty purple top vaccine has been replaced with two Comirnaty grey top vaccines – a primary dose and a booster dose. Providers must dispose of the old purple top vaccine accordingly.
From April 1, an additional booster (3rd booster) will be made available to:
anyone aged 30 and over who has completed a primary course, as long as it's been at least 6 months since their last COVID-19 booster or positive COVID-19 test.

people at increased risk of severe illness from COVID-19 who have completed a primary course, as long as it's been at least 6 months since their last COVID-19 booster or positive COVID-19 test.
Please note the schedule for the additional booster above does not commence until April 1, further information will be provided regarding these changes before they take effect.
Read the Immunisation Update and Southern Vaccine Hub update from Te Whatu Ora for further information on these changes.
Comirnaty vaccine changes webinar recording
IMAC held a webinar on Monday 27 February, around the Comirnaty vaccine changes, the recording of the webinar is linked below. We would recommend watching the webinar recording to develop a better understanding of the vaccine changes.
This webinar covered:
differences between the vaccines

vaccine safety and effectiveness data

practical issues

resources
Speakers:
Jane Morphet

Joan Ingram.
The recording of the webinar is now available to view online here.
Infant 6 months – 4 years Covid Vaccination
Contact Guardians of eligible patients
The programme is currently working to obtain data that will assist you to recognize those infants (6m-4yrs) that are eligible for a Covid vaccination.
This information has been challenging to obtain and is not totally conclusive, other patients may qualify and it is worth reviewing your enrolment to ensure no one is overlooked. Based on the current information we expect the number of eligible patients to be low.
We are asking practices to contact the guardians of eligible infants (6months – 4years) directly to discuss the individual's circumstances and the benefits of getting their children vaccinated.
WellSouth is completing a data enquiry to obtain a list of eligible patients to share with each practice. We will be in touch when this data is available.
If your practice does not have the resources to do this work, please contact your Practice Relationship Manager to discuss how we might be able to assist.
Through Book My Vaccine parents can book online, find the nearest provider, and anyone can complete a referral request online if access to a clinic is challenging.


Tamariki Vaccine Information
Below are resources with information on the Covid-19 vaccination for children.
There is currently limited information for the under 5's group, more collateral/information has been requested and this is being investigated.
Vaccination for children aged 5 to 11 | Unite against COVID-19 (covid19.govt.nz) – The Unite Against COVID-19 website is a useful resources with information, videos and links relating to the under 12 age group.
NIP resources dropbox – There are currently no printable resources specific to this age group in the NIP resources dropbox, however the new information (Under 5s) will be added to the dropbox when completed, this is expected to be completed within a week.
Vaccine Wastage
We want to remind providers there is NO pressure from the Ministry with concerns about vaccine wastage, if there is an opportunity to vaccinate just one person, do not turn that patient away because you have concerns about wastage.
A two and five vial packet will be available mid-March for Paediatric (5-11yrs) and Infant 6m-4yrs, which will give more flexibility to providers with less concern about wastage.
Te Whatu Ora Care in the Community Update
MPox
"Te Whatu Ora recognises and values the critical role that general practice, Hauora providers and urgent care partners have provided in the current MPox response. We are pleased to advise that the attached funding framework (currently in place) will continue until 30 June 2023, with a review in April 2023. There are no changes to the framework from the previous release on 7 November 2022.
Should the funding end prior to 30 June, a 30-day written notice will be sent notifying of the cancellation of the contract. Funding claims continue to be through the existing invoicing system.
The last case of MPox in Aotearoa, as of 27 February 2023, was reported on 2 February 2023.
It is expected there will be occasional sporadic cases over the coming months.
Guidance for testing and treatment can be found on Health Pathways. We will be moving from a health-system response to managing isolated cases and incursions.
CCCM program
The Care in the Community team would like to confirm the ongoing utilisation of the CCCM programme. Whilst the use of CCCM is not compulsory, we highly recommend the utilisation of CCCM as a clinical shared care record for COVID-19 patients. This programme has become integral for the Pharmacy Sector around therapeutics supply and enables the Care in the Community Hubs to support as required. We continue to recommend its utilisation.
If you have any further questions or feedback, please email us at Covidcareinthecommunity@health.govt.nz
MPox Vaccination Records
Please be aware that your practice will not be notified if a patient receives an MPox vaccination at one of the sexual health or other Te Whatu Ora clinics. It is up to the patient to choose if they want to share this information with their general practice.
The record of the vaccination will be held in the Aotearoa Immunisation Register (AIR), which currently has no capacity to share information, this information may be shared in the future.
Podcast of the Week
As a new section, I am introducing a 'podcast of the week' section. Prompted by discussions at my peer group this week, I listened to a Goodfellow podcast while picking the wild blackberries on our property in the setting sun last night. I'm sure we all trying to squeeze our ongoing education into little pockets of our life. So if you have heard a good podcast about a clinical topic – good because it hit the mark, or was on something unusual but worth knowing, please email me and we will include it here.
So this week's podcast recommendation is not the one I initially listened to, but one that coincidentally wins Podcast title of the week too – Vegan babies. It was really informative and well done about an area I knew very little. So here's the link if you are interested: https://www.goodfellowunit.org/podcast/vegan-babies
Happy listening, enjoy the autumn as it sneaks up on us, and send through those podcast recommendations!
Ngā mihi nui
Carol