Update No. 12 - March 17, 2023
Tēnā koutou katoa


Welcome to the end of another week, where the infectious disease of the week is Syphilis, but Pertussis is not to be outdone. Evulsheld and Molnupiravir are out, Paxlovid is still in. Cilazapril is just about out and we have a Thalamus tool to help you identify who may still need to be switched. And in an exciting announcement, we at WellSouth are hosting a primary care leadership programme and we would love you to put forward an application to be involved.
Key points today:
Cilazapril to be discontinued
Syphilis in Southern Update
Pertussis reminder
Extension to funded consultations for those displaced by Cyclone Gabrielle
Changes to Serious Illness Conversation Guide (SICG) on Health Connect South
Pae Ora Health Futures: Primary Care Leadership Course
Te Whatu Ora Southern webinar on grey cap Pfizer formulations and eligibility
Paediatric Neurology – Seizures in children webinar
Time for Change – Te Hurihanga Programme Hui
Shared Goals of Care webinar – HSQC
Change in recommendations for the treatment options of COVID-19 infection
Decision Tree for primary care to assess Covid-19 testing funding eligibility
COVID-19 Recognition Award Applications Extended
What's new

Cilazapril to be discontinued
Cilazapril is set to be discontinued in mid-2023, three to four months from now.
In the Southern region over 9000 patients have received a prescription for Cilazapril since 1 August 2022, and many of these patients may only receive one more Cilazapril prescription before it becomes unavailable. As such, it is essential that we proactively switch these patients to an alternative ACE or ARB in the coming months.
The Thalamus report identifies patients who have been prescribed Cilazapril since last August, and whether or not they have received a subsequent prescription of an alternative ACE or ARB.
It is worth noting that this report will not show Cilazapril patients who have switched to an alternative antihypertensive that is not an ACE/ARB or ceased taking Cilazapril altogether.
Additionally, the report will also include the patient's most recent blood pressure results, if that result was recorded within the past three months, and if that result is at or above an appropriate target level based on HealthPathways guidance.
For more information and clinical guidance on this transition, please visit:
https://pharmac.govt.nz/medicine-funding-and-supply/medicine-notices/cilazapril/
https://www.akohiringa.co.nz/education/changing-aces-the-new-line-up
Syphilis in Southern Update – be on the lookout
There has been a recent case of infectious syphilis in a heterosexual male in Central Otago who has reported multiple partners and no condoms, and is unable/unwilling to provide contact details for most of his partners.
The incidence of syphilis in men who have sex with women is increasing. Syphilis is not confined to MSM groups and we need to be alert for suspicious symptoms in people of any age and sexual orientation. Early or infectious syphilis can have variable manifestations, and can be asymptomatic. Have a low threshold for screening, testing, and seeking advice and/or referring suspected cases:
Specifically ask about the presence of painless lesions anywhere, any rash, malaise, or lymphadenopathy.

Consider and test for syphilis at the initial presentation for:
anyone attending a Sexual Health check

anyone at increased risk of an STI or presenting with suspicious symptoms.
See HealthPathways for further information regarding assessment, management, and notification.
Remember the window period for positive syphilis serology is 3 months and serology may not be positive when an initial lesion is present. If clinical suspicion of syphilis, always seek sexual health advice or clinical microbiology advice
Pertussis reminder
Te Whatu Ora is encouraging healthcare providers and professionals to be alert to the symptoms of whooping cough and to encourage immunisation due to concerns about potential underlying community spread.
People are being reminded to make sure tamariki, their caregivers and pregnant people are immunised against the illness. 
This comes following the recent tragic deaths of two people from whooping cough. 
In New Zealand the first infant vaccination opportunity is the six-weeks immunisation event. This means un-immunised infants and those under six weeks old are most vulnerable to pertussis. Increasing antenatal pertussis vaccination provides protection for newborns too young to be immunised.
Free antenatal pertussis vaccination, with Boostrix, is available from general practice and also through many pharmacies across New Zealand. It can be given from the second trimester of every pregnancy and is recommended to have from 16 weeks, but at least 2 weeks before birth.
Pertussis is serious in very young children – during the last outbreak from October 2017 to May 2019, 50% of children with pertussis, who were aged under 1 year old, required hospitalisation.
Healthcare providers should consider pertussis as a possible alternative diagnosis, particularly in babies under 3 months with respiratory illness who may not present with the characteristic whoop. Please see the attached clinical advice for more details on diagnosis.
For patient information or a provider poster click here to visit the Dropbox where these resources are available for free.
Key messages for public
It is important to protect those who are most vulnerable - this is babies from 6 weeks old.

The whooping cough vaccination is free for people who are eligible from GPs and some pharmacies:

All children and young people aged under 18 years
Pregnant people

All adults at 45 and 65 years of age as immunity reduces (same vaccine as the tetanus booster)

Some groups at higher risk of becoming very unwell if they catch whooping cough (e.g. chronic respiratory conditions, congenital heart disease or immunocompromised).

Babies and young children should get their vaccine doses on-time at six weeks, three months and five months. Booster doses are then available at four and 11 years old.

Immunising people who are pregnant protects babies in their first 6 weeks of life until they can receive their own immunisation.
Extension to Funded Consultations for those Displaced by Cyclone Gabrielle
In February, Te Whatu Ora advised of funded consultations for people displaced by Cyclone Gabrielle set to end on 19 March 2023.
After connecting with local teams and reviewing the requirements for post 19 March 2023, they have decided to continue to fund the cost of casual consultations for people who are displaced within and from Northland, Hawkes Bay, Tairawhiti, as well as Tararua and Coromandel until midnight 10 April 2023.
Read the full notice from Te Whatu Ora here.
Changes to Serious Illness Conversation Guide (SICG) on Health Connect South
Te Whatu Ora have provided the attached flyer advising of recent changes to the Serious Illness Conversation Guide on Health Connect South. It is part of the suite of Shared Care Plans on HealthOne /HCS that include the Acute Care Plan, Personalise Care Plan, Advance Care Plan and Shared Goals of Care Plan as well. These are excellent ways of communicating intentions for patient care with our hospital and other community colleagues.
The flyer summarises the changes on the platform and will only take a few minutes to read.
Please share this document in your practice to ensure all staff are informed. And if you find out what a Shared Care Plan Widowlet is, please tell me.
Opportunities to be involved
Pae Ora Healthy Futures: Primary Care Leadership Course
WellSouth is pleased to offer an opportunity for emerging leaders to participate in the inaugural 'Pae Ora Healthy Futures - Primary Care Leadership Course' for 2023. We are encouraging expressions of interest from Māori and Pacific providers, General Practice team members, Community Pharmacists and other community health providers.
The course will be run over the year with two workshops in Dunedin on the 16th - 18th May and
8th - 10th November, and online monthly peer sessions in between.
The course is offered free of charge, with travel and accommodation expenses covered.
Applications close 9am Monday 3 April 2023.
Register your interest online here.
For more information see the poster here.
Upcoming training and webinars

Te Whatu Ora Southern webinar on grey cap Pfizer formulations and eligibility
Date and Time: 12.30pm – 1pm, Friday 17 March
Online via Teams: Click here to join the meeting
Meeting ID: 428 268 532 448
Passcode: SVfUvP
Join the Te Whatu Ora - Southern COVID-19 vaccination programme and Medical Officer of Health for Southland and Otago, Susan Jack, for a webinar on the recent transition to the two grey cap Pfizer formulations and upcoming booster eligibility changes.
There will also be a representative from IMAC at the webinar who will be able to answer any questions you have.
The webinar will include the opportunity for questions and will be recorded for those unable to attend.
Paediatric Neurology – Seizures in children webinar
The Canterbury Initiative are holding a GP Education Webinar to discuss seizures in children and young people.
Date and Time: 7pm – 8pm, Tuesday 28 March
Online via Zoom, register here.
Presented by Paul Shillito, Paediatric Neurologist, Department of Paediatric Services, Te Whatu Ora, Canterbury.
Topics include:
What epilepsy looks like in the three age ranges of pre-schoolers, primary school aged children and adolescents

Assessing a child who is having or recently had a seizure and determine type of seizure

General practice management for seizures and epilepsy and knowing when to refer for paediatric assessment

Understand the implications of sudden unexpected death in epilepsy.
Full details are available here.
Time for Change – Te Hurihanga Programme Hui
Join the Time for Change – Te Hurihanga programme hui for an update for stakeholders about the programme and what's next.
Date and Time: 11.30am – 12.30pm, Thursday 30 March
Online via Zoom, click the link below to join the webinar:
https://zoom.us/j/91617996218?pwd=VEdFaHM4bW9hWS9BWE9yMlJ4Z3lPUT09
Passcode: 577806
About this hui:
The first 20-30 minutes will be an update by Toni Gutschlag

The rest of the time will be allocated to answer questions where members of the project team will be available.

The hui will be recorded for those unable to attend.
Shared Goals of Care webinar – HSQC
The Health Quality & Safety Commission are hosting a webinar to help clinicians feel more confident talking about CPR with patients.
Date and Time: 6.00pm – 7.30pm, Wednesday 5 April
Register: The webinar will be held online via Zoom, register here
The webinar will explore:
Clinicians' understanding of CPR and resuscitation

How to determine whether CPR will benefit your patient in hospital

Support with shared goals of care conversations

The legal framework underpinning the shared goals of care and advance care planning mahi.
See the poster with full details here.
Covid-19 updates
Southern Numbers
The ongoing Covid cases persist, as shown in the below graphs of cases in Otago and Southland the last month: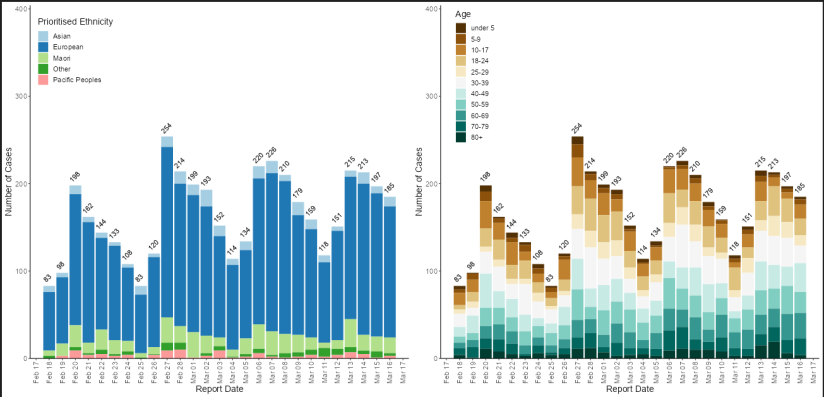 Change in recommendations for the treatment options of COVID-19 infection
The Manatū Hauora - Ministry of Health COVID-19 Therapeutics Technical Advisory Group have recently issued some revised recommendations for the treatment of COVID-19.
These recommendations are summarised as follows:
Tixagevimab-cilgavimab (Evusheld®) is no longer recommended for either pre-exposure prophylaxis or treatment of COVID-19. Evusheld® is predicted to have neutralising activity against less than 10% of circulating SARS-CoV-2 variants in New Zealand.

Molnupiravir (Lageviro®) is no longer recommended due to lack of demonstrable clinical benefit. The original trial demonstrating a modest benefit was during the delta period in an unvaccinated population. However, a more recent trial (PANORAMIC) was unable to demonstrate benefit in a highly vaccinated population and against the less severe omicron variant.

Molnupiravir should only be used if recommended by an infectious disease physician or clinical microbiologist.

Budesonide (Pulmicort®) inhaler is also no longer recommended for mild COVID-19 illness due to negligible absolute risk reduction for contemporary COVID-19 illness.

Nirmatrelvir-ritonavir (Paxlovid®) remains the first line oral therapy for COVID-19 in patients who meet the treatment criteria, with intravenous remdesivir a second-line option.
Te Whatu Ora Southern have provided the attached document summarising the changes.
Decision Tree for Primary Care to assess COVID-19 Testing funding eligibility
Te Whatu Ora have provided the attached decision tree chart intended as a quick reference guide for testing funding eligibility, it should be read in conjunction with the Guidance for Primary Care Model for Care for Covid-19.
If you have any questions or wish to provide feedback on the document, please contact:
COVID-19testing@health.govt.nz.
Tourists requesting PCR tests for insurance purposes
We have had requests from tourists needing PCR's for their insurance, where they have tested positive on a RAT but this is not acceptable proof for their insurance company in their home country. The question is whether this should be free or the tourist should pay.
I have sought advice from Te Whatu Ora national office about this. They have confirmed that if the patient requests a PCR for insurance purposes after their first initial 7 days in NZ, then they would have to pay for the PCR test. If it's within 7 days of arriving in NZ then it would be funded (we want the PCR for genomic testing).
COVID-19 Recognition Award Applications Extended
The registration portal for the COVID-19 Recognition Awards has been extended and will now close on 31 March 2023.
We would like to take this time to remind people to please check the eligibility criteria and register if you think you are eligible.
Potential award recipients need to register via the Te Whatu Ora form with their details to receive their award.
If you require any further information or assistance please contact the project team at
covid-19recognitionawards@health.govt.nz.
NB: I have asked the Covid 19 recognition team if people can nominate other people, but yet to hear back.
Podcast of the Week
This week's podcast is a really useful overview of how to approach rare diseases in general practice settings. My favourite quote from it – we learn evidence based medicine but I've yet to meet the evidence based patient.

An Approach to Rare Diseases in Primary Care
Primary Care Knowledge Boost · 20 January 2023
I hope you have a good weekend, a three day one for those of us in Otago! But the Southlanders will enjoy a longer Easter, so its swings and roundabouts I suppose!
Ngā mihi nui
Carol