Update No. 2 - September 30, 2022
Tēnā koutou katoa
So it truly spring now - the astronomical first day of spring, the spring equinox, was last Friday. That cheers my seasonal-affective soul! Today there are still more updates on the Covid front and other news. Happy reading :)
Key points today:
Claiming for GP teams supporting community pharmacy for oral antiviral medication
Long Covid Care – new pathway on HealthPathways, and short term MDT service for complex Long Covid available
Launching our GP to GP Colleague referral pathways
A further request to General Practice team members to take part in a brief on-line survey of integrated care and provider/staff experience (just click the link…!)
Clinical assistants in general practice video available
Covid-19 updates
Southern Numbers
Our 7 day rolling average remains in the 60's a day for the last fortnight, with 2 to 6 people in hospital a day in the district.


The data on who is reporting that they have Covid over the last month is as below. There is still a group each day of older people logging their positive result, who will need support for oral antiviral conversations. And although total case numbers are falling, four people passed away in the last week related to Covid-19. So we still need to maintain our vigilance.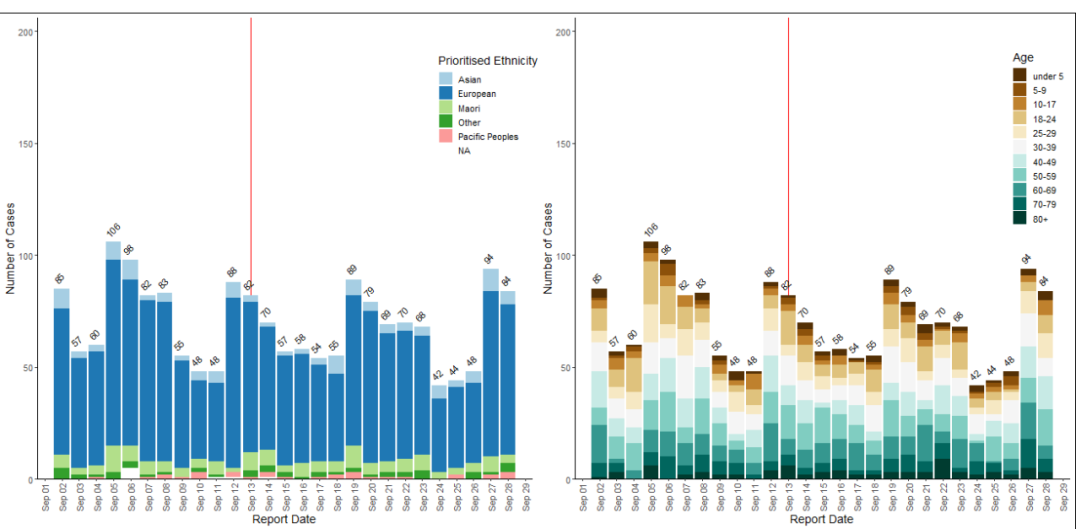 Can GPs claim for working with community pharmacists in dispensing oral antivirals?
The answer is yes!
Last newsletter I circulated the updated claiming guide, and a snip of it is below. The yellow highlight shows that a clinical escalation can be claimed. That will help both community pharmacy and general practice to liaise on shared patients where required.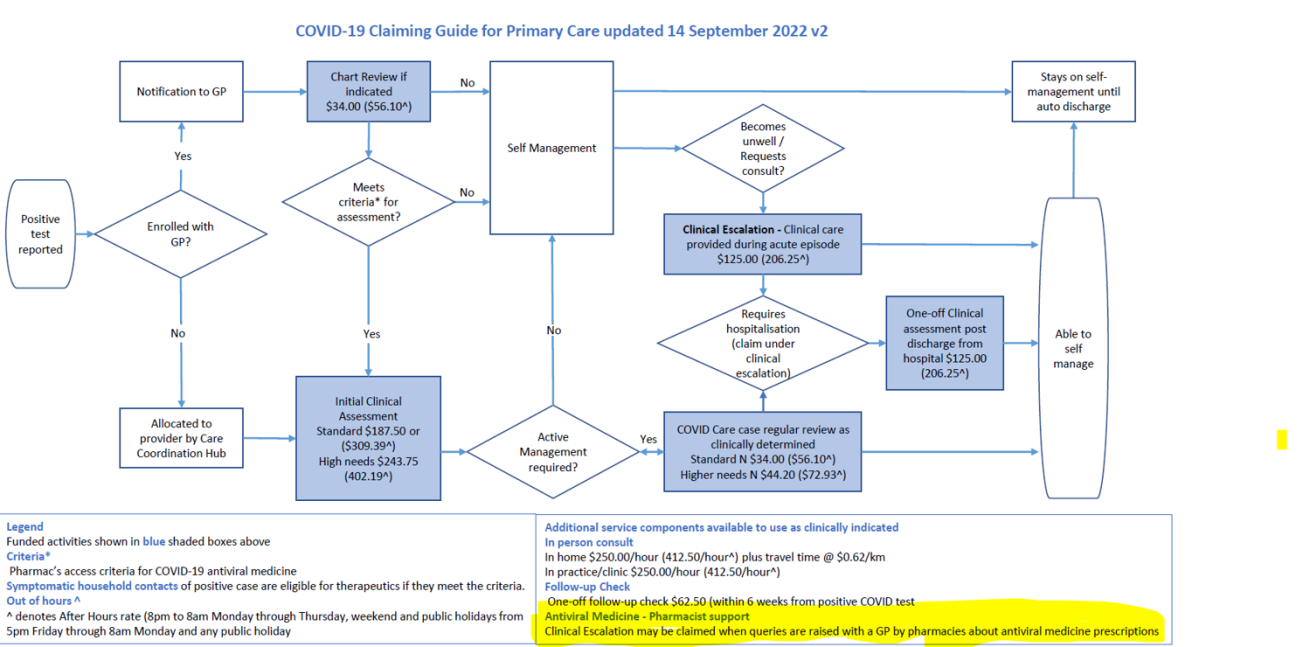 MSD Covid Welfare response line reducing hours, no more Sunday service.
The Ministry of Social Welfare has reduced its hours for its COVID Welfare Response line, 0800 512 337, and regional triage teams. They will be available Monday-Friday 8am-5pm, and Saturday 8am-1pm, and will no longer operate on Sundays or public holidays. The escalation process in place that health practitioners can use if they're particularly concerned about someone needing urgent support out of hours will continue to be available.
Covid vaccine mandates in general practice.
In case you haven't seen the detail…
Revocation of Health and Disability Vaccination Mandate
As announced by the Government on Monday 12 September the COVID-19 protection framework has been 'retired'. Of relevance to you is the revocation of the vaccination mandate for the health and disability sector workers (which includes workers in aged care and residential) – that will take effect next week at 11.59pm, Monday 26 September.
The mandate was introduced to protect workers in high-risk settings from COVID-19 and help prevent transmission between workers and vulnerable people. The mandate is no longer needed now the affected workforce has a very high vaccination rate (estimated to be greater than 95 percent), and vaccination has a reduced overall efficacy against Omicron transmission.
The revocation of the order applies to the remaining health and disability workers in the following settings:

Health practitioners dealing with patients in person, such as doctors, nurses, and dentists
Workers in medical centres/GP practices, pharmacies (such as receptionists or assistants)
Workers employed or engaged by certified providers – which includes hospitals, rest homes, or residential disability care facilities
Care and support workers - workers employed or engaged to provide care and support services within a home or place of residence.

All exemptions previously granted will expire at 11:59 pm on 26 September. This includes both Temporary Medical Exemptions and Temporary Serious Service Disruption Exemptions. No exemption applications will be accepted after 11:59 pm on 26 September.
Some businesses and organisations may choose to continue COVID-19 vaccination requirements through employment contracts - for example, the Te Whatu Ora active vaccination policies across each of the districts and entities will remain in place until a national policy has been agreed. Guidance on employment law, health and safety law, and contractual requirements can be found:
Worksafe
Vaccines and the workplace » Employment New Zealand
Access to Evusheld
Currently, Evusheld is available from Te Whatu Ora hospital pharmacies. In the coming weeks, funding for general practices and for community pharmacies will be available to prescribe and dispense this Covid preventative medication for those severely immunocompromised people in our community. There are limited doses available nationally, and hospital specialist services are identifying who is eligible, and in some cases are already planning administration of these two intramuscular injections. It is envisaged that once primary care funding and community pharmacy dispensing becomes available, hospital services communicate with eligible patients and their general practices about this. There are likely to be about 600 people in our district eligible, so it is likely that each practice will have 2-3 patients eligible per 1000 enrolled patients.
So more info to come on this one. In the meantime, prescriptions need to be dispensed by hospital pharmacies.
Primary care guide on COVID-19 reinfection, rebound, persistent infection, and long COVID
The attached document form Te Whatu Ora, Primary Care Guide on Covid-19 outlines the definitions, incidence, at risk populations, timelines, infectious periods and testing required for reinfection, rebound, persistent infection and long COVID. This information is also on the Covid HealthPathway, if you need to find it again.
In keeping with this, the national testing guidance for general practice has been updated, available at (https://www.health.govt.nz/system/files/documents/pages/testing-operational-guidance-for-general-practice-21sep22.pdf),
Long Covid Care – new pathway on HealthPathways, and short term MDT service for complex Long Covid available
The new Long Covid pathway is live. This outlines the current processes and funding in place for patients experiencing ongoing Covid symptoms beyond the acute illness in the Southern region.
WellSouth and Te Whatu Ora Southern is piloting a Long COVID management approach until the end of 2022. The pathway is comprised of:
Funded 6 week check up to 42 days after onset of illness (funded through Covid in the Community funding).
Self-management resources available at any stage of illness
Supported self-managed with Access & Choice (HIP/health coach) or Brief Intervention Service
From 12 weeks if meets criteria, refer to Habit Health for funded Allied MDT active management
Resources for each are embedded within the body of the pathway.
There is a funded GP appointment available up to 6 weeks post covid. Patients should initially be encouraged to utilise self-care resources and links to these can be found on the Health Pathway. If this is not sufficient they will be encouraged to utilise HIP's and Health coaches in practices that have access to them. The Brief Intervention service should be used for those who could benefit from counselling or psychological support.
If this is still not sufficient there is temporary funding available to enable patients to see a Multi disciplinary team for Long Covid through the private provider Habit health.
Covid testing current settings related to people accessing hospital services, and for Te Whatu Ora Southern staff who get sick.
The following outline of what patients should expect going into hospital at the moment, and the requirements for unwell Te Whatu Ora staff:
COVID testing of pre-admissions (planned admissions for surgery or other procedures)
Continue symptom screening and appropriate actions if have any possible COVID symptoms
Continue IPC Admission screening questionnaire and review of Local and National alerts on patient file
PCR testing no longer required for pre-admissions if nil COVID-compatible symptoms
Clinicians may request PCR testing at their discretion
Please note that RAT testing is not required – given the lower prevalence in the community and if people are asymptomatic, RAT tests are of limited utility in this situation.
COVID testing of Emergency Department admissions
Continue PCR testing at least for the next month

Red stream – urgent PCR
Green stream – non-urgent PCR
Note: The testing of Green Stream (asymptomatic patients without recent exposure) will be reviewed again in one months' time.
Outpatients
Continue symptom screening

Green stream (asymptomatic) does not need any testing
Red stream – can do RAT testing
PCR testing at clinician discretion
COVID testing of healthcare workers
RATs become less reliable as prevalence drops.
TAG continues to recommend that staff with symptoms get a PCR test unless they are symptomatic and tested positive on a RAT as a household contact (and further PCR is not required).
And in the non-Covid Space!
Launching our GP to GP Colleague referral pathways
I'm really pleased to announce the launch of our GP to GP Colleague referral pathway. This has been led by Dr Andy Shute, one of our GP Clinical Advisors, working with our ERMS and Health Pathways Southern team. Many GPs have specific advanced skills or expertise and informally accept referrals from colleagues who may not have the ability or capacity to provide them directly. We have developed a formal referral and governance framework to support this process. This broadens options for our patients and communities while highlighting the varied skillset of our general practice teams. The attached document GP Colleague Referral Pathway final version describes the pathway and describes how GPs can register their skills and areas of special interest. Great work Andy!
Dunedin mental health crisis respite care home opened this week
One of the fruits of the Time for Change – Te Hurihanga programme was born this week, with the opening of a five bedroom crisis respite home in Dunedin. The attached media release provides more detail. Great to see, and there are other services to improve access to mental health and wellbeing services across the district.
Success in GP recruitment in Southland from the GPEP programme!
If all goes to plan, there will be 8 new GPs (all GPEP2) in Southland for 2023! They will be working in Te Anau, Winton, Gore and Invercargill. A big shout out the all the GPEP trainers across our district for your hard work and dedication, and showing GP registrars that general practice is a great place to be.
The Clinical Assistant presentation video – at last!
Dr Louse Poynton, the Medical Director at Tū Ora Compass Health in Wellington, has put together a video of her clinical assistant presentation, via the link below:
Clinical Assistant Presentation Video - YouTube
If you want to contact her, you'll find her at Louise.Poynton@tuora.org.nz
Reminder: Please help understand Healthcare integration and provider/staff experience in general practice teams – three years' on – through completing a brief on-line survey
I know we are all super busy, but… It would be much appreciated if you could take 15-minutes to complete the survey via the link attached. https://redcap.otago.ac.nz/surveys/?s=9MC4FL48MCFYPMYK
Please help understand Healthcare integration and provider/staff experience in general practice teams – three years' on – through completing a brief on-line survey
You are invited to be part of a survey to understand views of health care integration and your experience of work, via the link attached. https://redcap.otago.ac.nz/surveys/?s=9MC4FL48MCFYPMYK
This is a three year follow-up survey from an initial survey undertaken in 2019. The Primary and Community Care Strategy & Action Plan (PCCS) was implemented in 2018 with the intention of delivering safe, high quality, team-based care closer to patients' home through improved integration of health services. The PCCS was one of the most significant changes to the Southern Health System and involves the development of Health Care Homes and programmes such as Access and Choice/Toku Oranga. To "benchmark" integrated care at an early stage of the roll-out, a team of University of Otago Researchers surveyed 320 health providers and staff in the Southern Health System (mainly in general practice) to find out how they perceive care integration in their organisations, how they work as a team, and the volume of their workloads. This study helped identify areas of initial strength and weakness in healthcare integration.
The research team are running a follow-up study three years on, funded through Health Research South, at the point of another significant change in how services are provided across the country, with the Pae Ora Act and health reforms. The research team is interested to find out how general practice team members perceive integrated care in 2022, and to understand what (if anything) has changed over the past three years. They would really like to hear perspectives from all general practice staff (e.g., doctors, nurses, administrators, HIPs, clinical assistants, practice managers). The study aims to learn about your experiences of teamwork, care coordination, the work environment, satisfaction, and burnout in your practice.
Your views are critical to identifying where system improvements are required to improve patient outcomes. The results of this survey, compared to the first survey in 2019 will be available at the end of this year or very early next year. High participation will make the results much more meaningful. I know we are all super busy, but… It would be much appreciated if you could take 15-minutes to do the survey. So please, if you are interested, click on the link! https://redcap.otago.ac.nz/surveys/?s=9MC4FL48MCFYPMYK
Spoiler alert: I am a co-investigator in this research project (as I was not in this role three years ago!) but I will not have any access to individual or identifiable responses. Many thanks.
So far we have had about 50 responses. In 2019 we had about 180 responses, and it would great to get a similar response this time.
Radiation Oncology outpatient waiting times update
Dr Shaun Costello has been sharing the current waiting times for radioation oncology. These are now posted on the front page of Health Pathways. We are working on getting regular information on the range of outpatient service waiting times from Te Whatu Ora Southern hospitals, so watch this space!
So, Covid, the gift that keeps on giving!
Have a great weekend
Ngā mihi nui
Carol