Update No. 41 March 24, 2022
Tēnā koutou katoa
Greetings to you all. Well the work continues, aye! Our highest number of new cases this week of over 1600 on Tuesday was a bit of a surprise. Thankfully we have had 2 days in the 1400's since, so let's see what the next few days brings. I'm sure we all know of someone close to us that has had Covid, if not ourselves – my family included.
So, firstly, I want to say thank you to you all. Thank you for the hard mahi you are all putting in, in your practices and pharmacies, to keep the ship afloat. Without you all turning up, covering for your sick or isolating colleagues, and providing health care and support to our communities, we would not be in the position we are in – where we have over 12,500 people with active Covid infections reported in our communities over the last 10 days (8,500 within the last 7 days), but only 18 people in hospital today.
And I also want to say thank you for taking the time to read this email. I know there is so much information flowing – at times splurging out – its get become burdensome to read it. So thanks for taking a few minutes to read this email.
The National Picture
As the following graphs show, while the national reported cases of Omicron have been following the high transmission predictions, there or thereabouts, the actual hospital occupancy has been following the moderate transmission model, a model based on New South Wales' experience. It may indicate that we as a country have been a bit more diligent at self-reporting our positive RATS tests, or we have had greater access to them.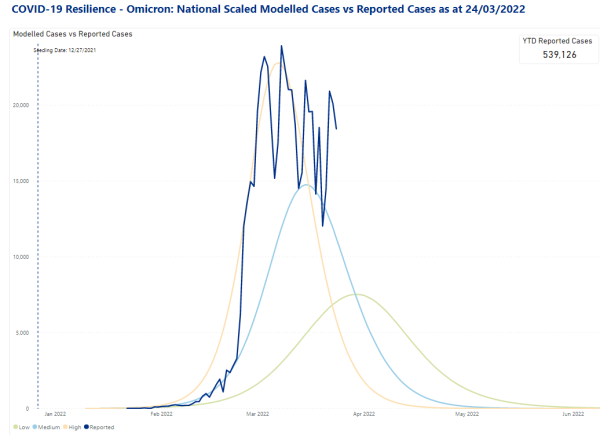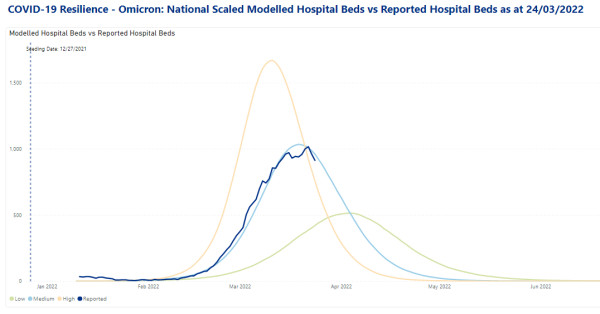 Southern picture
So while our numbers are still going up, suggesting numbers akin to the hgh transmission pathway, we are still tracking along the low model for hospitalisations. We in Southern have 50 sites where people can access RATs tests – we win the prize for most sites across the country!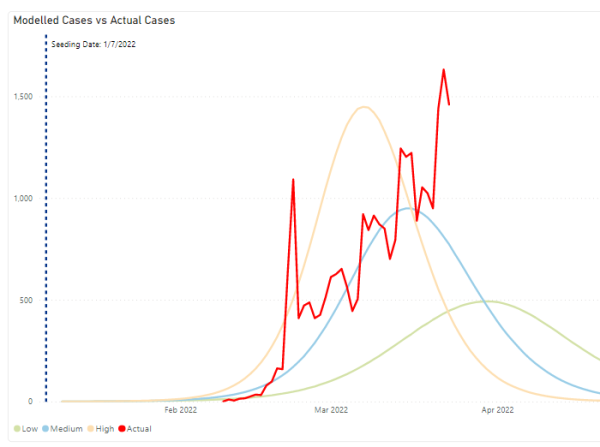 The following graphics come from our Thalamus Covid summary dashboard:
Please note that there have been 1224 cases in Waitaki, but I can't snip the picture to include that number.
The breakdown of yesterday's cases by location is shown here:
Managing COVID-19 Care in the Community
Some FAQ's
Which patients should I contact?
I've been asked by some practice teams if you need to make contact with all of your patients who have a positive Covid test. The short answer is no. The longer answer is, that the vast majority of positive cases are picked up by self-administered RATS tests, so the person already knows they have Covid. They (or someone for them) will have logged their positive test with the MOH, and they will have received some information about self care and what to do if things deteriorate. So our role in general practice and the clinician network is to make contact with those at higher risk of adverse outcomes to check they are ok and know how to make contact with health services if they deteriorate. You may look at who in your practice has Covid, (either using your clinical knowledge of the patients, or using the Thalamus Higher Risk tool) and decide that some of your higher risk patients need a desk top review, and a text to make contact with them. Others you may want to call (by phone or by video call) and undertake an initial assessment. Some of them you will want to follow up, some every few days, some every day. You could look back at the Medical Director Update number 38 from 7 March to get some more detail.
What should I do if we can't contact someone who has Covid who we want to check on?
Here is the escalation pathway that has been developed by the Southern Integrated Covid Care Safety and Quality Group (fancy title I know – a clinically focused group looking at the quality and safety of our Covid pathways, including urban and rural hospitals, St John, primary, community, reps). Again, Omicron in a highly vaccinated community poses less risk than Delta did. The MPS document referenced (https://www.medicalprotection.org/newzealand/casebook-resources/news-and-updates/view/2022/03/03/primary-care-responsibility-for-positive-sars-cov-2-tests-legal-risk) refers to contacting patients as well as responsibility for positive test results, and talks about documenting 'best efforts'. If you are particularly concerned about a patient, and you have worked through the processes outlined, contact the WellSouth Covid Coordination Centre at coordinator@wellsouth.org.nz
What about Long Covid?
Its now six weeks since we had our first Omicron Covid infections in Southern. Some of your patients may need a follow-up check at about the six week mark, particularly if they were quite unwell during their infection. There is a one-off funded 'Follow-Up Check' available. The Covid HealthPathway has a useful section on 'Long Covid' https://southern.communityhealthpathways.org/783098.htm. There is work beginning in Southern district to understand this more and how we need to respond to it as a health system. I am planning on organising another evening Webinar in a couple of weeks, with the main focus being on Long Covid. I'll let you know more details soon.
Welfare Support
If cases require welfare support, please continue to identify this as part of your regular health check conversation. These responses will be referred to MSD who will look to provide immediate and essential need where cases meet their eligibility criteria or refer them to Food Service Providers or Community Connectors across the region. While some practices are referring directly to community connectors, going through the regular health check ensures no connectors get overwhelmed with referrals. Please remember that cases can ring MSD directly on 0800 512 337 or access support for urgent costs via this link Apply for money for urgent costs and choose to ask for community support - Work and Income
Support for Former Refugees families with Covid
Thank you for continuing to care and support for your former refugee patients who have tested positive for Covid. We know there have been quite a number of cases in both Dunedin and Invercargill, and that these can be challenging assessments to complete, including the need to use interpreters. Please continue to utilise Ezi speak or phone interpreters via SDHB (see HealthPathways https://southern.communityhealthpathways.org/29346.htm). Patients tell us that they really value the assessment and support from you when they can understand and interact easily with your team.
WellSouth has cross cultural navigators as part of our refugee integration team, who are very well connected to the communities they work within. These are non-clinical roles, and so they do not carry out assessments for you, but the navigators can be contacted to help you to connect with patients, and can help to complement the care you provide and ensure messages are understood. They are available weekdays by calling WellSouth, and requesting to call back from a navigator. Please advise if you are needing this for a Colombian, Syrian or Palestinian, or Afghan person. We will contact the appropriate navigator and have them call you.
CCCM 'Facilities' – for the Web-based version of CCCM
Those who use the web version of CCCM may have noticed that additional facilities are available when you click the "Filter by Location" button. As patients are now automatically allocated to a facility and a general practice, in some cases patients were being allocated to facilities not aligned with that of their practice. This is because the facility auto-allocation is based off the patient's last known postal address. By adding all facilities for all clinicians, we hope to reduce the number of incidents where clinicians cannot find patients in CCCM. Please make sure you are searching for patients under all facilities, as shown below:
If you are using the CCCM within your PMS this will not affect you.
Covid in the Community Claiming
There have been some inconsistencies with claiming for Covid Care in the Community. We appreciate this is a new service and is complex in nature, so have outlined a few things below.
"High needs" is defined as Māori, Pacific peoples, people living in NZ deprivation quintile 4 and 5 areas, refugees, and people 75 years-old and over.
Initial assessment for those people who are not enrolled with a general practice are claimed at the high needs rate. Subsequent regular reviews for these patients are claimed at the standard rate.
Regular reviews for individual patients cannot change between being charged at a standard rate and a high needs rate during the course of that patient's illness.
In general, a patient should have an initial assessment or a desktop review (chart review and contact), not both.
A Regular Review is claimed for any assessments of the patient, post initial assessment, while the patient is in their isolation period.
A follow-up check should only be claimed when the patient has completed their isolation period, been discharged from Covid care, and needs further follow-up. This might be at around the six week mark post Covid, as mentioned above.
We will attempt to provide more clarity in the next Medical Director update with a flowchart showing all claims available.
Impacts of Covid on Health Services
We have been asked to provide the attached letter (GP Letter – Covid – SDHB) to all practices on behalf of Southern DHB Chief Operating Officer Hamish McLean and Chief Medical Officer, Prof John Eastwood. Owing to the ongoing impact of Covid on workforce, secondary services are prioritising non-deferrable care and cancers treatments, and working to continue as much diagnostic work in radiology, cardiology and other medical specialties as possible.
We appreciate that you are experiencing similar pressure delivering primary care services, as you are providing care for your Covid positive patients and have your own workforce challenges and illness/isolation amongst staff.
We would like to provide communications to the public in support of practices, noting:
Practices are open and providing care, but prioritising supporting Covid positive patients and acute care.
Care is available, however you may be offered services differently – via telehealth, by a clinician other than your usual GP, and it may take longer than usual to access an appointment.
Not all practices are the same or the same resources, so check with your own practices/usual health provider when you need help
Please understand and respect practice staff in really challenging circumstances.
Any input, suggestions or comments on this, please send to WellSouth Communications Manager, Moira Finn.
How else can we help?
The weekly surveys our Practice Relationship team is sending out (current summary is below) are helping us to understand the pressures practices are under, and you should know the Ministry, SDHB, regional leaders are kept aware of these results. This week we have heard that practices are getting busier, more phone calls. As more staff either are either Covid cases or household contacts there is more pressure on administrative staff particularly, and also on GP availability. Some practices are pushed to cover PRIME and After Hours, and some are postponing routine appointments.
However, these surveys are snapshots and we ask you to please let us know if you have specific concerns and requests that we can help with. We don't know the solution without more of an understanding of the problem, and it may be that we can help or that there is potentially capacity elsewhere that can support your teams even temporarily. Please contact your Practice Relationship Manager.
Is your practice using BCMS?
Just a reminder that the Practice Relationship Team is making contact with all practices this week to determine which are using BCMS, how weekends are being covered and what arrangements are in place for the Easter long weekend. This is to ensure we have a view across the whole system and whole district, ensuring all high-risk Covid positive patients receive care.
Ministry of Health's latest Covid vaccine guidance and fees schedule
Attached is the latest COVID vaccine guidance and fees schedule from MoH, incorporating the Novavax vaccine.
Payments for Covid activity
We want to ensure that all practices are receiving payments for Covid Care in the Community activities, as well as for ongoing Covid vaccination and testing work.
We are not aware of any issues locally, but there have been some cases of delayed payments reported in other districts.
If your practice has experienced any problems with payment timeliness please contact your practice relationship manager and we will work to ensure this is resolved promptly.
Cold Chain Failure – assisting SDHB to identify unknown cases
Message from the Southern Covid-19 vaccination programme team
We have become aware of instances where possible incorrect data entry in CIR has meant that some people affected by the cold chain failure have not been correctly identified.
If a person presents and says they have been vaccinated between 1 December 2021 and 28 January 2022, but their CIR record shows they have been vaccinated by Engage Safety on a date outside of this range, please do not dismiss them.
Please take their name, DOB, a contact phone number and their NHI and send these through to romilly.smith@southerndhb.govt.nz or call 03 4769915. The SDHB team will get in touch with the person directly and investigate the situation and where appropriate offer a replacement dose.
If people have previously presented with a similar scenario, if you are able to identify these people, please send through information regarding their situation to us so we can follow up.
We apologise that we have only now become aware of the potential extent of incorrect data entry and appreciate your help in identifying any additional people who may have been affected by the cold chain failure.
General Practice Survey feedback.
Thanks very much to your practice teams for completing this survey. It seems that everyone is under the pump.
General Practice Status:
(Practice status level – Level 1, Green Readiness; Level 2, Yellow Initial impact; Level 3, Orange Medium impact; Level 4, Red Severe impact)
| | |
| --- | --- |
| TLA | Level (1,2,3,4) |
| Dunedin City | 3 |
| Invercargill City | 3 |
| Queenstown Lakes | 3 |
| Gore | 3 |
| Clutha | 3 |
| Central Otago | 3 |
| Waitaki | 3 |
| Southland | 3 |
The Practice Network Team reviewed practice status on 24 March and raised the status to 3 in the Southland TLAs. There has been a significant increase in case numbers in Invercargill in particular. We have tried to remain conservative and will keep a watching brief on the status of those localities.
WellSouth now has seven weeks of data (8th week is this week) and we still expect 3-4 weeks before cases start to decline.
General Practice Updates and Issues:
·

Some feedback that members of the public remain unsure what to do either when they or a family member have symptoms or if they test positive. There is good information out the from MoH so it is important to make the most of it. This represents a good example of the variation in health literacy in general and about omicron in particular

There is some settling down in complaints about the CCCM, which is good as the daily number of new cases remains high.

There are still reports of workforce shortages, though they are variable across the District. The number of practices confident they have enough staff to manage their covid positive patients has plateaued over the past few weeks, so it will be interesting to see how that plays out over the rest of March as we reach peak-covid.

The comments suggest an increasing number of staff either testing positive or with family members testing positive. I expect this to increase and add to the pressure on our well workforce.

Comments this week

· Staff slowly dwindling with Covid

· No too busy with appointments but busy with covid follow ups.

· Due to large number of covid positive patients and staff shortages we have had to stop routine appointments so that we are able to manage our covid positive patients

· Managing all aspect of your questions, but sometimes under pressure due to shortage of staff on sick leave

· More staff either COVID household contacts or cases – putting pressure on admin particularly, and also on GP availability

· Number of Covid+ patients continues to grow putting added pressure on to call them

· We are just managing our patients as best we can and with the growing positives each day we have had to bring on the part time staff to fulltime to cope with the contacting.

· We need to keep an eye out for the team as we are working weekend shifts to look after our Covid Patients as well I don't want anyone burning out.

· We had a problem with the welfare for a refugee family the 3CM did not work and a family was left without food, we then had to ring the food bank to get food delivered to the family and wait until the next day till the welfare food was sent, not ideal and a lot of extra work

· With staff now being off with positive household members to care for and then ultimately getting the COVID themselves, we are now in the wave of staff off and returning, so running on a very light team

· We are dealing with more than usual patients upset with wait times for appointments, phonelines being extremely busy, appointments not always available on the Day and hospital appointment being cancelled due to short staff at hospital. We are still down 1 GP.

· Struggling to cover afterhours/ PRIME. A lot of covid appearing in the community. Running with 1x NP, 2x PNs and 1x admin/ reception. 1x receptionist off with covid
The Non-Covid Spot!
Fracture Liaison Clinical Lead
WellSouth has an exciting new opportunity for a GP to help reduce fragility fractures amongst patients in Southern. WellSouth's Fracture Liaison Co-ordinators (part of the Falls and Fractures Prevention Team) already work with ACC and Osteoporosis NZ to proactively follow-up patients in the South who may have sustained a fragility fracture. The new GP role (0.2 FTE) will provide clinical advice on fracture risk and bone health and champion continuous quality improvement in this space amongst general practices, including the appropriate prescribing of Bisposphonate. This is an excellent opportunity for a GP with a current APC with an interest in this area or working as a GPSI in a related area.
More information in the attached job description. Contact Sharron Feist, WellSouth Clinical Services Manager, if you have any questions.
So, another long missive – at least there are pictures included!
We are in the midst of the toughest part of the Omicron wave. As Winston Churchill said, If you are going through hell, keep going.
Not long and we will be over the crest together.
Ngā mihi nui
Carol