Update No. 42 - March 31, 2022
Tēnā koutou katoa
So, end of the financial year today, and what a year it has been! It looks like Otago/Southland are tipping over our peak as a district (see the graphs below) although Invercargill in particular are still under the pump at the moment. Many practices are struggling with staff being in isolation or unwell, or looking after children when schools have reduced capacity. Its tough at the moment, but the light is just around the corner. As is Ramadan, which starts on Monday for a month, and our Muslim staff and teenage and adult patients may be fasting (food and water) from sun up to sun down - so lets be mindful of that in our interactions and clinical judgements.
Based on feedback, I'm going to put a 'key info' red box in the beginning of the update, for those who want the abridged version!
Key points:
A positive RAT result does not require a PCR test as confirmation.

Paxlovid, the first oral antiviral against Covid has arrived and will soon be available in NZ.

Updated guidance on pulse oximeters

Flowchart to clarify the claiming process for general practice teams for CitC care

Yellow flags for weekend patients
The National Picture
These graphs now show the 7 day rolling average, to smooth out the peaks and troughs.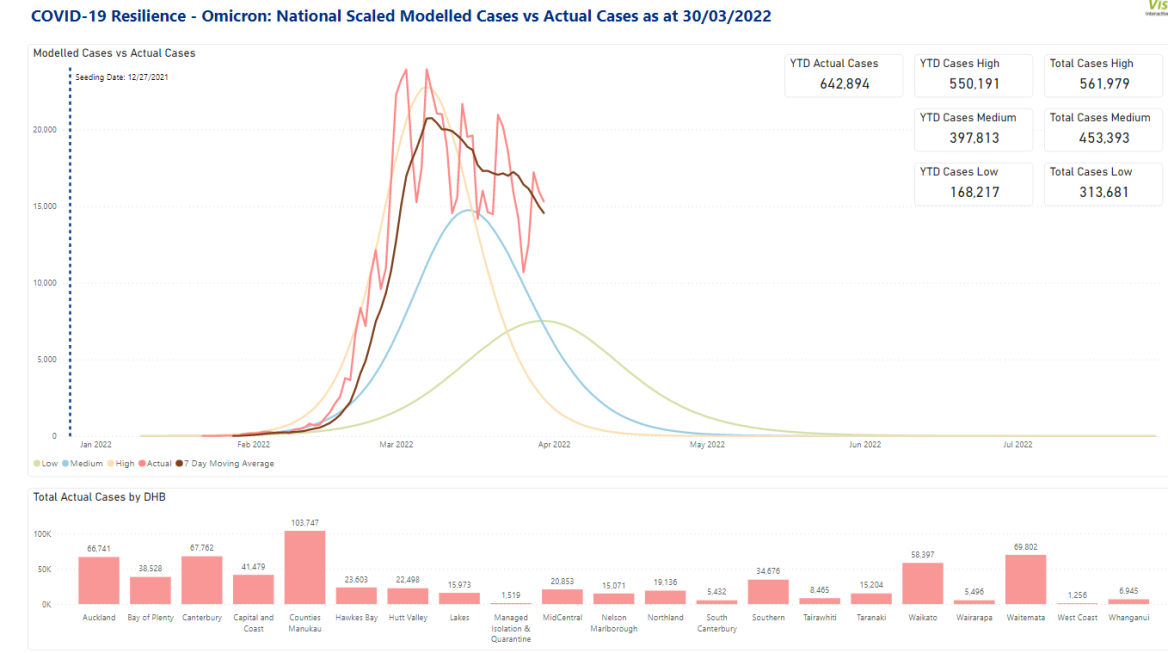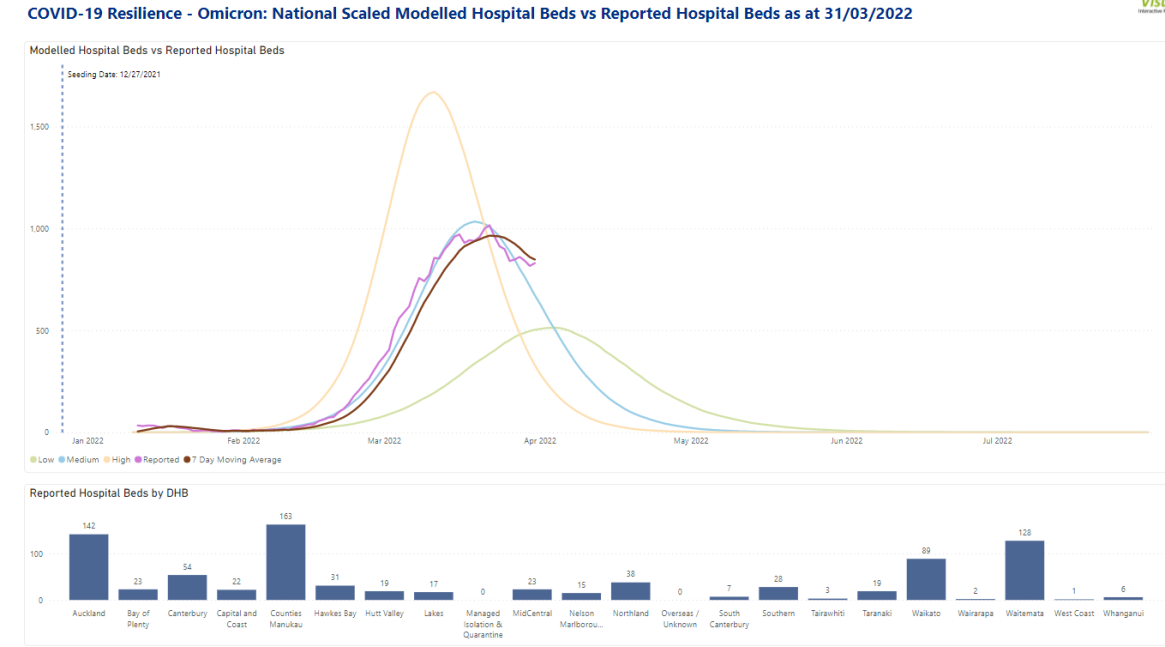 The Southern picture
The graph below suggests that we are somewhere about our peak for cases, but still a week or more away from our peak for hospitalisations. Its great news that despite our high rates of cases, our patients have experienced modest hospitalisation numbers. All of our efforts to support our people in the community will be certainly contributing to this.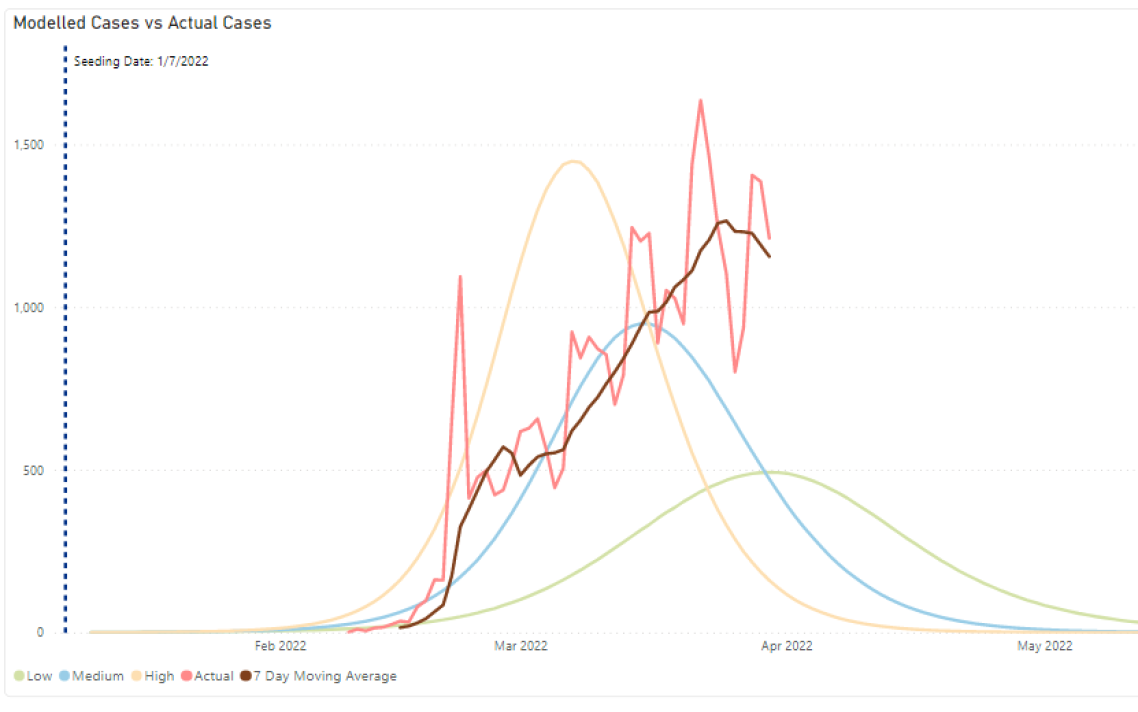 This table shows the 7 day rolling average of new cases per 100,000 people by Territorial Local Authority in Otago and Southland, up until several days ago, with Invercargill showing the highest rates, followed closely by Dunedin and Queenstown-Lakes.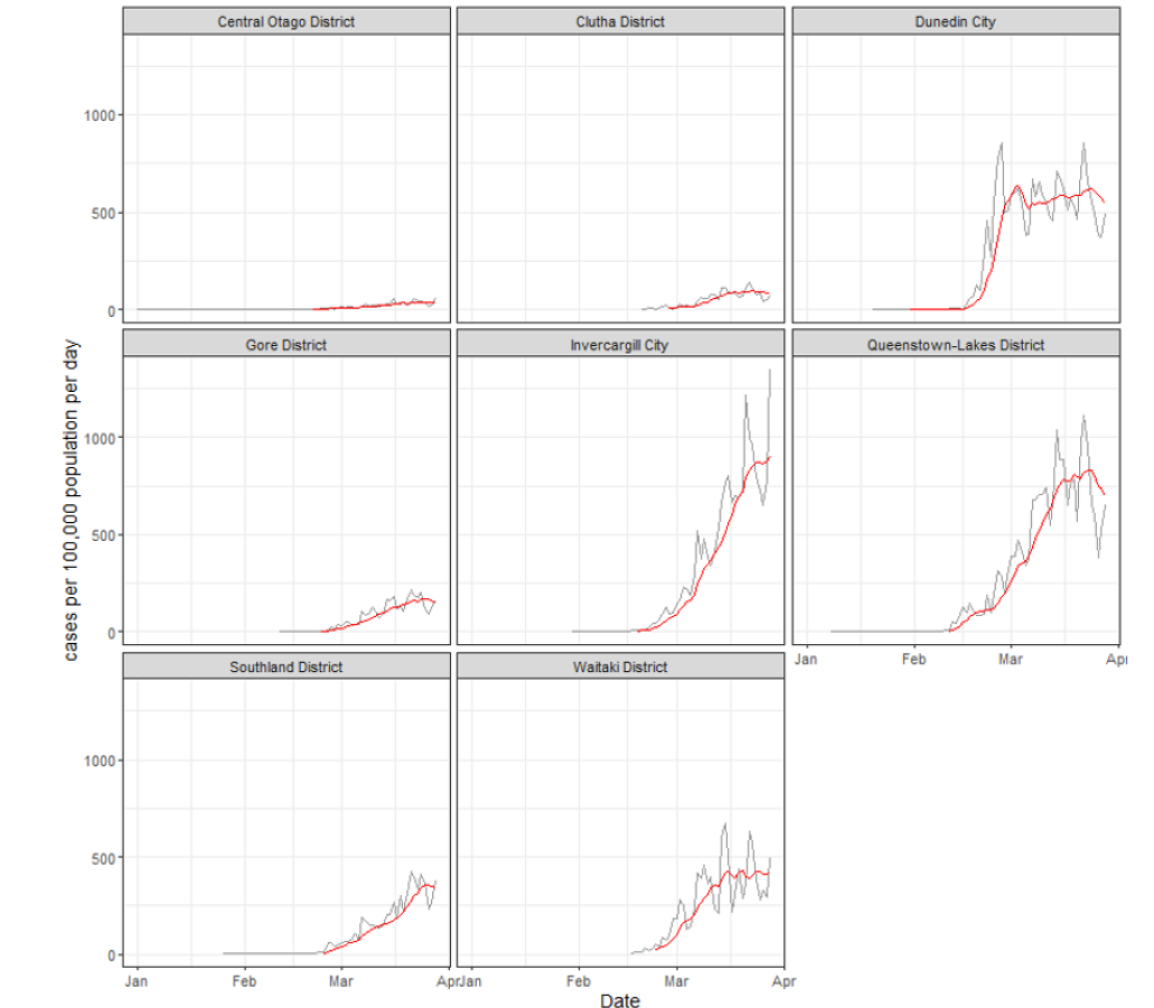 And the last of the pretty pictures…WellSouth enrolled (and clinician network unenrolled) patients information. Note that the lower rate of Covid in people living in Quintile 5 areas may reflect under-reporting of a positive RAT test.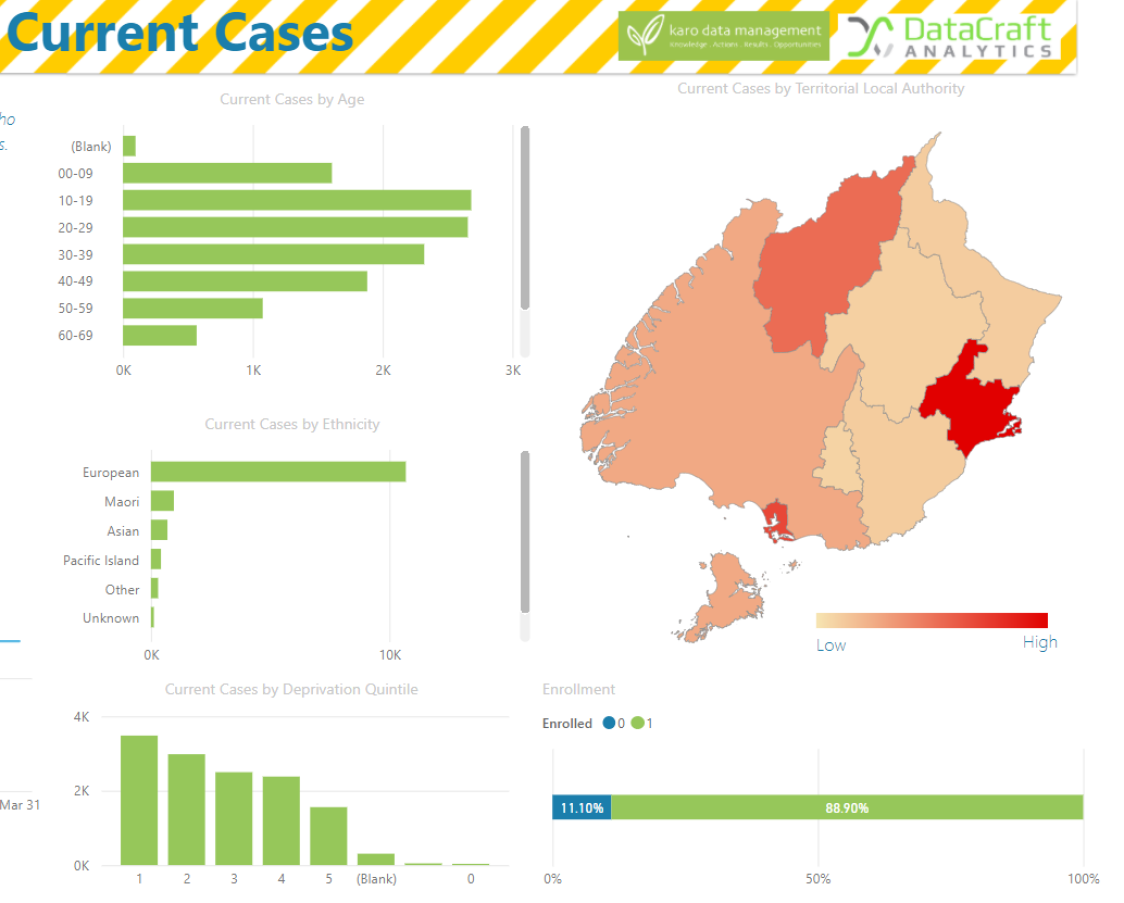 Managing COVID-19 Care in the Community
Paxlovid arrives
Paxlovid, the first oral antiviral against Covid available in NZ, hit the country today. The MOH has confirmed that there is NO expectation of an in-person consultation for either prescribing or dispensing of Paxlovid, despite initial suggestions that that would be the case. More information about eligibility, prescribing and dispensing will come out over the next few days. As I understand it, the prescription will need to be endorsed that this is for someone who meets the criteria. This is not under the special authority process. There are quite a few drug interactions with this medication, and it needs dose adjustment in renal impairment. I have attached a Canadian guide to prescribing Paxlovid, to give you a flavour of its interaction profile (the criteria for prescribing will likely be different in NZ but I haven't seen our local criteria). So please look at the training material for prescribers and pharmacies when it becomes available.
When to use Pulse Oximeters - Updated advice
Our Pulse oximeter guidance was developed for Delta infection. Omicron, with large numbers infected in a highly vaccinated population, has a low incidence of pneumonitis and hypoxaemia. The following recommendations aim to deliver a limited resource to the population of patients most at risk of respiratory failure with Omicron infection. This guidance will be reflected in the next update of HealthPathways locally. The Southern Health System Technical Advisory Group have endorsed the guidance, initially developed by Canterbury clinicians.
Use clinical discretion and arrange a pulse oximeter for patients in clinical situations or with conditions that you are concerned about that are not listed below.
A Pulse oximeter is strongly recommended in any patient who

Is highly immunosuppressed (see tables below)

Has severe airways disease e.g. severe COPD, home oxygen

Has neuromuscular or spinal disease with respiratory compromise

has Down syndrome

Is unvaccinated or partially vaccinated (incomplete primary 2 dose course) and is

40 years or older for Māori and Pasifika or

65 years or older for other ethnicities
Consider a pulse oximeter when the patient

Is pregnant with any significant comorbidity eg., respiratory compromise, obstructive sleep apnoea, morbid obesity.

Has less severe immunosuppression e.g. those who were eligible for a COVID vaccine primary course dose 3.

has moderate or increasing breathlessness
As a reminder, if you decide your patient would benefit from having a pulse oximeter, please create an administrative task for the patient in BCMS/CCCM, or email coordinator@wellsouth.org.nz if you are not able to use that process.
Reminders when requesting St John to attend a patient
We have had a few cases where there has been confusion about whether St John have been requested to transport a patient, or to attend and assess a patient. In the latter situation, St John paramedics are trained in assessing and deciding whether need to come to hospital the whole time, following guidelines. So to provide clarity in the process, please
Use the correct number –go through St John health professional number 0800‑262‑665 , not 111
request for transport/further assessment by paramedic

Use clear language as per below examples

'patient has been accepted for admission, is to be admitted to XXX hospital/the Covid ward (if DPH) /via ED (depending on severity) accepted by the Covid consultant/ED consultant' – or

"I'm phoning to request an assessment by St John as I have been only able to assess virtually and am unsure if needs admission'
Much appreciated!
Long Covid Webinar
We are waiting to hear about when a national Long Covid webinar is being organised. If this is soon then we will organise a local one after that, so will keep you updated next week on progress.
Claiming for Covid in the Community
Following the Medical Director update last week, we have attached a workflow which will hopefully bring some clarity to the claiming for CITC. A few things to note:
Providers can now claim for a Desktop Assessment and a later Initial Assessment for the same patient – if clinically required.

Providers can claim more than one Regular Review per day per patient (if clinically required).

Providers can claim Regular Reviews until a clinician determines that patient no longer needs to be actively managed – can be after 7-day isolation period.
We are re-processing the Initial Assessment claims that were rejected due to the patient already having had a Desktop Assessment.
Provider Inbox Notification
You may have noticed that positive RAT notifications are now entering your PMS, similar to positive PCR notifications. The email notification from Public Health for RATS will be phased out shortly. WellSouth will continue to email practices with their positive notifications for the day (unless informed not to), and you can always check in Thalamus to see the list of positive patients within your practice.
Yellow Flag usage and the Clinician Network weekend service
Please continue to flag your patients with yellow flags to be picked up by the Clinician Network over the weekend. It is important to do this every week as Coordinators will remove yellow flags on a Monday from General Practice patients. This is to stop any confusion for clinicians, as most patients will be released by the next weekend.
If demand exceeds capacity within the Clinician Network over the weekend, the Network will use the following to prioritise their workload:

If your patient does not meet these criteria, they may not have had an initial assessment come Monday. We will aim to undertake all Acuity 6 yellow-flagged patients. If they are Acuity 3 and you have yellow flagged them, they may not always be picked up by the Clinician Network over the weekend, dependent on demand.
Covid Testing funding extended until 21 May 2022
The Ministry has updated operational guidance for general practice for Covid testing. The guidance extends funding until 31 May but is otherwise the same.
General Practice Survey feedback.
General Practice Updates and Issues:
· General practices remain at the vanguard of supporting our people in Southern who have Covid and I want to acknowledge their amazing work and their families who will be feeling the impact of their workloads.

Some feedback that members of the public remain unsure what to do either when they or a family member have symptoms or if they test positive. There is good information out the from MoH so it is important to make the most of it. This represents a good example of the variation in health literacy in general and about omicron in particular

We have three weeks now of slightly increasing busyness and slightly declining mood in general practice. We have reflected this in changing the practice status at the start of this section.

There are increasing reports of workforce shortages, though they are variable across the network. The number of practices confident they have enough staff to manage their covid positive patients has plateaued over the past few weeks, so it will be interesting to see how that plays out over the next few weeks as we reach peak-covid.

The comments suggest an increasing number of staff either testing positive or with family members testing positive. I expect this to increase and add to the pressure on our well workforce.

· Admin and clinical staff away with Covid, adds to pressure of already very busy BAU , staff getting weary- telehealth and zoom working well but is more demanding, All ready for a break soon

· Covid cases still low- waiting to see if there will be an uptick post parties and rugby last weekend

· Two nurses off with Covid but managing.

· multiple inbox notifications still not fixed (this was an issue with BCMS sending multiple inbox notifications to the PMS that started last weekend)

· two staff off on isolation at present

· Doctors are busy following up with alot of patients that have tested COVID positive

· Community is getting grumpy as we can't provide for their needs and sometimes advice to call Healthline (due to no Nurses on or at capacity), comments like "it's not good enough" are dis-heartening for the staff knowing they are all giving 110%. I have publicized this via social media, acknowledging they may not always get things sorted when they want but more like what is our priority. We are all keeping positive knowing this may be the worst few weeks to get through.

· 1x receptionist off with covid

· 1x practice nurse household contact but daily RAT testing.

· Very busy!"

· One staff member off on sick leave (planned surgery) so any acute illness will have much bigger impact.....

· Some staff are off isolating for Covid which is putting added pressure on BAU and workload for those still at work.

· Staff that were affected by Covid last week are back, all staff present this week.
And now for something completely non-Covid…
Te Hau o Te Ora acquires Mataura Medical Centre
Te Hau o Te Ora, Partnered Primary Care Service Ltd, is acquiring the Mataura Medical Centre, supporting the ongoing provision of primary care for patients in the Mataura community and surrounding area.
There will be no change for patients and whānau or to the practice team - this includes previous owner Dr Elaine Munro, who will continue on as usual seeing patients and whānau.
Te Hau o Te Ora Partnered Primary Care Service, a partnership between Hokonui Rūnanga, Awarua Rūnaka, and WellSouth Primary Health Network, is purchasing the practice to support the sustainability of primary healthcare services for patients and to support the clinical team. The practice will continue to be known as Mataura Medical Centre and remain at the same location.
Influenza programme 2022
You will be well aware that the national flu vaccination programme begins tomorrow.
In addition to usual at-risk groups, there is a widening of criteria this year to include Māori and Pasifika, aged 55-64.
IMAC's flu kits available online at www.influenza.org.nz
WellSouth is finalising a vaccinations strategy to help practices and other providers prioritise vaccination programmes – Covid, flu, and childhood vaccination programmes - and we will have more information on this early next week.
MMR immunisations
As you may be aware, the Covid super vaccine clinics at the Meridian Mall Dunedin and Civic Theatre – Invercargill are now also delivering the MMR vaccines, no appointment required.
Attachments
NirmatrelvirRitonavir Paxlovid
Testing Operational Guidance for General Practice
Thank you for hanging in with me until the end