Update No. 47 - May 5, 2022
Tēnā koutou katoa
So its May already. And still warm and dry enough for our roof to be painted this week – the painter said it proves climate change is a thing. The Covids are in town, and the Flu has officially arrived. The school holidays are over, Ramadan is over and our Muslim communities have celebrated Eid al-Fitr at the beginning of this week. And we get two short weeks in June, with Matariki joining the holiday suite of Aotearoa. And possibly the most confusing constellation of prescribing criteria have hit town!
Key points today:
Covid rates in our over 65's are still rising

Influenza A is here

Access criteria for Paxlovid and Molnupiravir (tried to be) explained

READ codes for Long Covid not yet available in MedTech

A very interesting looking but long Covid webinar on 25 May
The National Picture
We are sitting just shy of 945,000 cases of Covid reported across the country so far this year, as below, with a flattening off of the rate of decline in the last couple of weeks: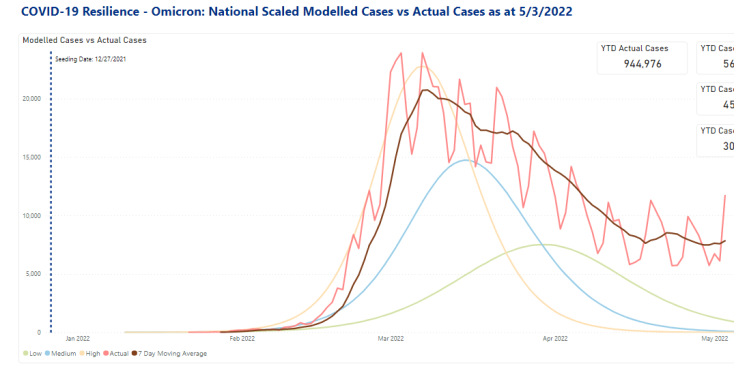 There are just under 500 people a day in hospital across the country currently: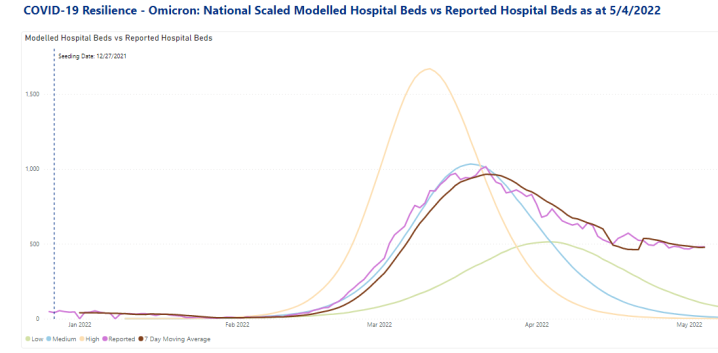 The Southern picture
We have had nearly 70,000 cases of Covid reported in our communities this year so far, with more to come in all likelihood: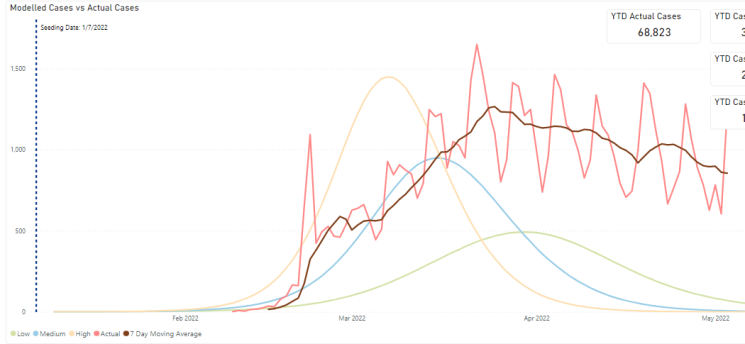 Our current 7 day rolling average for hospital beds occupied by people with Covid is sitting at 28, with about a half to two thirds of those numbers being people in hospital 'with' Covid, rather than 'from' Covid: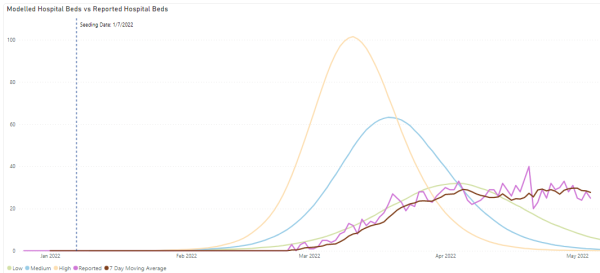 As our case numbers inch down, we are nearly at 1 in 60 (1 in 58 to be precise!) of us having active Covid at present, with Invercargill then Dunedin currently lead the numbers:
| | | | | | |
| --- | --- | --- | --- | --- | --- |
| Territorial Local Authority | New Covid cases today | New cases, % of population | Current total Covid Cases in last 7 days | Total cases, % of population | Population |
| Waitaki District Council | 44 | 0.18% | 299 | 1.3% | 23,800 |
| Central Otago District Council | 63 | 0.25% | 392 | 1.6% | 24,800 |
| Queenstown-Lakes District Council | 122 | 0.25% | 796 | 1.6% | 48,300 |
| Dunedin City Council | 369 | 0.28% | 2314 | 1.7% | 133,300 |
| Clutha District Council | 39 | 0.21% | 289 | 1.6% | 18,500 |
| Southland District Council | 62 | 0.19% | 472 | 1.4% | 32,700 |
| Gore District Council | 32 | 0.25% | 183 | 1.4% | 13,050 |
| Invercargill City Council | 168 | 0.29% | 1080 | 1.9% | 57,000 |
| Total Otago/Southland | 899 | 0.26% | 5,825 | 1.7% | 351,450 |
The rates by TLA, age group and ethnicity are below. Thankfully for Gore and Queenstown Lakes, their peak rates of late March have subsided. Of note, the rates for over 65 are still rising, and Pacific peoples continue to have the highest rates across the region: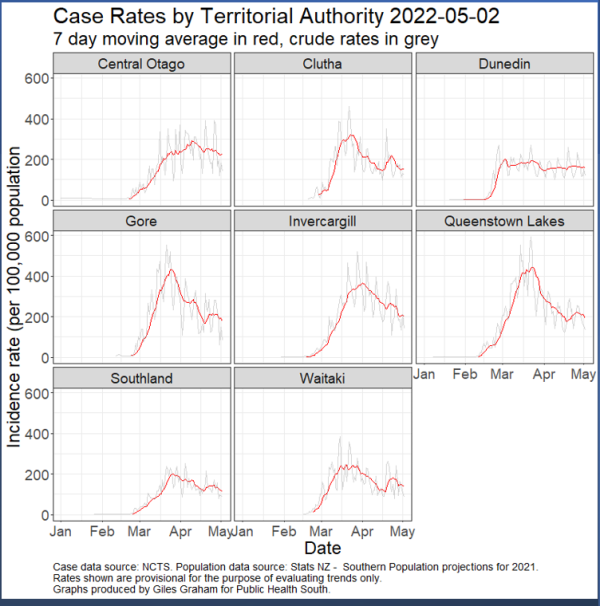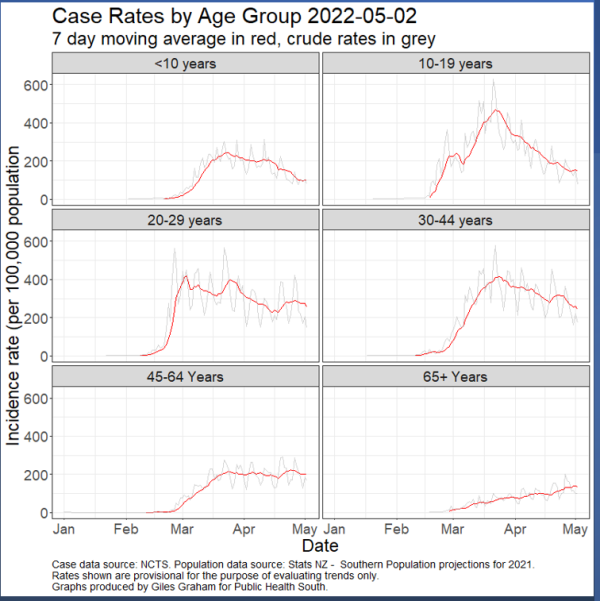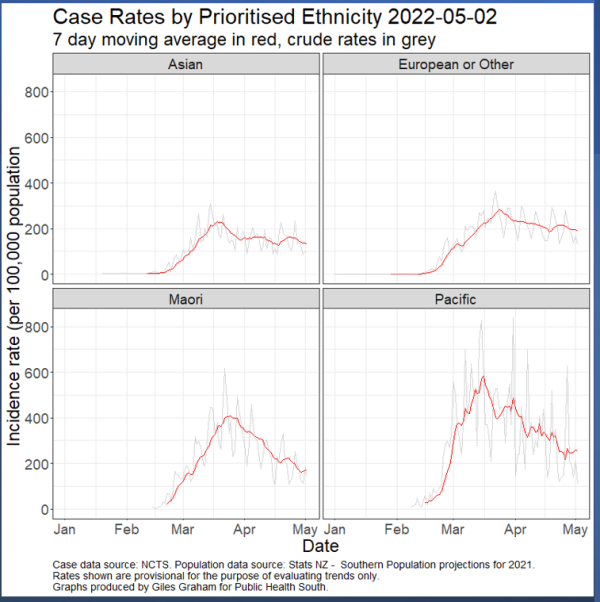 Managing COVID-19 Care in the Community
Updated summary from MOH of what can be claimed for in Covid care.
The attached PDF outlines an updated summary of what general practices can claim for regarding Covid care in the community. This funding is confirmed until 30 June, and is currently being reviewed for beyond then. I haven't received any updates for community pharmacy, apologies that it is GP team centric to our pharmacy colleagues!
COVID 19 Claiming Guide for General Practice April 2022 FINAL 002
Paxlovid and Molnupiravir now available with same access criteria
From today, Molnupiravir is available for patients at high risk of hospitalisation from Covid, along with Paxlovid. As a rule of thumb, paxlovid is better but trickier to prescribe, and if the person can't take paxlovid, consider reaching for molunipiravir. The somewhat relaxed access criteria are still tricky to keep in your head, as per https://pharmac.govt.nz/news-and-resources/covid19/covid-oral-antivirals/ Note that not being fully vaccinated can be counted twice, if person is over 65 – i.e. in 4.2.3 and 4.2.4 (I see your puzzled look!).
And being fully vaccinated means a primary course of vaccine. So whether a patient has had a booster is not part of this eligibility criteria.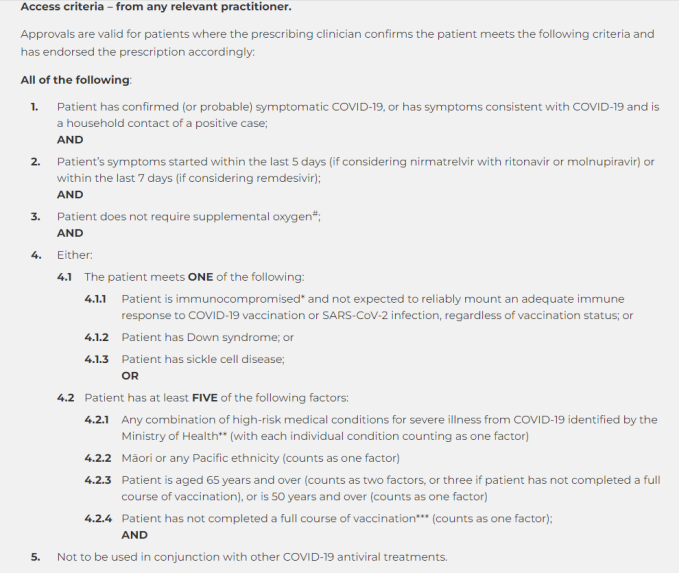 So essentially, if the person was eligible for a third primary Covid vaccine, they have Down's syndrome or Sickle cell disease, they qualify; otherwise they need to meet the five factors criteria.
Pharmac has produced a helpful 'heat map' tool to help work out more simply if the person qualifies, as below: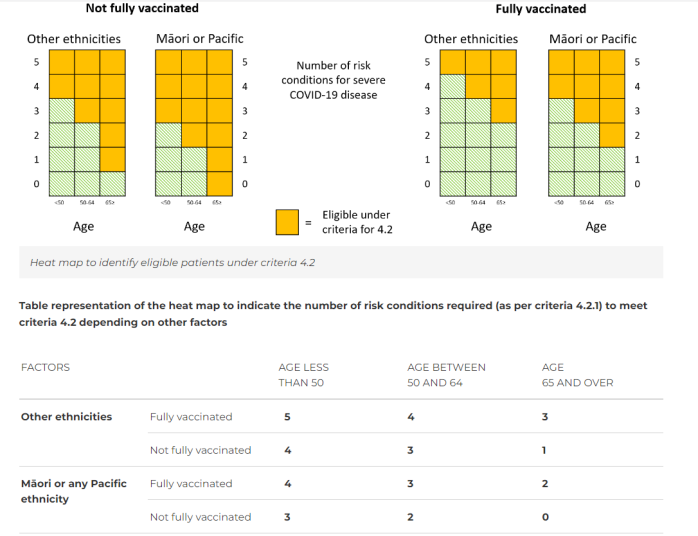 So a Māori or Pacific patient aged 65 or over who hasn't had 2 shots of Covid vaccine is eligible without any other criteria.
And the list of 'high risk medical conditions' is below, from : https://www.health.govt.nz/covid-19-novel-coronavirus/covid-19-information-specific-audiences/covid-19-higher-risk-people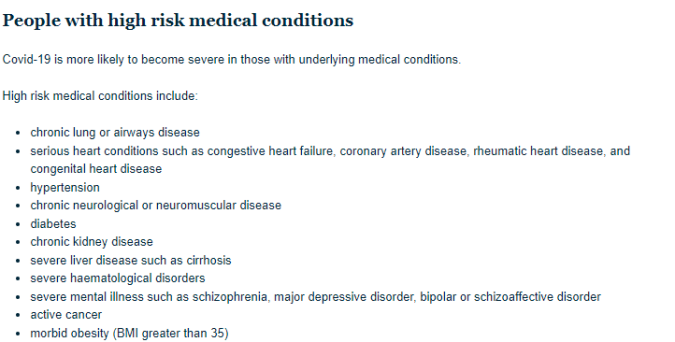 Pharmac are planning to produce a tick box tool that will tell us whether the person is eligible in a couple of weeks too.
Clear as mud? If you need advice, phone a friend – the on-call physician , or the person's usual medical consultant would be happy to discuss the person's case.
Coding for Long Covid
Thanks to those who have let us know that the READ codes for Long Covid aren't yet activated in MedTech. I am following this up with the MOH about what the time line is for MedTech adding these in, and if there is no plan yet, what a simple work around could look like. I will keep you posted next week on progress. We are checking about other PMSs but let us know if you have run into problems and you use another PMS.
Supported Isolation & Quarantine
Further detail has come from SDHB around the criteria to access supported isolation and quarantine accommodation units. There are a limited number of units across the region. Not everyone meets criteria to access SIQ. SIQ is primarily for people who cannot isolate safely in place, including people with no fixed abode, people who have safety concerns at home, those with significant co-morbidities, and those who are living in crowded accommodation. All patients who are placed in an SIQ facility should be under an active Covid management pathway – the clinician network can provide this if the person is not registered with a practice.
As we've noted earlier, travellers who catch Covid-19 while they are travelling are not eligible for supported isolation, but our Covid coordinators have a list of accommodation that will take Covid positive travellers, contact them at coordinator@wellsouth.org.nz
WellSouth Access + Choice Portal for wellbeing support is closing
In March, as Covid case number were increasing, our Access and Choice team were helping support Covid positive patients who may have needed mental health and well-being support. There is now very low demand for this support and we are closing the the Covid-19 Wellbeing link in the WellSouth Portal.
All WellSouth primary mental health services continue to be available. Please refer via the usual referral pathways.
Please note - Welfare services (food, necessities, accommodation, and other MSD services) is available as usual, page 4 of the regular HealthCheck BCMS, or by calling 0800 512-337.
Pulse Oximeter Numbers
Thank you to those General Practices that inform the Coordination Centre when they give a pulse oximeter to a patient. This makes it much easier to keep track of where that pulse oximeter is, and therefore be able to manage our supply. To make informing us easier, and to reduce the email traffic, we have created an online form. You can complete this form to tell us which pulse oximeters you have given to patients. Of course, you can continue to email/ring if you prefer.
Delivered/Returns/Requests/ Pulse Oxi
Allied Health Professional Role
WellSouth is recruiting an Allied Health Professional to join the Covid in the Community Hub. The role will primarily be based in Dunedin and is a six-month, fixed-term contract. WellSouth would be open to secondments for this role. The role will identify and assist complex patients who are Covid positive to ensure they have everything they need to safely isolate, and consider supports that can be put in place after their Covid isolation period. The person must be a registered health professional with a current annual practising certificate e.g. social worker, nurse, occupational therapist.
Please share amongst your networks. The link to apply can be found at:
https://wellsouth.bamboohr.com/jobs/view.php?id=162
Online symposium: Long COVID: Journeying together through the fog
University of Otago, Wellington, is hosting an online event to bring together national and international experts to discuss the best ways of supporting those with Post-Acute Covid Syndrome (PACS) or 'Long COVID'.
Long COVID: Journeying together through the fog
Zoom symposium | All welcome
Wednesday 25 May 2022
Registration required: events.otago.ac.nz/longcovid2022
Long COVID is an emerging issue for Aotearoa and globally. This symposium provides an excellent opportunity to hear the latest thinking from a range of perspectives – please take a look at the outstanding programme of presentations and panel discussions.
The speakers include:
Long-COVID expert Professor Trish Greenhalgh from the Nuffield Department of Primary Care Health Sciences at the University of Oxford;
Dr Martin Chadwick, physiotherapist and Chief Allied Health Professions Officer at the Ministry of Health;
Jenene Crossan, long-COVID sufferer and advocate;
Professor Nicola Kayes, Director of the Centre for Person Centred Research and Professor of Rehabilitation in the AUT School of Clinical Sciences;
Professor Michael Baker, epidemiologist and public health physician from University of Otago, Wellington;
Dr Paul Skirrow, clinical psychologist and Senior Lecturer in the Department of Psychological Medicine at the University of Otago, Wellington;
Drs Lynne Russell, Marianna Churchward and Mona Jeffreys, leaders of the major Victoria University of Wellington study on the impact of COVID-19 in Aotearoa.
This is an opportunity to share learnings and ideas, and journey together through the fog. Please register in advance via the event website.
More information: Dr Rob Griffiths, Rehabilitation and Teaching Research Unit
University of Otago, Wellington rob.griffiths@otago.ac.nz
And now for something completely non-Covid…
Influenza A detected in Southern
Influenza A was detected in the community in Dunedin on Tuesday, through 'red stream' testing of ED patients at Dunedin Hospital. For interest, ED red stream patients are tested for SARS-CoV-2, influenza A, influenza B, and RSV. The influenza A is in the student community, including residential colleges. So look out for it coming your way.
And of course, its safe to get the flu vaccine alongside other vaccines including Covid (Pfizer and Astrazenica), MMR, and routine childhood vaccines.
Colloquium 2022 | Evaluation of the Primary and Community Care Strategy Implementation
Just a reminder of next week's presentation of further findings from the evaluation of the Primary and Community Care Strategy (PCCS) implementation and their relevance for the future:
Colloquium 2022 | Evaluation of the Primary and Community Care Strategy Implementation
Time: May 10, 2022 01:00 PM to 5pm
Join from PC, Mac, iOS or Android: https://otago.zoom.us/j/97359026570?pwd=QVpGbUQ5S1A5S1BHbDhqZHZWSW5odz09
Password: 216535
In person event:
The colloquium will be held in the Otago Business School Board Room. The room has a seating capacity of 50 persons therefore please RSVP to patti.napier@southerndhb.govt.nz to ensure we can accommodate everyone and to assist with afternoon tea catering.
https://wellsouthprimaryhealth.sharepoint.com/Lists/Events%20for%20your%20diary/Attachments/52/Colloquium%20Programme%202022%20doc.pdf
Thinking about the upcoming health reforms and localities
I'm developing a taste for podcast listening while walking and driving. If that sounds a bit like you, the NZ Doctor|Rata Te Awhina podcast series, System Fix, on the upcoming health reforms, are a good listen at https://podcasts.google.com/feed/aHR0cHM6Ly9uZXd6ZWFsYW5kZG9jdG9yLnBvZG9tYXRpYy5jb20vcnNzMi54bWw/episode/aHR0cHM6Ly9uZXd6ZWFsYW5kZG9jdG9yLnBvZG9tYXRpYy5jb20vZW50cnkvMjAyMi0wNC0yNlQyMF8wMl8xOC0wN18wMA?hl=en-NZ&ved=2ahUKEwjJ-Omx78f3AhXlILcAHYwJDz0QjrkEegQIAhAF&ep=6 The latest episode has Barbara Fountain and Martin Johnston (full disclosure, old flatmate) interviewing Martin Hefford from the Transition Unt about progress on localities and where to next with them. Its an interesting 39 minutes.
So that's all from me. Keep warm, keep safe, keep smiling