Update No. 49 - May 19, 2022
Tēnā koutou katoa
Greetings! I have had the pleasure of spending some time in Riverton/Aparima and Te Anau this week. This is a spectacular part of our region, and thanks to those working in primary care in those towns who have made me feel most welcome. It reinforces to me that we cover a very large area as a community of primary care teams, and local context is a key part of service planning and delivery.
Key points today:
Covid rates in our over 45 age groups are starting to come down but ARC facilities stretched

Interim guidance on possible Covid re-infection within 90 days

Funding for Domestic travel supervised RAT test for asymptomatic unvaccinated travellers ceasing soon

Introducing our new Radiology hospital/primary care GP Liaison, Dr Nic Garthwaite

Resuming the Community Spirometry Programme

Mercy Hospital Charitable Trust Fees Relief programme
The National Picture
The new winter scenarios nationally are shown below, as discussed in last week's update.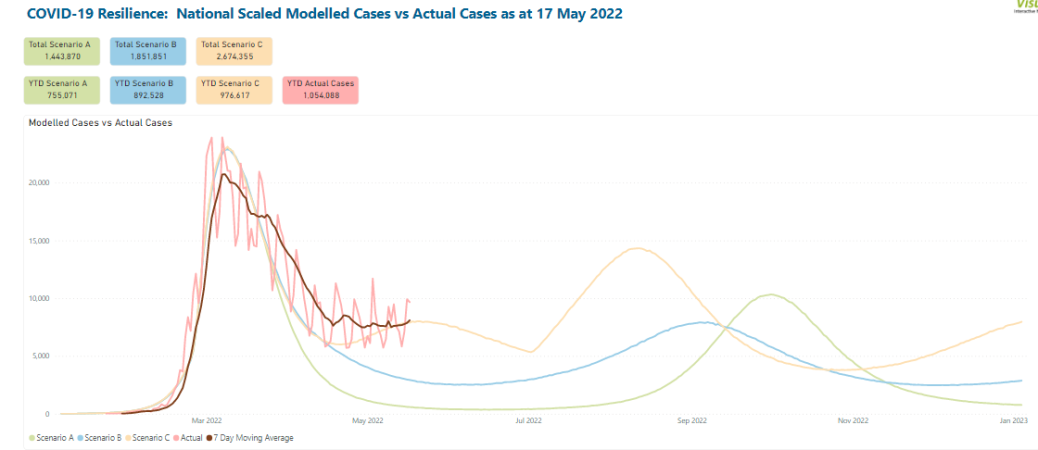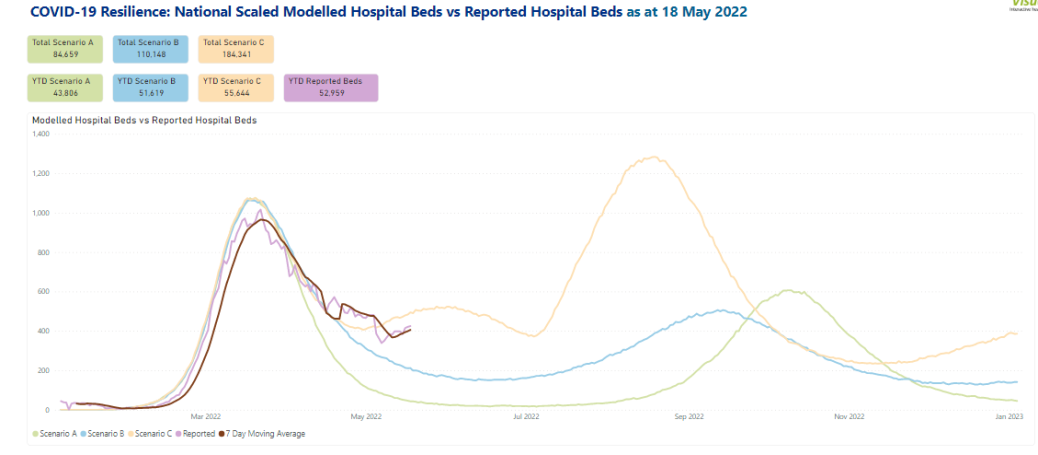 The Southern picture
Our case numbers shown below continue to slowly trend downwards – one day recently the daily update I receive at 8 am of case numbers reported started with a 4 (it was 499, but a 4 none the less!). Its been a while since that was the situation. Lets hope for more of that. Our hospital bed occupancy is also tracking down.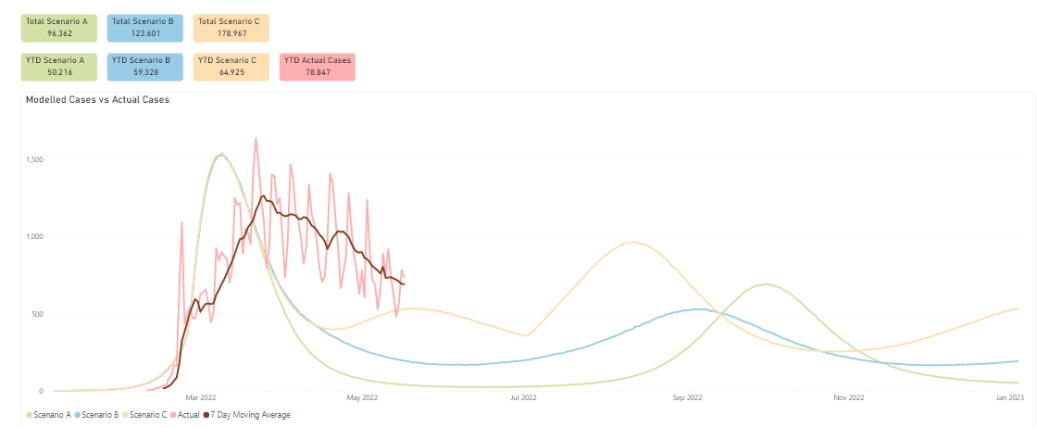 The following graphs and commentary are once again provided by Giles Graham and Susan Jack at Public Health South, with many thanks to them. As you can see, Dunedin rates continue to plateau. Central Otago, Gore, Waitaki and Queenstown-Lakes have also levelled off in the last week. It is not apparent his stage whether this reflects a longer term trend.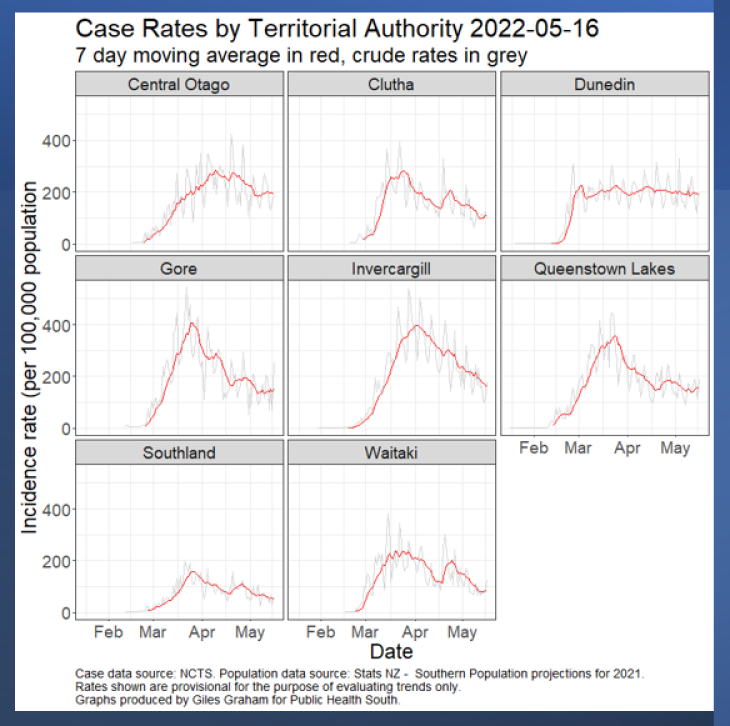 Rates continue to drop across all ethnicities: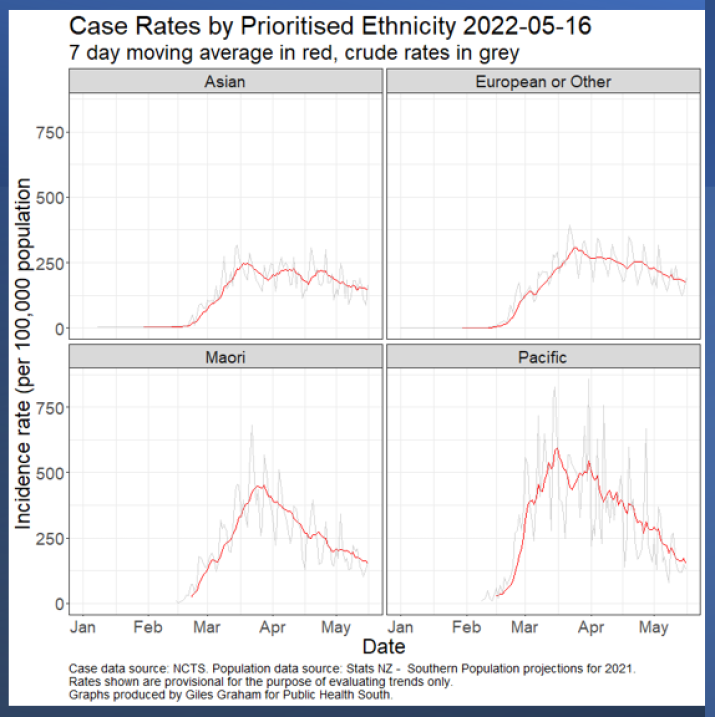 Rates have decreased in the last week in the over 45 year age groups but have levelled off in the <10, 10-19 and 30-44 age groups - this is likely an effect of the school term starting.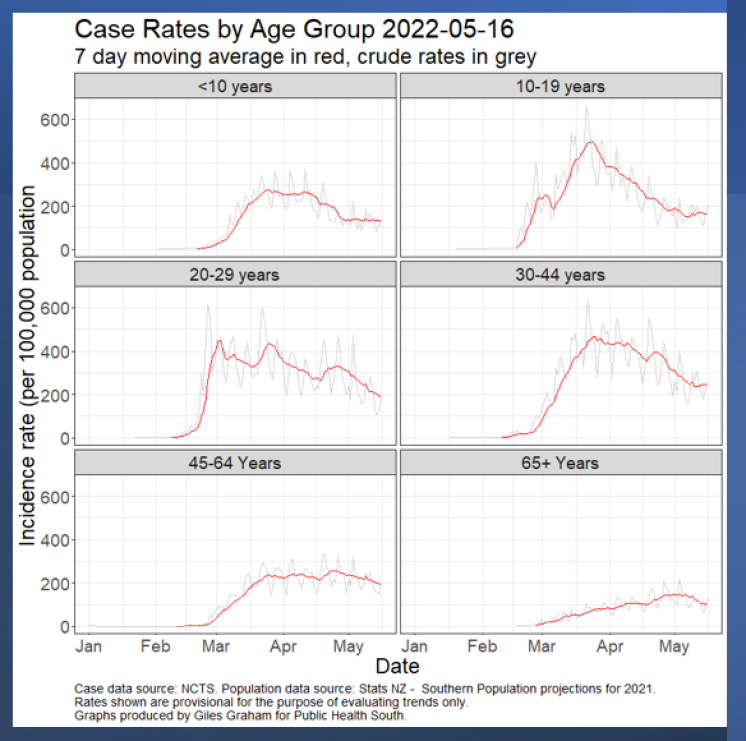 Our Aged Residential Care facilities have been struggling with Covid cases in recent weeks, as you will all know. The graph below shows different ARC facilities in different colours. All 65 ARC facilities in Otago/Southland have had staff who have contracted Covid-19, and half of all ARC facilities have had residents contract Covid-19. A quarter of all ARC facilities currently have residents who are Covid positive. You will be experiencing the stress that this puts on residents and their families, as well as the staff. Thank you to our hard-working Pharmacy teams and General Practice teams for your ongoing support of this vulnerable patient group.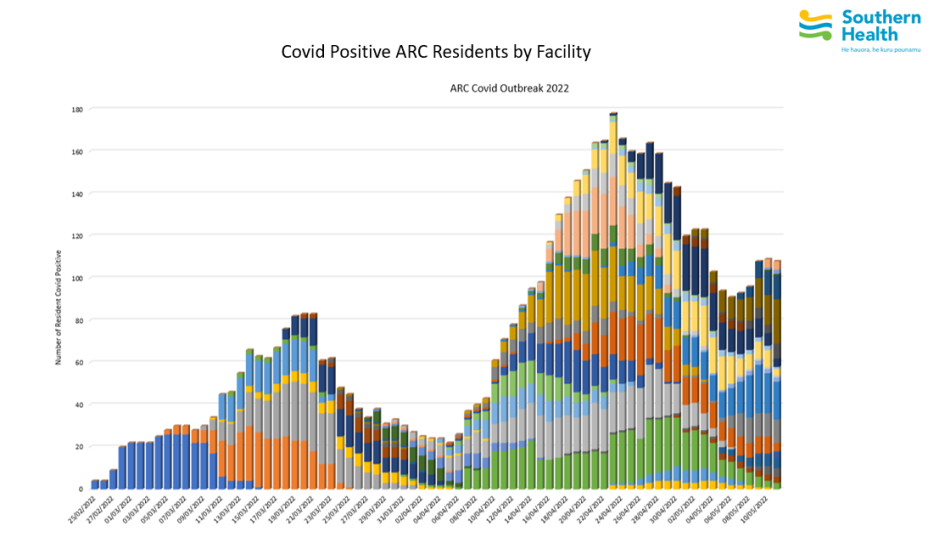 Managing COVID-19 Care in the Community
Interim Guidance on testing for possible COVID-19 reinfection within 90 days
Interim guidance is attached for healthcare providers on how to manage patients who present with COVID-19 symptoms or a positive COVID-19 RAT test within 90 days of a prior probable COVID-19 infection. In essence, its very unlikely to have a re-infection within 28 days, and still not common day 29-90. If you think it is a possibility, do a supervised RAT test, rather than a PCR or a patient self-administered test. There is a table of possible interpretations of a positive RAT test in the document, which could make things more confusing!

The document also includes a suggested testing plan, and claiming guidance. Testing is funded in the same way as existing COVID-19 guidance. One can't yet create a second Covid infection record in CCCM, but that is being developed at the moment. If you are seeking advice about whether it may be a re-infection, phoning a friendly microbiologist is suggested.
COVID 19 Reinfection Guidance 6 May 2022
Discontinuation of funding for pharmacy-supervised RAT tests for domestic travel from 10 June.
The MOH is stopping funding pharmacy supervised RAT tests for asymptomatic unvaccinated travellers undertaking domestic travel from 10 June (see attached notice). Proof of negative tests are not required any longer domestically. This doesn't impact on access to RAT testing for symptomatic people.
Discontinuation of funding to community pharmacies for supervised RAT tests
The non-Covid updates
Introducing Dr Nic Garthwaite, our Radiology GP Liaison
For those of you who may have missed my introduction amongst COVID, I am working in a primary care/DHB liaison role within the radiology service. The aim of this role is to look at;
potentially broadening GP direct access to CT scans inline with other regions
ultrasound access/wait times
to see if there are other significant areas of radiology access, we as a primary care community feel need addressed
I welcome your thoughts, suggestions, and ideas as your insight is integral in improving access.
This is a link to a quick survey monkey around current access and options for change
https://www.surveymonkey.com/r/LTJ8P6N
I am also available via;
Nicola.Garthwaite@southerndhb.govt.nz
Resuming the Community Spirometry Programme
Message from the Respiratory Community Project team:
Dr Ben Brockway, CD Respiratory, SDHB
Dr R Meyer, Community Respiratory Physician
Dr T Lequeux, Respiratory Physician, SDHB
Lisa Wilson, Service Manager, SDHB
We would like to acknowledge the huge impact that Covid-19 has had on all primary care providers and health workers across the district. It has undoubtedly been a very difficult year and there will be more challenges ahead.
Over the last year, we have been developing community/primary care-based, DHB-funded, spirometry services.
Community-based spirometry service
A number of practices have taken advantage of the opportunity to source spirometers, and some staff have successfully completed a training course on these in December 2021. More staff were booked on subsequent courses but these were postponed while Covid numbers became our obvious focus over the last few months. We are now reopening the courses for registrations later this year. More information about this will be posted to WellSouth's workforce development web pages soon.
Electronic referrals and claims
Work has resumed to create an IT platform – an electronic pathway - for loading results from spirometry and claiming for approved providers.
Community-based sleep assessments
We are also asking interested parties to consider becoming approved providers for community-based sleep assessments. While the final structure of the model is not yet decided, there is precedent for this strategy in the community, with the Canterbury project having been up and running for the last decade. Our model will likely be fairly similar, but adapted for local use around the district.
There is much unmet need in both sleep medicine and respiratory diagnostics, and patients should be able to access services closer to home in a timely fashion where possible.
The demand for community-based assessments is likely to have increased during the pandemic. We are critically aware that we need to build a system that is going to work well for patients, whānau - and for you, as providers.
Dr Roland Meyer is appointed part-time as a Community Respiratory Physician with WellSouth and tasked with working with primary care to deliver these changes; he is also available for specific respiratory advice - particularly when there is uncertainty about the need for referral to specialist respiratory services. Roland.Meyer@wellsouth.org.nz
Mercy Hospital Charitable Trust Fees Relief programme
Did you know…
Mercy Hospital Charitable Outreach has a surgical fees relief component, to assist people whose quality of life would be improved by surgery, but who lack the resources to pay for treatment and do not qualify for timely intervention in the public hospital system. Financial hardship criteria is assessed by way of an application process then the referral is made through the patient's medical specialist. Most applicants make a financial contribution to the cost of their surgery and Mercy Hospital's charitable outreach programme meets the remaining costs.
If you have any questions please contact the Mission Coordinator: Alofa Lale. DD: 03 467 6657 Email: alofa.lale@mercyhospital.org.nz
You will have seen that today's update is as much non-Covid as Covid, as our Covid responses become more embedded. I am planning to move to fortnightly Medical Director updates from next week, with a mix of Covid and other updates that I hope you will find of interest. The health reforms are going to be occupying my mind and time increasingly over the next few months. Lets work together to embrace the opportunities that the changes will bring.
Ngā mihi nui
Carol