Update No. 52 - July 7, 2022
Tēnā koutou katoa
Welcome to another edition of the missive! I have had a relaxing sun-filled (although cold!) fortnight, did the autumn tidy-up in the garden in winter and feel refreshed. I hope you have been able to take a bit of a break in recent times, or have one planned soon. So much has happened in a fortnight – Winter Solstice is past, Matariki is here, and the new health system has been born. And I have come back to more Covid!! The predicted winter confluence of flu and rising Covid cases is upon us. Not to mention a potential super-spreader All Blacks – Ireland test match in Dunedin on Saturday, and the mountain holiday resorts booked out for the school holidays. We have a busy few weeks ahead.
Key points today:
Covid rates are on the climb, and rates in older people are leading the way
New Thalamus tool to help identify patients eligible for oral antiviral medications available
Request that medical masks be distributed to people with positive supervised RAT tests
Second booster criteria
General practices are under the pump, but making the best of it
Funding for Accuretic change consultations coming soon
The National Picture
The national modelling undertaken by Te Pūnaha Matatini has been updated – the best case scenario model has been dropped, and an alternative worse case scenario included, based on observed patterns, as below:

The national case numbers below show the recent increase in Covid cases, and occupied hospital beds, we have all seen: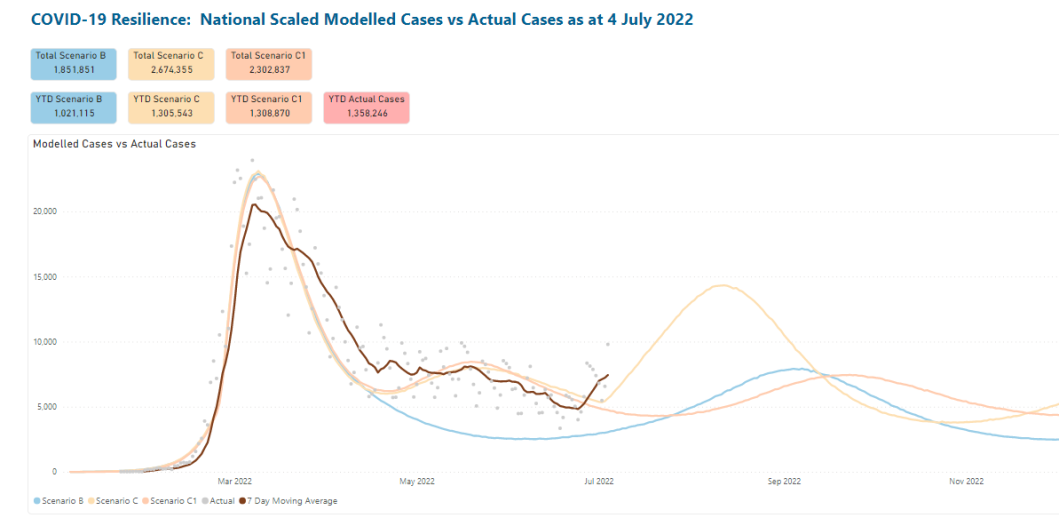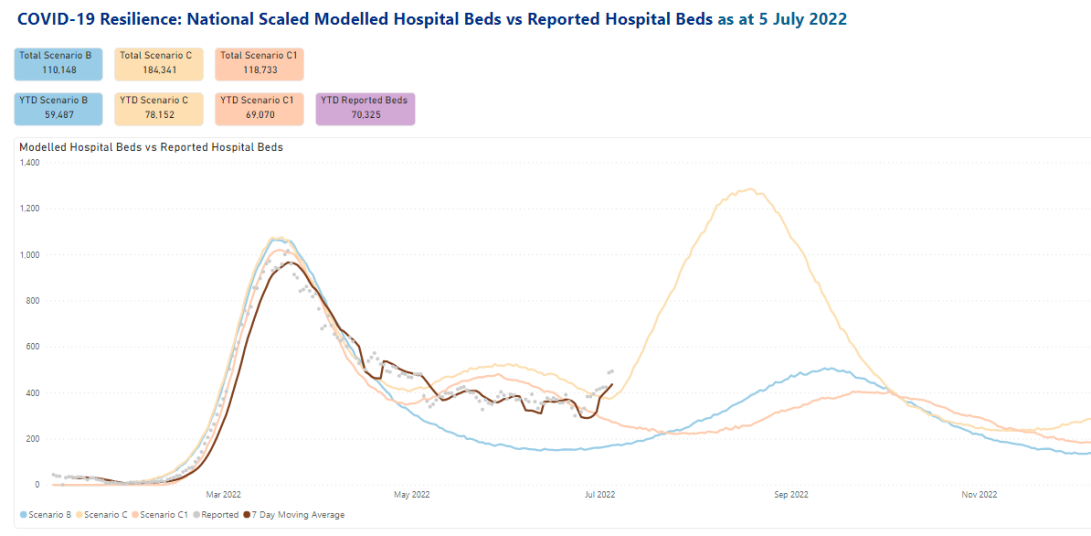 The Southern picture
The local picture of what we have seen – that we had high persisting numbers until only the last few weeks – has changed again, and our numbers are going up. This is likely to continue upwards over the next few weeks. The modelling predicts that we may see around 1000 cases a day again over the next few weeks. As we know, models are usually wrong but often useful. Many of our hospitals across the region are at capacity at the moment, with flu as well as Covid impacting on workload and workforce. The aged residential care facilities are under considerable workforce pressure, as are our practices. Home-based support services are struggling to provide essential services in some parts of our district. So its busy everywhere.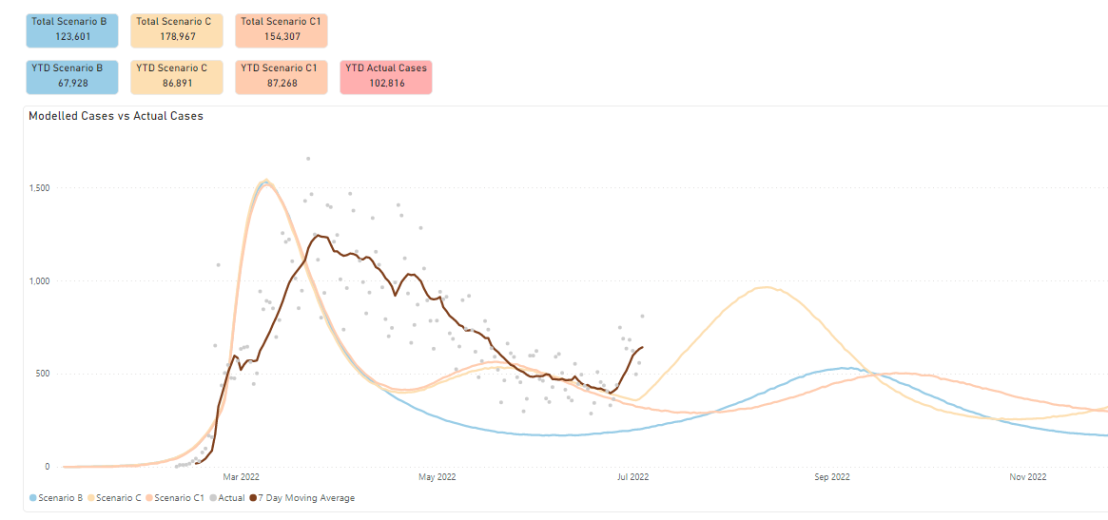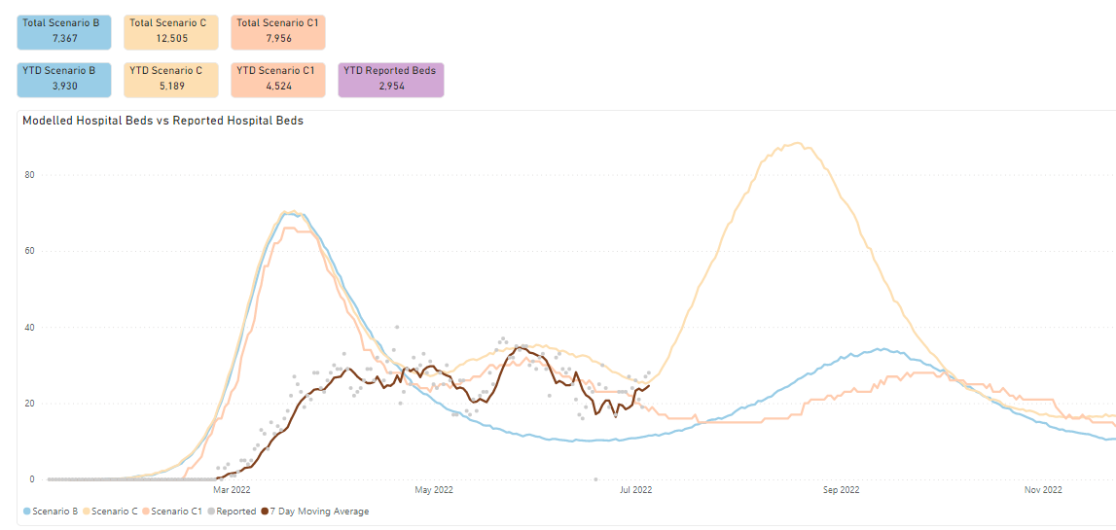 The current hot spots look to be Central Otago, Dunedin and Queenstown-Lakes, with Gore just behind that, and all showing a recent rise. With Rugby and school holidays this may be more pronounced in a fortnight. Thanks to Susan Jack and Vanessa Hammond from old-SDHB for these graphs.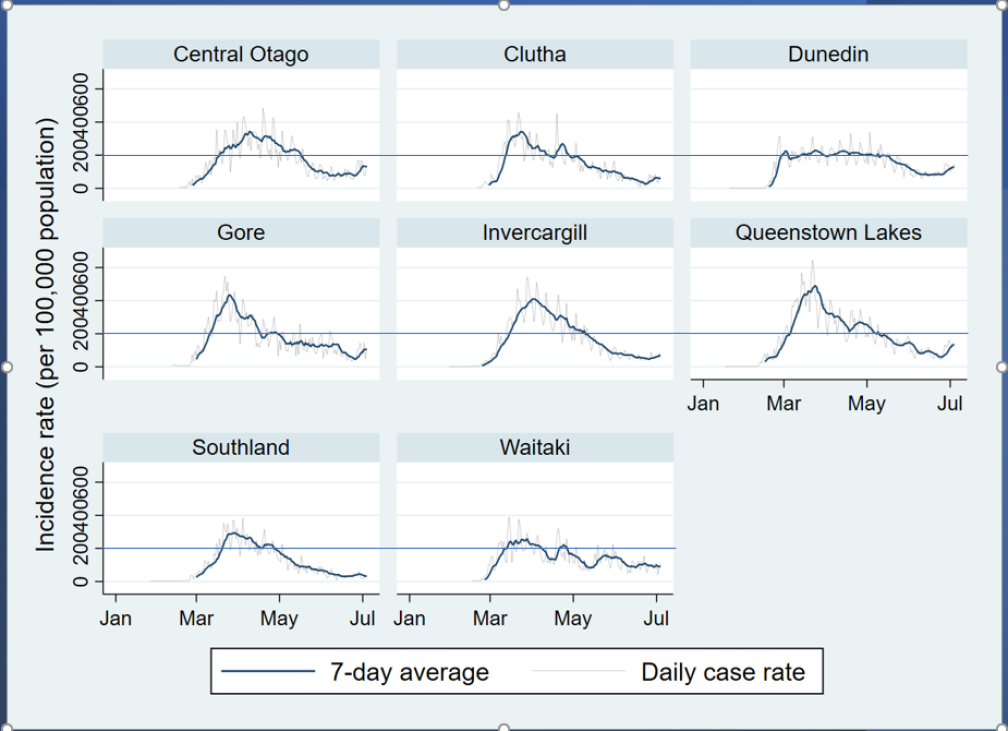 The highest rates of Covid by age group is now in the 30-64 age groups, with over 65's not far behind.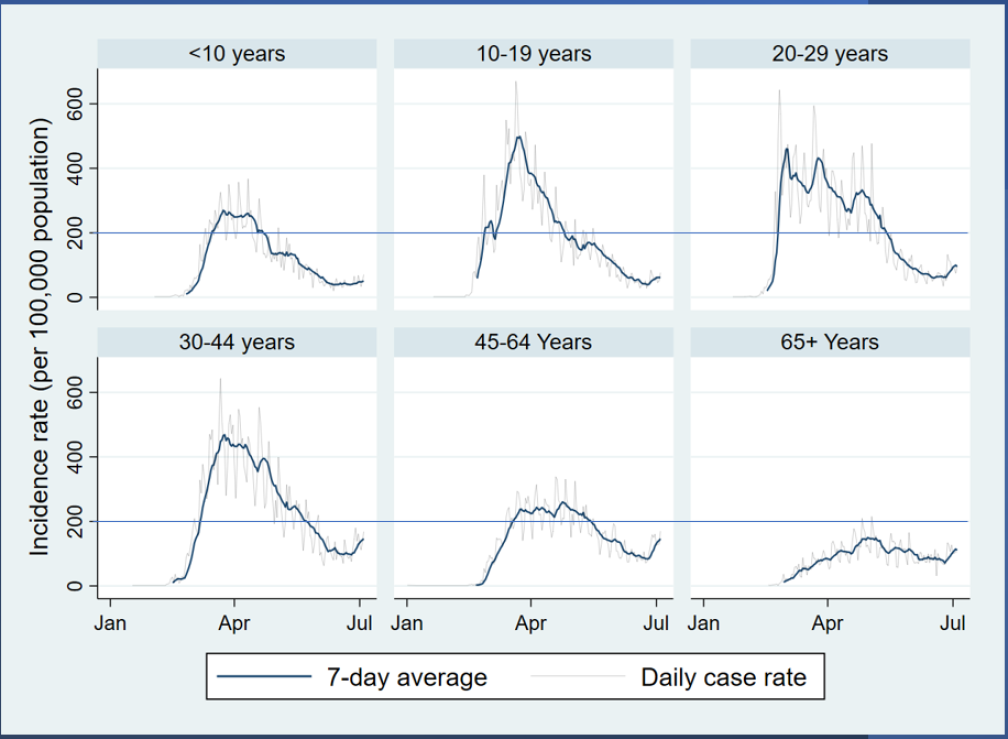 Reported case rates by ethnicity show European and other slightly higher than other ethnicities.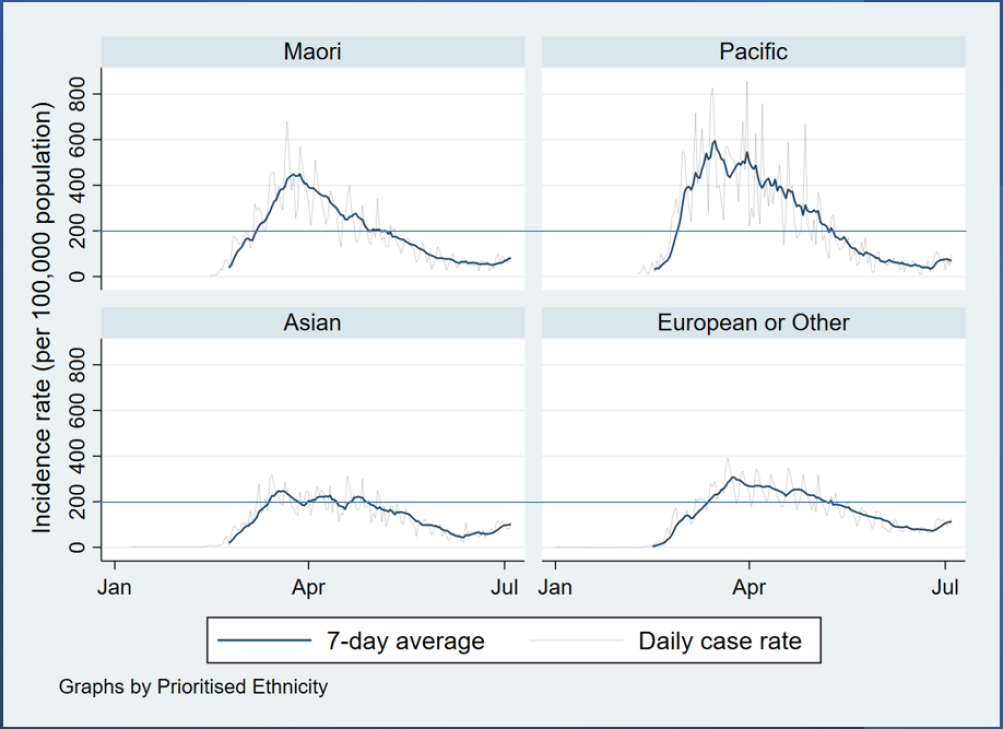 Managing COVID-19 Care in the Community
Funding for Covid in the Community services across the board has been confirmed as continuing until the end of the year. So the funding for Covid care provided by general practices will continue to be claimable until then.
New Thalamus tool to help identify patients eligible for oral antiviral medications
Increasingly around the county, general practices are focusing on which Covid positive patients they proactively contact, onto the highest risk people, particularly those who may benefit from oral antivirals. Dr Joe Bourne from MOH is clear that not everybody who is positive for Covid needs a proactive call. The bulk of your patients who contract Covid are able to reach out to you as they normally do when they become unwell, and many practices are sending texts to their Covid positive patients reminding them to make contact if they need to. The patients that will benefit most form a proactive call when they develop Covid are those who would benefit from oral antiviral prescription.
To assist in this process, we have developed a tool in Thalamus that helps to identify patients potentially eligible for oral antiviral medications, using Pharmac 's eligbility criteria This tool can be used proactively, to identify patients in your practice potentially eligible for oral antivirals, who can be texted to say that if they get sick, to get a Covid swab and log it as soon as they can, so they can be contacted early on. The other way to use the tool is that it identifies the patients in your practice who have logged a positive RAT test in the last 5 days who are potentially eligible for oral antivirals, to focus which Covid positive patients you proactively contact.
The oral anti-viral tool is only fully functional for practices using Med Tech 32 and MedTech Evo Practice Management Systems, as it can look across all eligibility criteria, including READ coding. For all practices, whatever PMS system used, it will identify eligible people based on age, vaccination status and ethnicity alone. For practices that use MyPractice, Profile for Mac and non-hosted Profile for Windows PMS systems, it will also identify patients who are eligible due to age, ethnicity and vaccination status, as well as those immunocompromised, but it will not identify patients who are eligible due to co-morbidities recorded as READ codes. We are working on providing full funcitonality for these PMSs over the coming weeks, and will let you know when these PMSs are fully functional in the tool.
I have done a 12 minute video explaining how the tool works, and showing it in action, uploaded on our website and fully accessible externally at the link below.
https://wellsouth.nz/assets/Videos/Covid-Antiviral-Walk-Through.mp4
This is a new thing for me and I would welcome your feedback as to whether this modality works for you or not.
Changed Notification of Covid Positive Patients from MOH
Information came through last week from the Ministry of Health, which I am repeating here in case you missed it. The MOH changed the notifications of Covid positive patients to GP Inboxes, to only be for "high-risk" patients, based on the information patients provided when they logged their positive RATS and filled out the questionnaire online. ESR notifications will continue so that General Practice is aware of all positive patients in the practice. The purpose is to reduce the number of notifications going to GP Inboxes.
Criteria for a patient to be considered high-risk by MOH are detailed below:
o There is a probable case that has been entered into NCTS manually (Probable and Source = Manual)
o Information that may trigger a Therapeutics prescription; symptoms AND last 5 days AND Immunocompromised,
o Patient has 1 or more severe illnesses (Underlying conditions),
o One or more of the More Serious Symptoms have been ticked: New or worse trouble with breathing, severe dehydration such as a very dry mouth not peeing very much, feeling lightheaded or dizzy, a severe headache
The patient has identified that they are currently pregnant, or gave birth in the last 6 weeks
The Covid Coordination Centre will continue to send a daily email notification of all positive patients enrolled in your practice, and this information is also available in Thalamus. The Thalamus oral antiviral tool is likely to identify some of these patients for whom notifications are received as well.
Te Whatu Ora| Health New Zealand request that medical masks be distributed to people with positive supervised RAT tests
We have received the following request from Te Whatu Ora, regarding distributing medical masks to people with positive RAT tests, as below, wiht ordering advice:
From: Elliot Hunt <Elliott.Hunt@health.govt.nz> On Behalf Of COVID-19 Testing
Sent: Thursday, 7 July 2022 10:01 am
Subject: Face Mask Distribution Primary Care
Kia ora,
The Director General of Health has requested that medical masks be distributed, with every RAT order to all members of the public who have requested RATs.
With regards to General Practices, this would include patients that have been supplied RATs for their household contacts, after having a supervised RAT conducted by their healthcare practitioner that was positive for COVID-19. We are therefore seeking your co-operation, where possible, to assist with the with this initiative. We do appreciate there may be some constraints at general practices due to lack of storage space, however if the face mask distribution is possible your support would be greatly appreciated. These masks can also be distributed to any of your patients that fall within the vulnerable population groups during consultations.
Access has been granted to the HCL portal, to facilitate easy ordering of medical masks using the 'Masks for Vulnerable' designation. A note has been added to the portal to this effect. Any issues accessing or using the portal should contact the COVID Supply Team at covid.healthsupplychain@health.govt.nz .
It has been suggested that one box of 50 masks should be provided to every household, depending on size (we advise against repackaging masks from their boxes). The Ministry of Health also has some posters available on its website including Facemask do's and don'ts and how to use a facemask safely that may be helpful to provide to those who are unsure how to use a mask correctly.
Collection sites, along with Māori and Pacific Distribution Providers are also handing out packs of medical masks with RAT kits throughout the Country.
Feel free to get in touch with the COVID-19 testing team at COVID-19testing@health.govt.nz if there are any queries that you may have.
Ngā mihi
Vanessa Coull (she/her)
Principal Adviser
COVID-19 Testing Operations
waea pūkoro: +64 21 229 7050 | īmēra: vanessa.coull@health.govt.nz
133 Molesworth Street, Wellington
General Practice Survey Feedback
Thanks you to all of you who have continued to complete the weekly practice surveys. We really value your input, as it helps us focus on what's important at practice level.
The team have kept the alert level at 3/orange, or medium-high. Not because of covid-related workloads but because of the impact of covid and other illnesses on workforces. If it is not the staff affected, it is their whanau members. Flu is spreading thoughout the school-age population like widfire. Around one practice in five says they do not have enough GPs to manage business as usual.
Practices remain busy, and with the workforce issues are feeling just as busy as they were three months ago, despite the reduction in both PCR swabbing and vaccinations. Related to that, the practice mood remains buoyant at around 3.7 out of 5 each month. We have a superbly resilient workforce (but let's not take them for granted).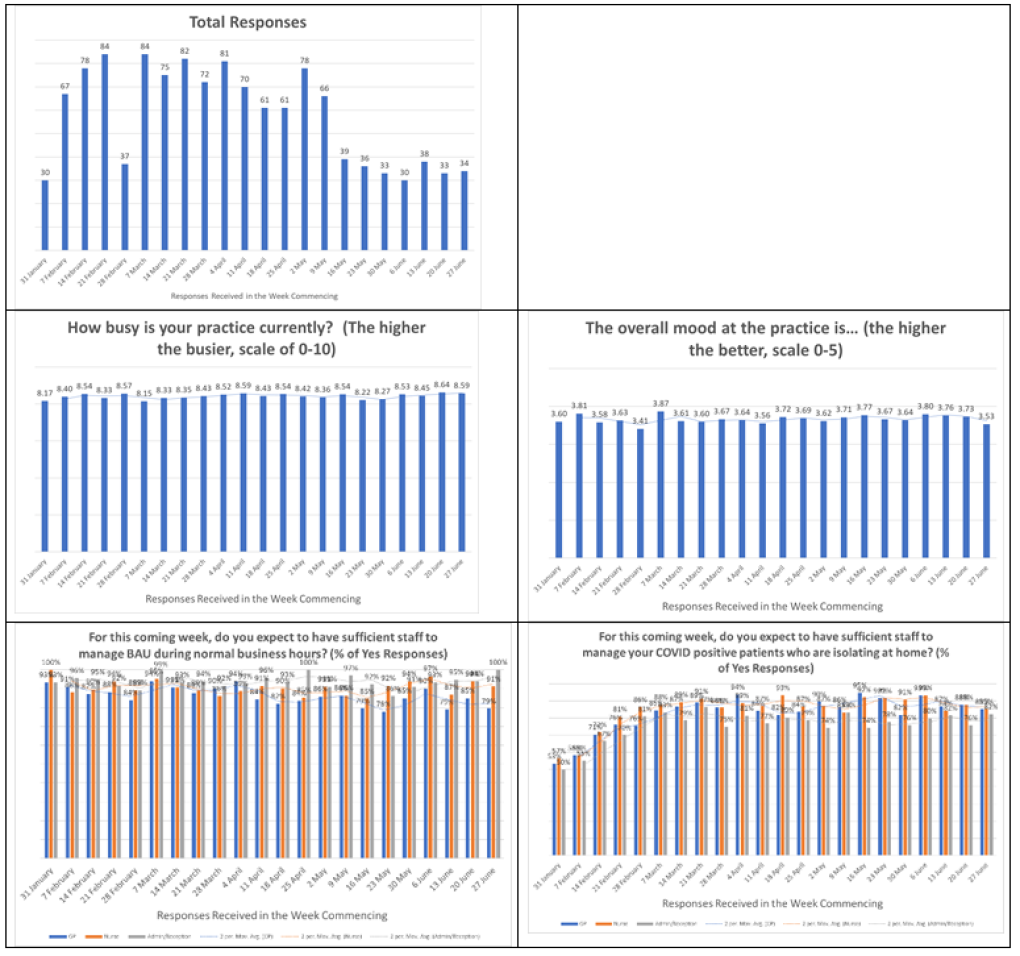 Comments this paste few weeks:
Difficulty covering after hours
Well, more to add from all my previous comments, much the same, still dire with the shortage of permanent GPs, is the introduction of Health NZ going to change this prognosis, or do we keep rolling with the miracle that may happen and as a nation we are trying to stop our skilled workforce leaving this country to seek better pay clarity?
Staff currently are under the pump, more our reception team taking the force of the anxiety and over whelmed population, trying to reassure them if its acute we will accommodate .... somehow!
Locum agencies as much as they are providing some relief they still take the cream from Practice, making business tight and unprofitable. Ensuring I have GPs on reasonable rates with flexibility in their day and also ensuring they have time to do all their admin tasks is priority for me ensuring they don't burn out and continue serving our communities in a timely manner
We have another GP down covid + for this week.
BAU still restricted due to shortage of GP contact time/lack of additional GP support available in district
we have an overwhelming amount of flu and covid positve patients. Just keeping our head above water at present.
Getting a good pasting from staff illnesses with a notable increase in demand for patients particularly with ILI symptoms which is causing some challenges for the staff on the ground
One Nurse off but everyone else back on deck....yay!!!!
Main locum doctor and rest of the team OK, apart from practice nurse got Covid and in Isolation from Friday
Still a lot of patients presenting with respiratory issues which is to be expected at this time of the year. Practice is very busy but all are coping admirably.
good mood but hit hard wtih covid with most of our Admin staff down at the same time.
Oh noo, the last survey, I have been looking forward to these each week :-) Does this mean we have had an influx of GPs arrive into the country and all our problems are going away? Just like the COVID I suspect, not likely.
Much the same here, keeping staff uplifted and reminding they are doing their best in any circumstances, still awaiting a miracle with Health NZ, ummmm or not.
Thanks for the opportunity each week to voice concerns or raise any new issues, in our case, nothing new, business as usual with what resources we can muster, happy days have never looked better, thanks team - keep up the good work.
We are just making it work.
1 x doctor, 1 x nurse and 1 x administrator sick this week. 2 x covid 1 x flu related.
How much we need to know what the New Health NZ
3 staff off sick with covid
Covid-19 vaccinations update
So the second booster is now available. In case you missed it, I have included a summary here. An update on who is recommended to receive the second booster on the MOH website here.
The immune and medical conditions where a second booster is recommended are listed below. People in these groups are likely to have an ongoing increased risk of severe COVID-19 even after primary vaccination. These examples are not exhaustive, and providers may include individuals with conditions similar to those listed below, based on clinical judgment.
Category

Examples

Immunocompromising conditions

Cancer

Non-haematological cancer including those diagnosed within the past 5 years or on chemotherapy, radiotherapy, immunotherapy or targeted anti-cancer therapy (active treatment or recently completed) or with advanced disease regardless of treatment. Survivors of childhood cancer.

Chronic inflammatory conditions requiring medical treatment with disease modifying anti-rheumatic drugs (DMARDs) or immune-suppressive or immunomodulatory therapies.

Systemic lupus erythematosus, rheumatoid arthritis, Crohn's disease, ulcerative colitis, and similar who are being treated.

Chronic lung disease

Chronic obstructive pulmonary disease, cystic fibrosis, interstitial lung disease and severe asthma (defined as requiring frequent hospital visits or the use of multiple medications).

Chronic liver disease

Cirrhosis, autoimmune hepatitis, non-alcoholic fatty liver disease, alcoholic liver disease.

Severe chronic kidney disease (stage 4 or 5)

Chronic neurological disease

Stroke, neurodegenerative disease (e.g dementia, motor neurone disease, Parkinson's disease), myasthenia gravis, multiple sclerosis, cerebral palsy, myopathies, paralytic syndromes, epilepsy.

Diabetes mellitus requiring medication

Chronic cardiac disease

Ischaemic heart disease, valvular heart disease, congestive cardiac failure, cardiomyopathies, poorly controlled hypertension, pulmonary hypertension, complex congenital heart disease.

People with disability with significant or complex health needs or multiple comorbidities which increase risk of poor outcome from COVID-19

Particularly those with trisomy 21 (Down Syndrome) or complex multi-system disorders.

Severe obesity with BMI ≥ 40 kg/m2

Severe underweight with BMI < 16.5 kg/m2
Please note, a second booster is not recommended for healthy pregnant people.
Variants of Concern
The Ministry of Health has published the Aotearoa New Zealand's Strategic Framework for COVID-19 Variants of Concern as there is a high likelihood that a new COVID-19 variant of concern will emerge within coming weeks or months.
And in the non-Covid space…
Accuretic BP medication replacement process
As you know, Pharmac has notified us all that from August 2022, supplies of Accuretic will be limited. As such, Pharmac is asking that patients be changed to an alternative treatment as soon as possible.
Across the country there are 36,000 people with high blood pressure that use Accuretic, which is around 3,000 in Southland and Otago. Pharmac have agreed to fund appointments for patients on Accuretic and help them transition to an alternative medication, with a goal to have done this by 31 August. We are working on two things to make it easy to identify patients and facilitate payment for this service:
A report in Thalamus that will help you identify these patients in your practice
A claiming form in the WellSouth Portal
While details have not been confirmed, initial reports suggest that general practices will be paid $100 per appointment for this purpose, but those negotiations are still taking place.
We will keep you updated when things are firmed up. If you have any questions in the meantime, please contact Paul Rowe.
James Haddow, Colorectal surgeon, is seeking 5 minutes of your time for a survey about perianal abscess management, to improve how we manage this across the district
Dear doctor and nurse colleagues in General Practice,
This quick 5 minute survey of community management of perianal abscess will help us establish current practices in relation to this clinical problem. The aim is to then try to standardise practice based on current evidence to achieve the best possible outcomes for our patients. All responses are anonymous.
https://forms.office.com/r/wiqAuzQi3J
Very grateful for your help in this quality improvement project.
Best wishes,
James
James Haddow (he/him)
Consultant Colorectal Surgeon | Tākuta Poka
Southern
additional roles: Quality Improvement Clinical Leader | Recognition & Response Committee Chair | Senior Lecturer (University of Otago)
waea pūkoro: +64 21 077 2295 | īmēra: james.haddow@southerndhb.govt.nz
Department of Surgery, Dunedin Hospital, Private Bag 1921, Dunedin 9054
Te Whatu Ora – Health New Zealand
TB risk of Ukrainian arrivals
A recent presentation to the national Primary Care Clinical Leaders group raised the issue of the Tuberculosis risk in Ukrainian arrivals, as Ukraine has the 4th highest rate of TB in Europe. A national health pathway is in development, but here are the key points from the presentation:
2022 special Ukraine policy visa has been implemented
Approx. 1600 eligible sponsors, 2500 parents or 4000 wider family members
797 visas approved and just over 200 already in NZ
Issue re: TB. Ukraine has the 4th highest rate of TB in Europe
INZ Visa health screening requirements for TB

Chest X-ray
Under 11-year-olds may require a screening blood test (IGRA) or Tuberculin Skin Test

No health screening has been conducted for those coming in on this visa
Symptoms of TB are:

Persistent Cough; Coughing up blood; Chest pain with cough
Weight Loss – hence why it used to be called consumption or phthisis; Loss of appetite
Fever; Night Sweats
Fatigue
Swollen glands
If you see a Ukrainian person wanting to enrol to your practice under this visa, Please refer the patient for a chest x-ray. This is Fully funded and available through the DHB.
So its busy everywhere across the Southern Health System at the moment. Its at times like this that by drawing together we can support eachother, and therefore support our community. So lets remember to be kind, to give the person on the end of the phone the benefit of the doubt, and look forward to Spring coming! We are all in this together – he waka eke noa.
Ngā mihi nui
Carol