Update No. 54 - July 21, 2022
Tēnā koutou katoa
Well we are right in the midst of winter – it's cold, wet and windy, snowy and flooding for some. And winter ills are all around us. As the info below shows, the hospital, home-based support, and aged residential care sectors are also under the pump, as we all are. So to today's update...
Key points today:
Covid rates holding steady this week in the 900's
Thalamus tool re oral antivirals updated with new criteria
The oral anti-viral debate with funding
Save the date for Covid webinar Wednesday 3 August 7-8.30 pm
Other points of interest in the non-Covid space (yes, it does exist!)
The National Picture
The national modelling shows a rise in both case numbers and hospital admissions, as below: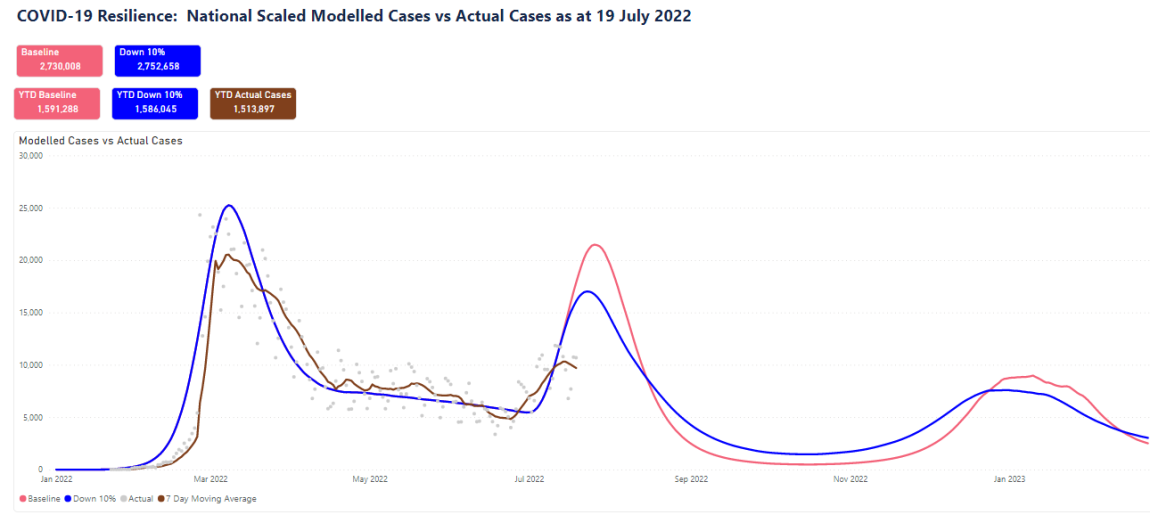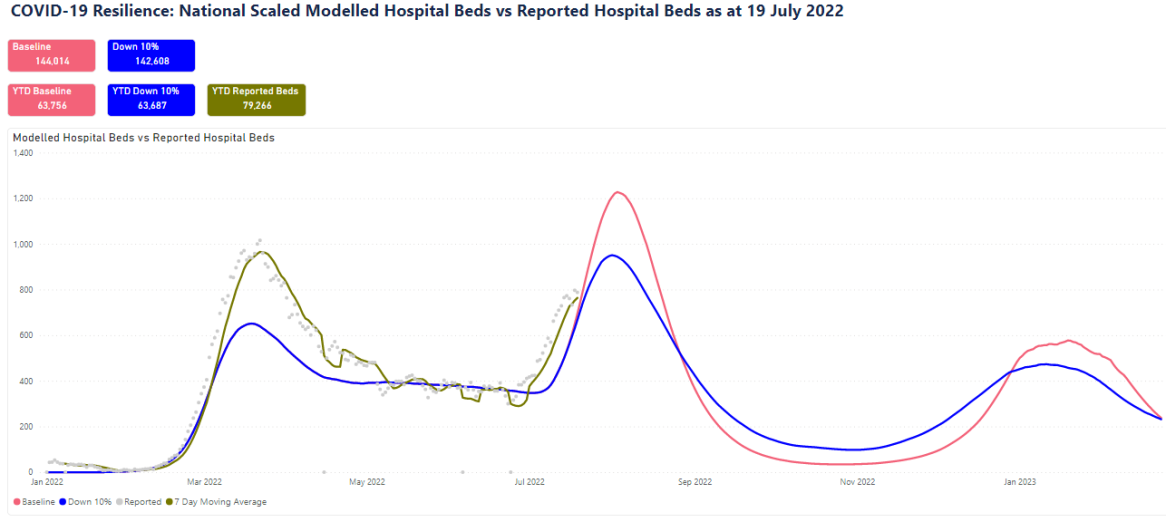 The Southern picture
The local picture shows that we are going up again, and our hospitals are full, as below:


There were 59 people in hospital with Covid across the district yesterday, roughly half there because of Covid, and half there with incidental Covid, which is at or near a record high for the district. The figures below indicate the ethnicity and age group of cases since February. The green colours in the age graph (older people) are the highest in recent days than we have had previously too. Cases are highest in absolute numbers in Dunedin TLA, as expected, we will hopefully have the rate by TLA next time.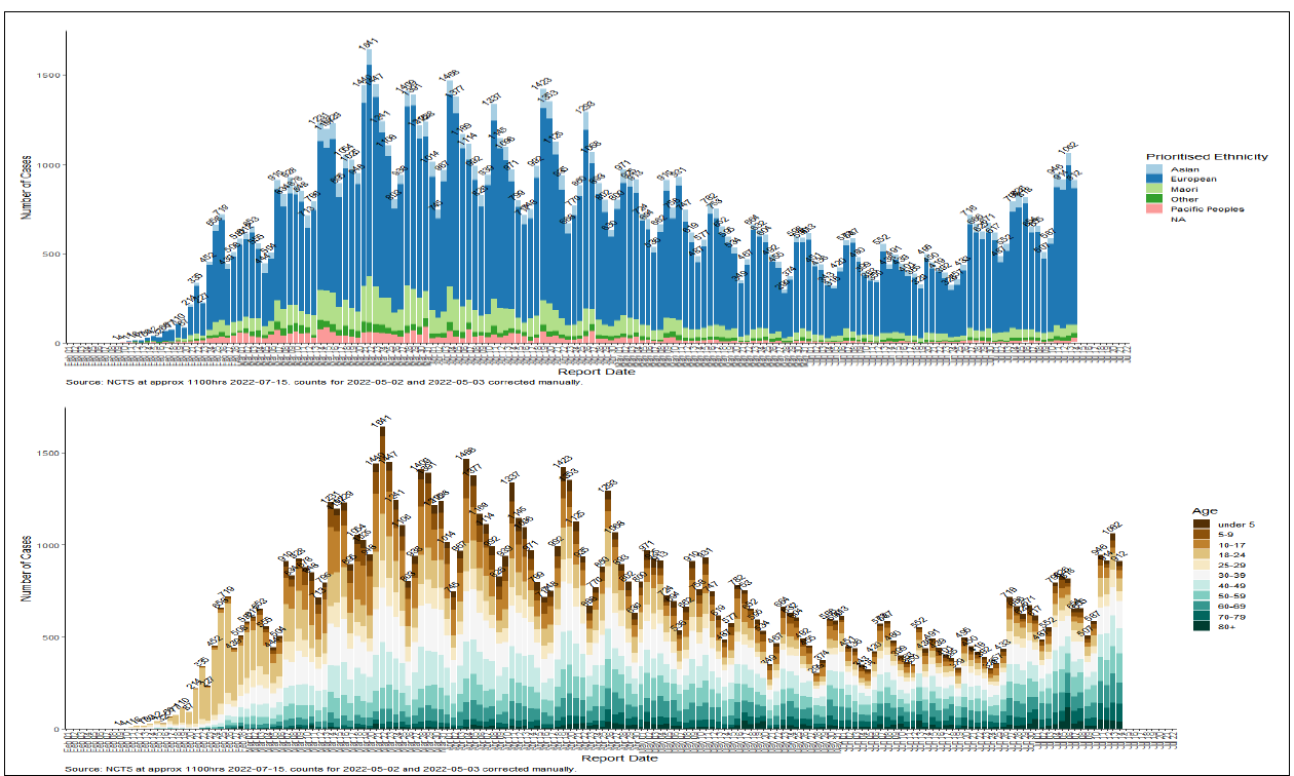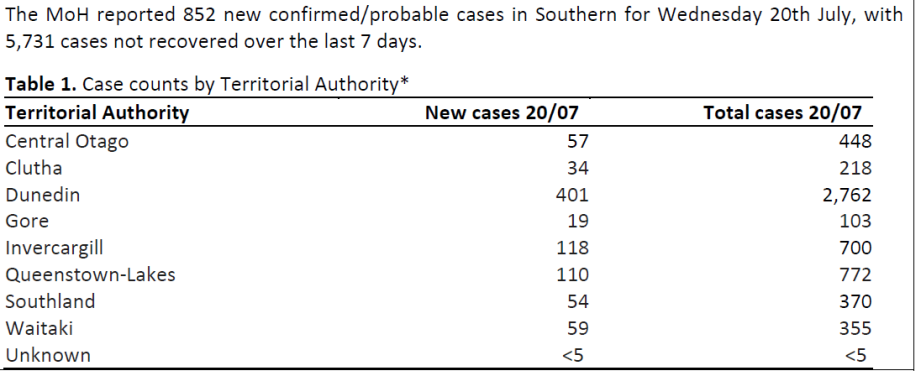 Managing COVID-19 Care in the Community
Oral Antiviral Thalamus tool
The Thalamus oral antiviral tool to identify Covid positive patients who are likely to be eligible for oral antivirals has had the new criteria included. Early next week we will also include the self assessment information people fill in via the on-line form when they register with Covid (for those that do) and we will be able to present that information back to you as well.
I have done a 12 minute video explaining how the tool works, and showing it in action, uploaded on our website and fully accessible externally at the link below.
https://wellsouth.nz/assets/Videos/Covid-Antiviral-Walk-Through.mp4
Remember that we don't need to proactively contact all patients who test positive for Covid, but those most at risk of becoming unwell with it – particularly those eligible for oral antiviral medication. So we hope that this tool will help you prioritise your Covid workload, as there is a lot of other work in front of us at the moment too.
Oral Antiviral prescribing
The somewhat controversial roll-out of changes to oral anti-viral medication continues - around widened access criteria to the oral anti-virals (not the controversial part particularly, although questions about the evidence of effectiveness in the NZ context have been raised), back-pocket prescriptions and reclassification of oral antivirals to be restricted medicines, available from community pharmacists.
You will have likely seen the RNZCGP's statement on this, expressing some concerns that they would like to see addressed. I have attached a copy of this if you haven't, with the link through to the MPS statement related to this topic. I also include an email received today from the MOH confirming funding for consultations for advance prescriptions, and suggesting that if you are involved in consultations (virtual or in person) that you keep a record and claim back once the process is in place.
Back pocket scripts for COVID antivirals
General practice funding for advance prescriptions for Covid therapeutics
As you know, the eligibility criteria for oral antivirals is much wider, but a clinical decision needs to be made about if the medication is suitable for the patient. One way to look at the current situation is to think about it as 'direct to consumer advertising', coming from the Ministry of Health, rather than a drug company. At the end of the day, as individual clinicians, you will make decisions on a case by case basis that are safe and best meet the needs of your patients. I will keep providing you with the most up-to-date information for you to base your decisions on, as they come to hand.
I am connecting with some of our community pharmacy leaders as well, and we are talking through how we can connect the dots between community pharmacy and general practice teams, for when the reclassification of oral antivirals go live, aiming for this to be 28 July. We are looking to hold a webinar on Wednesday 3 August to discuss this, as well as other topics around Covid, such as an update from Public Health, and Long Covid progress.
Community COVID services info
Please see attached the latest version of the community COVID services information, to inform your clinical teams, and some information for patients too
Covid services Community and DHB contact list
Long Covid
The MOH has updated their Long COVID site, with the following documents:
Guidance for the Acute Phase of Rehabilitation of People with or Recovering from COVID 19 in Aotearoa New Zealand (health.govt.nz)
Sector update on long covid 1 July 2022 (health.govt.nz) – including a list of the group they have formed to provide guidance for Long Covid. Lets hope something comes through in the near future to update beyond our HealthPathways existing information. And remember the Health Navigator website has excellent self management information for people with ongoing Covid related symptoms - it's a good place to point people.
Covid webinar coming up
Save the date: Wednesday 3 August 7-8.30 pm. Topics will be oral antivirals – making it work safely in our neck of the woods; Public Health perspective update and Long Covid.
And in the non-Covid space…
Appointment of Te Tauraki Iwi-Māori Partnership Board Members
The linked document outlines who is on the new Te Tauraki Iwi-Māori Partnership Board for Ngai Tahu, as part of the health reforms. Congratulations to our WellSouth Board member, Assoc Professor Emma Wyeth for her appointment.
GPNZ 2022 closed books stocktake
I have attached the recent GPNZ 2022 closed books stocktake. It makes for interesting reading – 38% of our practices in WellSouth currently have closed books. The report details are being shared with Te Whatu Ora, Te Aka Whai Ora, and the Ministry of Health, as well as Collaborative Aotearoa and NZ Doctor.
PHO Closed Books Stocktake Report July 2022
Mumps and Pertussis
Mumps and Pertussis is back (as well as some meningitis recently across NZ). This is a reminder that if you suspect someone has mumps or pertussis, please call Public Health to notify them, swab the patient and advise isolation and treat with antibiotics as appropriate for pertussis. A few cases recently have been notified to Public Health South electronically where no swab was taken and so they don't actually know if we have pertussis or mumps circulating in our communities. At the start (and end) of an outbreak we really need to be able to confirm cases so swabbing is essential.
Lorazepam supply shortage
Please see the attached email regarding Lorazepam supply shortage.
Accuretic consultation fee confirmed and on the portal.
The Accuretic Change Over Consult form is now live. A one-off claim for $100 including GST (service code "WPACOC") is funded.
So, its a busy old time for us all. Lets wrap up warm, gird our loins (sorry for the mixed metaphors) and keep chugging on (another metaphor!). Let's keep giving the person on the end of the phone the benefit of the doubt, waiting for spring.
Ngā mihi nui
Carol