Update No. 55 - August 4, 2022
Tēnā koutou katoa
So finally the sun has peaked out from behind the rain clouds, and the second wave of Covid is beginning to receed, although the older age group affected means ongoing extra pressures. Our community pharmacist colleagues who have been dispensing prescribed oral antivirals are now able to dispense them as pharmacist-only medicines. Monkey pox is still at low levels but predicted to rise. Everyone is really busy and workforce is the name of the game nationally. Te Whatu Ora turns one (month). Our hospitals are really busy, and colour coded red and black at times (finally, the Canterbury take over). Never a dull moment!
Key points today:
Covid rates on the way down
Proactive calling for Covid care is recommended for those most at risk and those eligible for oral antivirals, usual care is ok for other people
Winter ills and viruses webinar – Covid, COPD and MonkeyPox, Tuesday 9 August 7 pm – 8.30 pm GP CME WEBINAR
Practice survey shows that staffing down sick is still a big issue – but you knew that already
Three in ten people who have had at least one Covid vaccine are due another shot
The National Picture
The modelling sitting behind the predictions in these graphs have been updated for the BA.5 Omicron variant. The national picture is showing a reduction in Covid cases.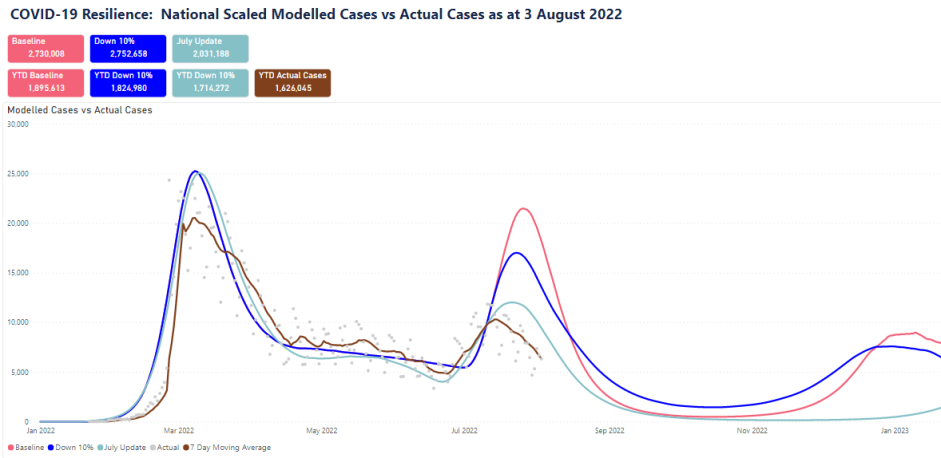 Hospital occupied beds nationally look to have peaked too:
The Southern picture
The local picture shows case numbers have peaked, and occupied hospital beds seem to be at about peak:
Reported Covid-19 Cases to date in Southern district: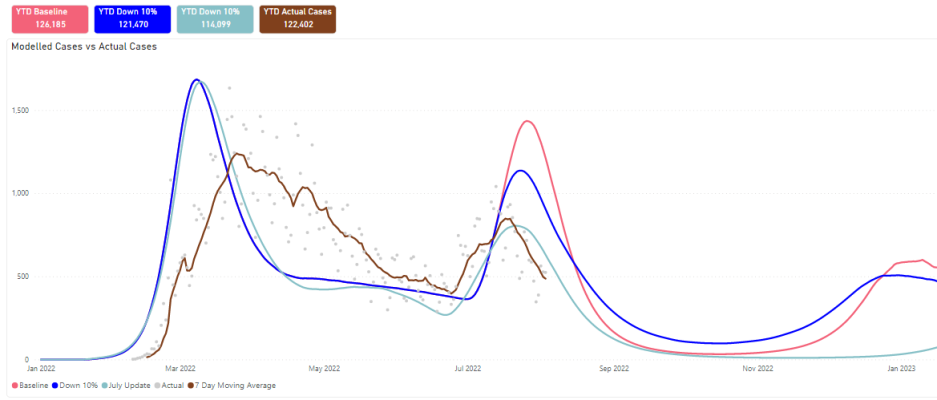 Covid-19 positive people in hospital beds in Southern district: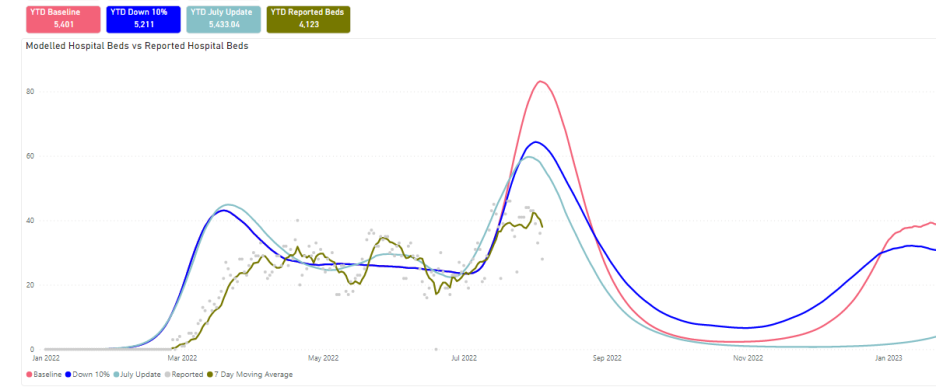 Just over a quarter of all patients in hospital with Covid infections are there because of their Covid (27%), with the majority there with incidental Covid infections.
The following graphs show the territorial local authority, age, and ethnicity distribution of people who have reported a positive Covid-19 test. All TLAs show a reduction in case rates. The second wave has had more penetration into the older populations, which is reflected in greater care requirements, both in primary care and hospital settings, and aged residential care. Thankfully, rates in older age groups are dropping now. Reported case rates for Māori and Pacific are lower than previously, although this may not reflect true incidence.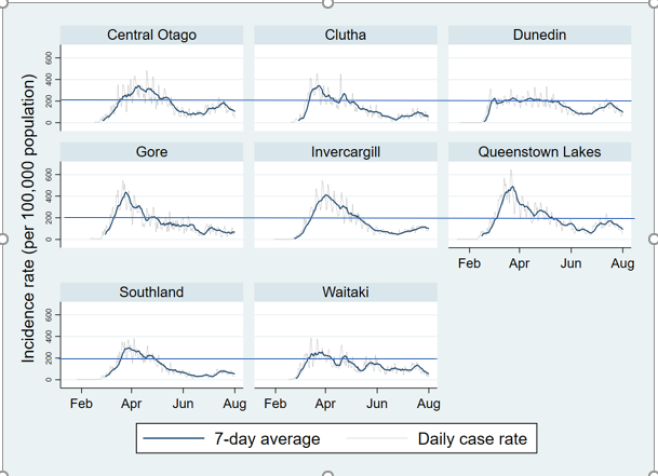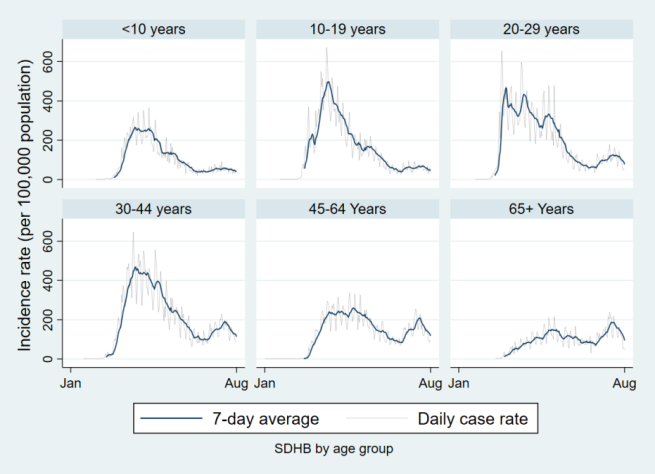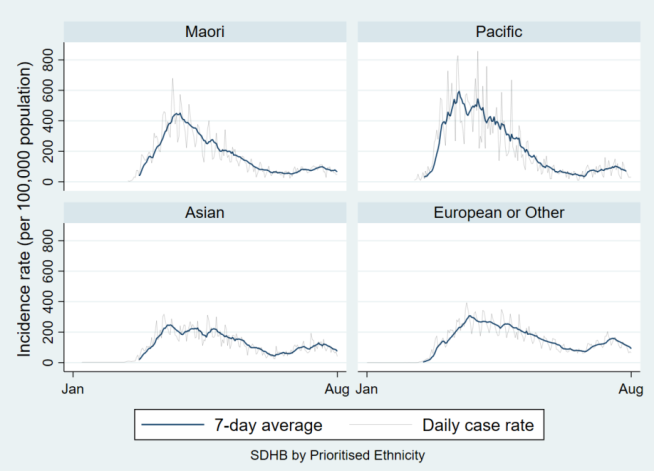 Over the duration of this year, 11% of reported Covid-19 cases were unenrolled with WellSouth General Practices, and have been supported by the Clinician Network and in some cases, Student Health. This figure has been 10% in the last month.
Information regarding Covid-19 deaths in Southern district:
Please respect the sensitivity of this data.
68/150 (45%) were female; 82/150 (55%) were male.
104/150 (69%) were in an Aged Residential Care (ARC) derived from listed address so provisional
Median age 86 years, IQR 80 – 90 years, min age 51 years, max age 102 years.
Ethnicity
European 93%
Māori 4%
Other <2%
Pacific Peoples <2%
Unknown <2%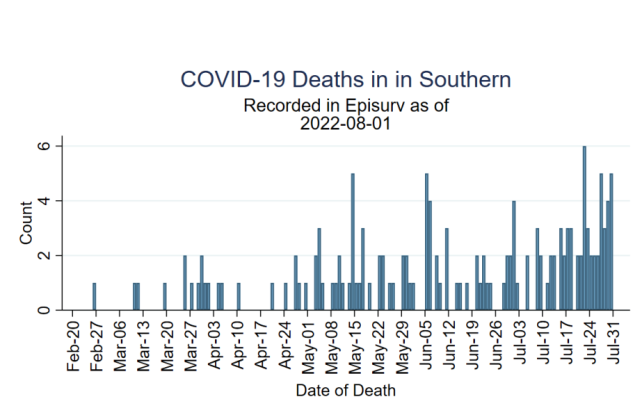 NOTE: SDHB death data is taken from EpiSurv. It does not include death certificates submitted to MoH. Therefore, PHS death counts (derived from EpiSurv only) may be lower than those reported by MoH (derived from EpiSurv and death certificates).
Since 1 Jan 2022 there have been 150 deaths in SDHB, with 19 deaths in the last 7 days (26 July – 01 Aug).
Managing COVID-19 Care in the Community
Who needs proactive care for Covid?
Now that we know much more about the natural history of Covid-19 Omicron infections in our largely vaccinated population, the national signals from the Ministry of Health are much more towards us focusing who we provide proactive care for those people at highest risk of hospitalisation, and potentially eligible for oral anti-virals. This is in accord with many comments I have received from you across the district, wondering when it is time to treat our patients who contract Covid-19 the same as we treat patients with viral illnesses, where we wait for patients to make contact with us. Given the significant workload that practices across the district are under, it makes sense to save the proactive calls to patients who test positive for Covid-19 to those who need it most. That includes people potentially eligible for oral-antivirals – our Thalamus tool can help identify these people, and many practices have well developed internal processes to identify who to call. People in complex social situations may well also benefit from a call.
Our Māori and Pacific Manaaki call centre team continue to provide Manaaki calls to all Māori and Pacific people who register a positive Covid test, to check if they need any social and/or practical support for their whānau to get through the illness.
At the WellSouth Clinician Network, we are continuing to support general practices who would like us to provide proactive care and follow-up calls for their patients on the weekends. We are moving towards contacting higher risk patients on the weekend, in particular to identify those people who are eligible and may benefit from oral antiviral medication. We are looking to do this through the Thalamus tool identification, and the updated national risk-of-hospitalisation score that is available in CCCM (see link Here for more information on this). We will continue to let practices know which of your patients have been contacted.
Covid HealthPathways
In response to feedback from users of HealthPathways a separate COVID-19 Therapeutics in Adults page is now available on Southern HealthPathways.
This page offers quick access to
Criteria tools
Direct access to the Liverpool interactions checker via a key link
Information about the available medications.
Prescription and supply information (advanced scripts, Pharmacy supply, and non-residents supply).
The COVID-19 Case Management in Adults pathway still provides the contextual information you need to meet the full spectrum of your patients' needs.
The information to support prescribing to children remains unchanged in the COVID-19 Case Management in Children pathway.
Winter ills and viruses webinar – Covid, COPD and MonkeyPox, Tuesday 9 August 7 pm – 8.30 pm GP CME WEBINAR
I am grateful to Peter Radue and the RNZCGP Otago Faculty for letting us use next week's regular webinar to provide some updates. And thanks to Jim Ross for being flexible about when he speaks.
Topics:
MonkeyPox – Update epidemiology, clinical presentation and public health response for Southern (Dr Susan Jack)
Covid Update – Reinfections, variants, antivirals, aged residential care (Susan Jack, Carol Atmore, Sally O'Connor)
Long Covid – what services we have available (Jodie Black, Jenny Rakasz)
Improving COPD care for patients after hospital admissions - (Roland Meyer)
The Zoom link we use is:
Password: CME
So something for everyone! All are welcome to join us. We will also record the presentations for those who can't attend.
Alternative accomodation for people isolating with Covid-19
I have attached an explainer about alternative accommodation criteria for people needing assistance isolating with Covid, including accommodation placement in motels or hotels and Supported Isolation and Quarantine (SIQ), depending on the person and whānau's situation. It is a useful reminder that SIQ is not a step-down facility and patients should not be referred solely for extra care. Care provided in SIQ is the same as a normal home environment. Our WellSouth coordinators can help put you in contact with the right part of the system if needed.
Alternative Isolation Accommodation Criteria
Covid-19 oral antiviral medication dispensing
With the reclassification of oral antivirals as pharmacy only medicines, participating community pharmacies have been trained to dispense oral antivirals, have access to CCCM and are able to notify a person's GP if they dispense these medications. The list of pharmacies currently dispensing oral antivirals is here https://southern.communityhealthpathways.org/files/Resources/SouthernDHBCOVIDTherapeuticsNominatedPharmacies.pdf The plan is to extend this group to other pharmacies over coming weeks.
When oral antivirals are prescribed by members of the GP team, we have had reports of patients requesting that their prescriptions be sent to on line pharmacies such as Zoom Pharmacy and Pilldrop. Online pharmacies such as Zoom and Pilldrop are not supplying oral antiviral medications outside Auckland. Using local pharmacies will allow timely access of the antivirals for patients. The current pharmacies dispensing oral antivirals above is the go-to list.
Updated Covid-19 Death Notification form
Due to changes in how NZ reports Covid related deaths, to be consistent internationally, the Covid-19 death notification form has needed updating. The correct form is attached here and will be on the HealthPathways site as well.
Covid-19 Death Notification Form
General Practice Survey Feedback
Thank you to all of you who have continued to complete the weekly practice surveys. We really value your input, as it helps us focus on what's important at practice level. Participation has dropped off the last couple of weeks, so it reduces the impact of the data – so practices, please try to respond if you can, although given the comments about staff shortages, that may not be so easy!
Practices continue to report workforce issues caused by staff or their whanau coming down with Covid, it would appear that July was worst in terms of having sufficient staff for both business as usual and caring for people with covid.
With all the metrics we measure showing an improvement in late July/early August we may be coming through the worst of the recent wave. We have decided to keep the alert level at orange, but expect to be able to drop it to yellow during the course of August (all things remaining equal).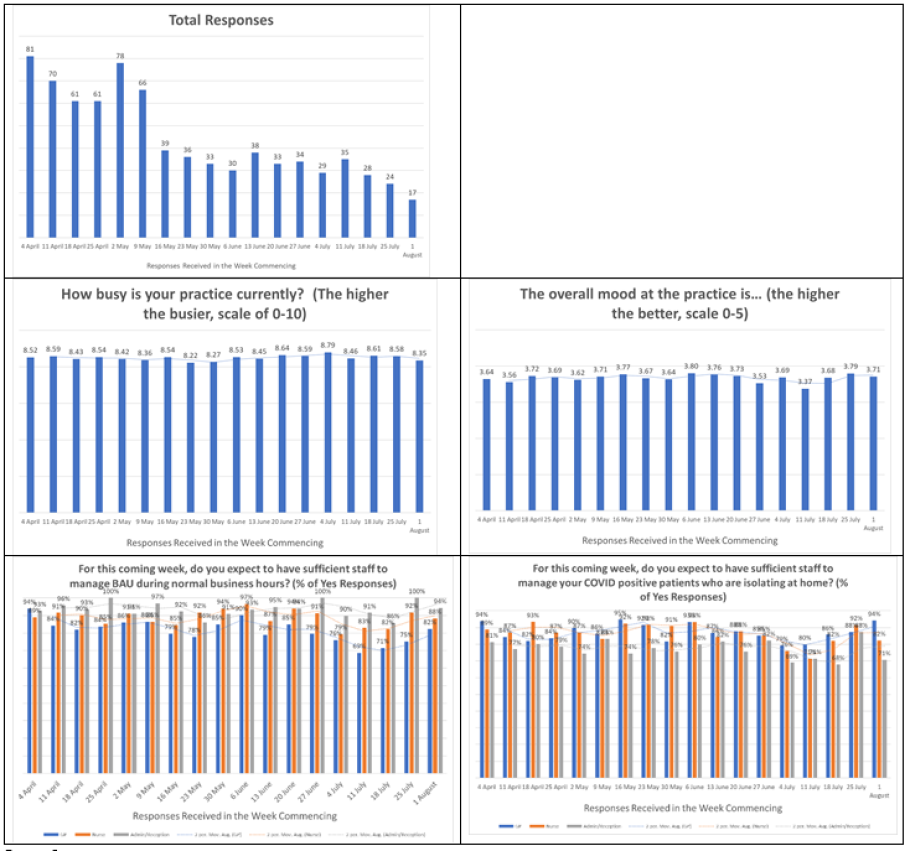 Recent Comments:
Difficulty covering week night after hours
All staff are getting very concerned about the accessibility to secondary care and the wait times for ambulance cover is getting very extreme
Only 1 nurse and relieving receptionist available to work. 3 staff isolating including gp
We are stretched with GP availability.
We are down three Doctors and Three Nurses but we are coping
GP is off this week with COVID
We make it work as well as we possibly can for our patients and staff every week, every day and every hour. This means some things are delayed, squeezed, or rebooked for later. Is this ideal? The answer is NO, but it is the best we can do as individuals, practices, and health organisations. Does this mean we should stop trying to find solutions, thinking out of the box, looking ahead, and getting our hands dirty trying? NO! Let us work together to find, identify, and implement these solutions - WellSouth has the opportunity to be the ideal conduit for this. I look forward to seeing this move
Lots of Staff coming down with colds and having to be off work. Staff have family members isolating with COVID which is making things tricky
One Nurse away with Covid
2 staff members off with covid
Covid-19 vaccinations update
The following wheel shows vaccinations status of all over 18 year olds in Southern district.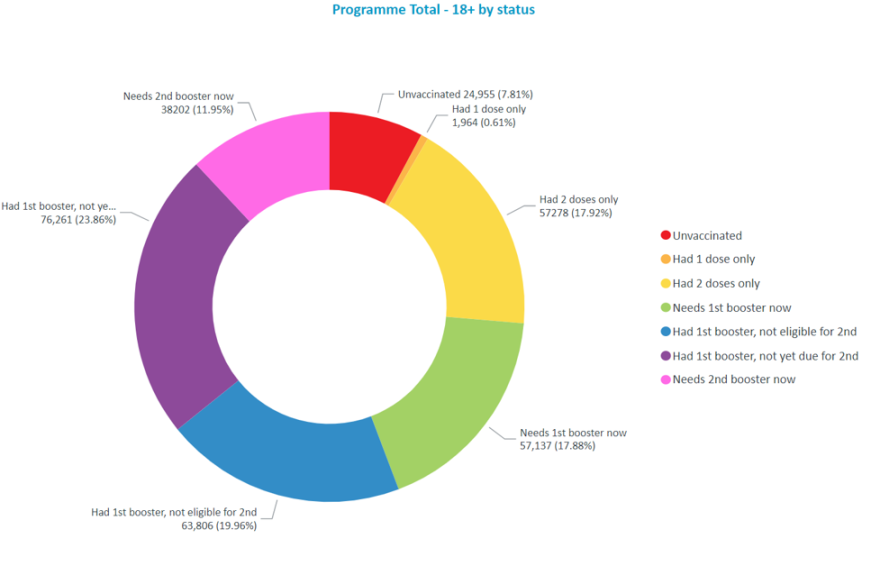 Just under 8% of people are unvaccinated. Of those who have had at least some vaccinations, 30% are due a shot – 18% of people are due a first booster, and 12% of people are due a second booster. Getting our booster rates high will be an important part of our communities having ongoing protection against getting seriously ill with Covid. So please take the opportunity to check with people if they are up to date, and recommend they get a shot if they aren't.
And in the non-Covid space…
New GP Clinical Advisors join WellSouth
I am delighted that Dr Susie Lawless has joined us as Clinical Advisor for Mental Health. She has had a long term passion for improving mental health in our district, and we welcome her into this role. In addition, I'm pleased that Dr Richard Macharg has extended his role with us, to be the Clinical Lead for the ACC GPMRI programme, in addition to his Fracture Liaison Service role. He has put together the following message:
I am very pleased to have been appointed as the Clinical Lead for the ACC GPMRI Referral Programme coming on stream through WellSouth under contract to the ACC.
I believe this does indeed have the potential to "reduce the time from 1st assessment to diagnosis" as ACC envisages and that freeing up of access in this way is well overdue.
ACC GPMRI referral to investigate knee, lumbar spine and neck injuries can be actioned by all doctors working in general practice who have undergone the specific training session as provided through WellSouth and applying the provided ACC Clinical Guidelines.
The contract however at this time excludes Nurse Practitioners and physios and indeed the ACC GPSIs who remain in place and who can continue to provide appropriate assessment and investigation of injuries at other sites.
The consultation for the follow up of the scan results and management planning is fully funded, precludes co-payment and is to be claimed through the WellSouth portal ("WPGMRI"). This funding however is in addition to the ability to claim and charge normally for all other consultations related to the injury both before and after the scan result has been delivered.
Please make time to register for the training here and be ready to take advantage of the service as it comes on stream.
ACC GPMRI Referral is being rolled out across the South Island as a new service and we as the WellSouth team are genuinely keen to hear all feedback on the scheme itself, the training, the guidelines or any other aspect of the effects on clinical practice or support required. Please contact us on GPMRI@WellSouth.org.nz
Further information including confirmation of referral pathways will follow as soon as possible.
Dr Richard Macharg FRNZCGP
So that's today's info update. You are continuing to do extraordinary work in difficult circumstances and I applaud you all. As we emerge from round two of Covid, the pressures of delayed care will come. At WellSouth, we will be working with you to help support you in the inevitable catch up that will be coming. So lets keep working together to keep providing the excellent quality, equitable care we all aspire to.
Ngā mihi nui
Carol