Update No. 56 - August 18, 2022
Tēnā koutou katoa
Welcome to another edition of the update. I want to take a moment to outline my recent experience with Covid. My parents live in a small town in the North Island, they are in their 80's, my dad has significant health issues, and my sprightly mum looks after him. I was speaking to her on Saturday, and she was coughing away, telling me she just had a cold for the last 5 days, as she had done a RAT test on the first day that was negative. So I asked her to humour me and do another RAT test. When it tested positive, off she went to the local hospital to ask for some oral antivirals and some more tests so she could test my father. He of course tested positive, having had a sore throat for four days by then. I logged their positive RAT tests online (that's another story!). But there was no way she could get him any oral antivirals - the hospital had run out and the only pharmacy dispensing it was closed. And no-one rang them to check they were ok on the weekend.
When I reflect on their experience, and the experience we generally give people in our community who contract Covid, I am reminded of the awesome job we do down here as a system to care for our people. So thank you all, on behalf of the mums and dads and the daughters and sons out there who rely on us to care for their loved ones.
Key points today:
Covid rates continue to drop across the board
Last week's webinar link
COPD update and funded general practice follow-up visit reminder
A focus on how we are doing for non-Covid immunisations
Clinical assistant roles mooted
Monkeypox of course
Update on ACC GP MRI programme
MedTech Evo upgrade and capturing gender identity
The National Picture
Well it looks like the worst is over in terms of case numbers and hospital bed day usage from Covid. Hooray.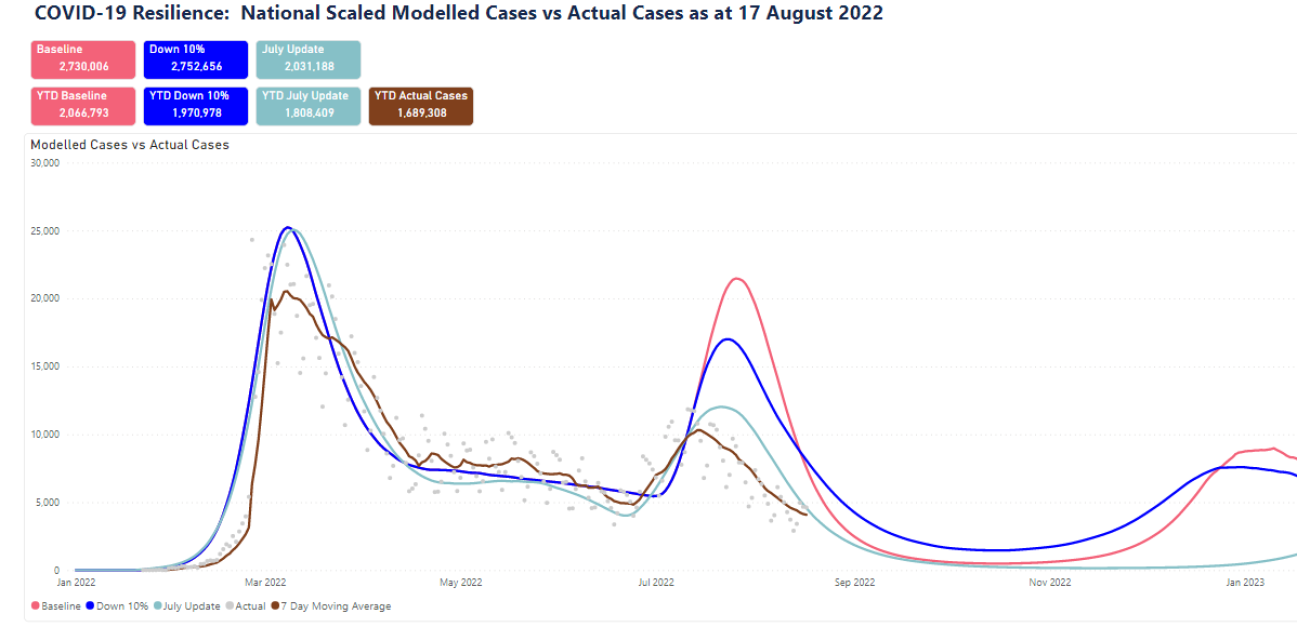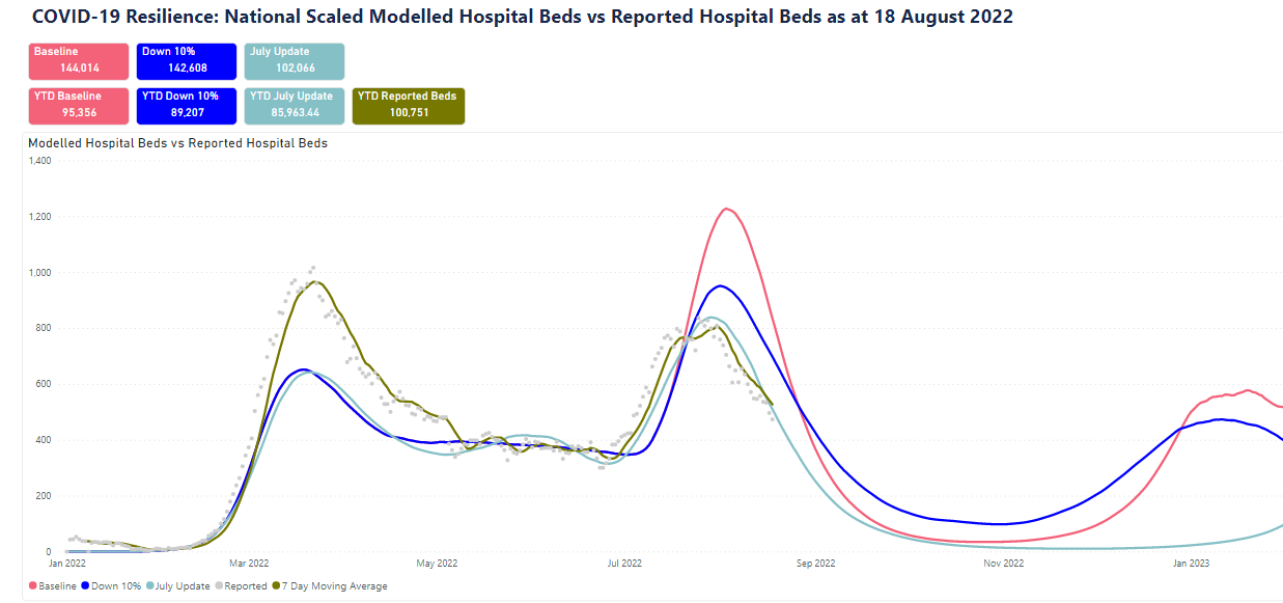 The Southern picture
The local picture reflects the national picture, and the modelling suggests we may see daily case numbers decline further.

While Covid related hospital admissions are dropping, Dunedin and Invercargill hospitals are still pretty full, and this is delaying planned surgery due to lack of bed availability and staff off sick or isolating.

Rates are dropping across Otago/Southland by district, and across all ethnicities as well. The older people are reported slightly higher rates than younger people, but this is coming down across the board. Double hooray.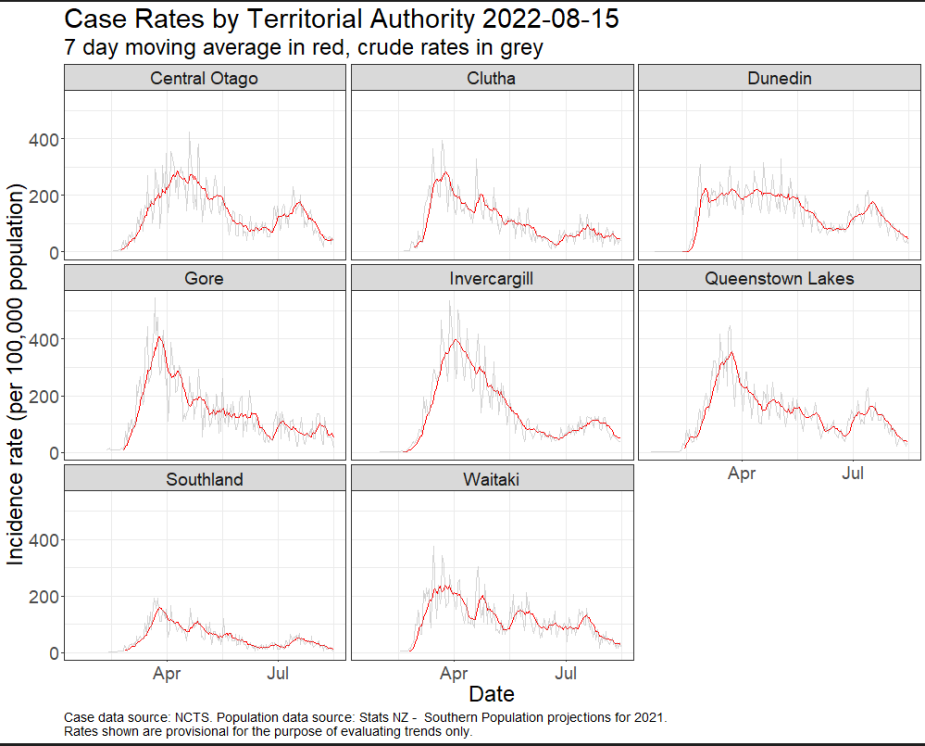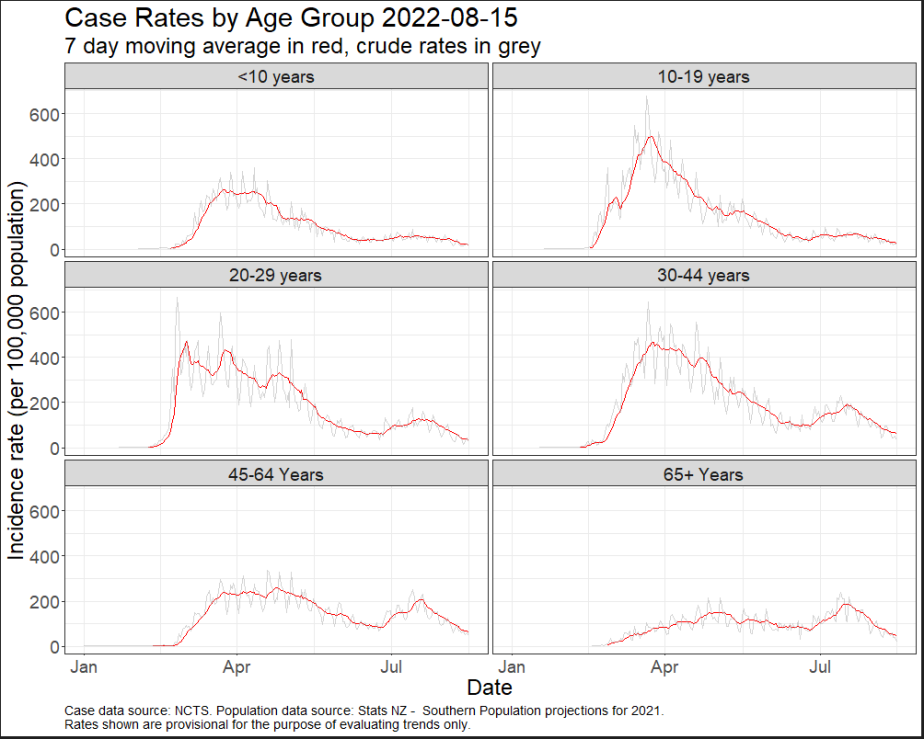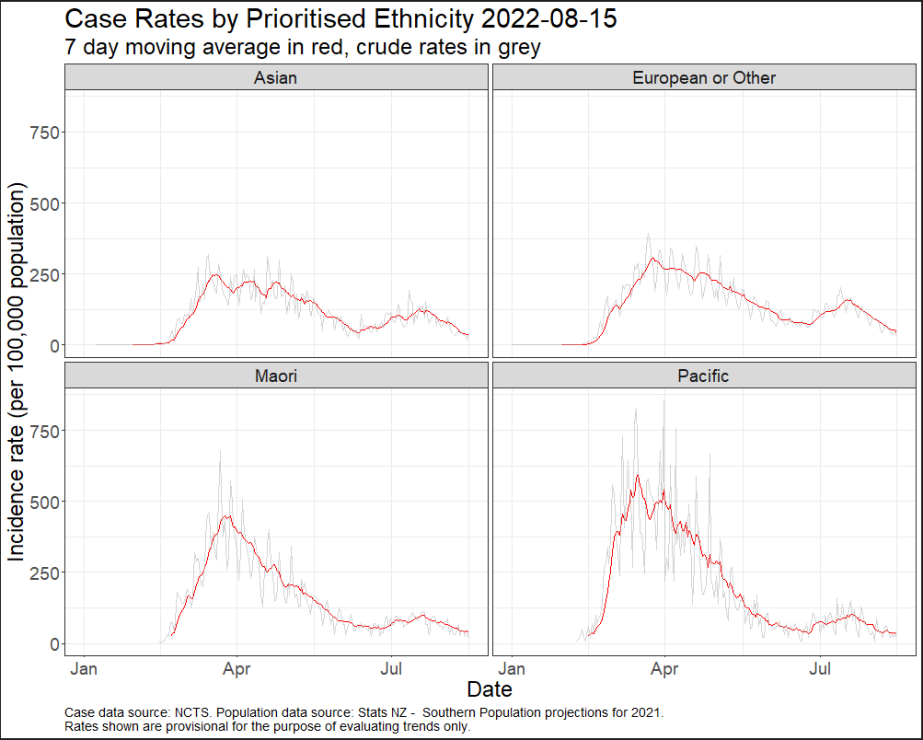 In terms of Covid related deaths, 171 people have died related to Covid-19 this year, 21 in the last 2 week period. The age range was from someone in their 20's to a centenarian. Three-quarters of all deaths were in people aged 75 and above, with the median age 86, roughly evenly split male/female; with 4% of the deaths in Māori, 1% in Pacific people and 94% in Europeans.
Managing COVID-19 Care in the Community
Last week's Covid and Monkey Pox webinar
Thank you all for the great attendance at the webinar last week. The link to the recording is here:
Oral anti-virals – how to add your phone number for the pharmacist, while maintaining your privacy with the patient.
At the webinar, Susie Lawless outlined how she uses 'the second tab' on the e-prescribing module to put in a contact phone number. More information is available about this at https://insight.medtechglobal.com/download/nzeps-electronic-prescribing-user-guide-prescribing-2/ - It gives guidance about their recent updates to the Info for prescriber second tab, that isn't viewable to the patient, but alerts to the pharmacist when received. Intel from non-MedTech practices is welcomed.
New Covid-19 guidance for return-to-work of healthcare workers
The new return to work guidance Te Whatu Ora recently published simplifies the previous guidance (a bit!). Check out the link https://www.health.govt.nz/system/files/documents/pages/guidance_for_return_to_work_of_healthcare_workers_v2.0.pdf
National mail-out to patients due second boosters
Over the next couple of weeks, a national mailout to eligible people aged 50+ (Maori / Pacific) and aged 65+ all others, will be sent to people eligbiel their second boosters, along with texts and some phone calling from Whakarongorau outreach call programme. Just so you know...
Concluding the use of AstraZeneca as a COVID-19 vaccination
AstraZeneca will no longer be available in New Zealand after 4 September. New Zealand does not have access to further AstraZeneca doses. The last day people will be able to get the AstraZeneca vaccine is 4 September, as the vaccine stock expires the next day. It is still effective if administered on 4 September. Novavax remains as the non-mRNA option for those not wanting or not being able to have a Pfizer COVID-19 vaccine.
And in the non-Covid space…
COPD update and funded general practice follow-up within a couple of weeks post discharge
For those of you who were at the webinar last week, you will recall that the technology let us down for Dr Roland Meyers, our community respiratory physician, and we didn't get to hear his update. He has kindly put a summary together which is attached. Soon our WellSouth Covid coordinators will be ringing to help book the funded follow-up appointments for people who have been admitted to any hospital with COPD.
WellSouth Manaaki team calling Māori and Pasifika patients to support attending hospital appointments
Our Manaaki team, established to support whanau with Covid through the Covid-19 Hub, are now also supporting our Māori and Pacific patients who have an outpatient appointment coming up. Seven days prior to a scheduled specialist appointment, the WellSouth Manaaki call centre team are ringing Māori and Pacific Island patients as a reminder of their appointment and to ask what support is needed to attend. The Manaaki call centre team can offer additional support to whānau through Dunedin and Southland Hospital Services - Te Ara Hauora and Te Huinga Tahi, where this team will be available to meet and support the patients at the appointment and may also check to see if any other health, social, or well-being support is needed. The full press release is available at https://wellsouth.nz/community/news/view/manaaki-team-calling-maori-and-pasifika-patients-to-support-attending-hospital-appointments
Immunisations update – a focus on how we are doing
Over 65's Influenza Vaccinations
Here is a cause for celebration – for Over 65's flu shots, we have had equitable coverage for Māori, Pacific and European/Other peoples (noting a lower rate for Asians). This is a result of everone's efforts in the community, including community pharmacies, general practices and mass vaccination centres. Although we didn't hit the 75% target, this is a good result. So next year we can aim to hit the target equitably!

Childhood MMR coverage
A lot of media attention has been on MMR coverage across the country, so it is useful to see how we are faring in Southern, as shown below. Our rates have held up better than many areas, but still on 82% of Māori children have had their second dose of MMR. Let's focus on increasing those figures.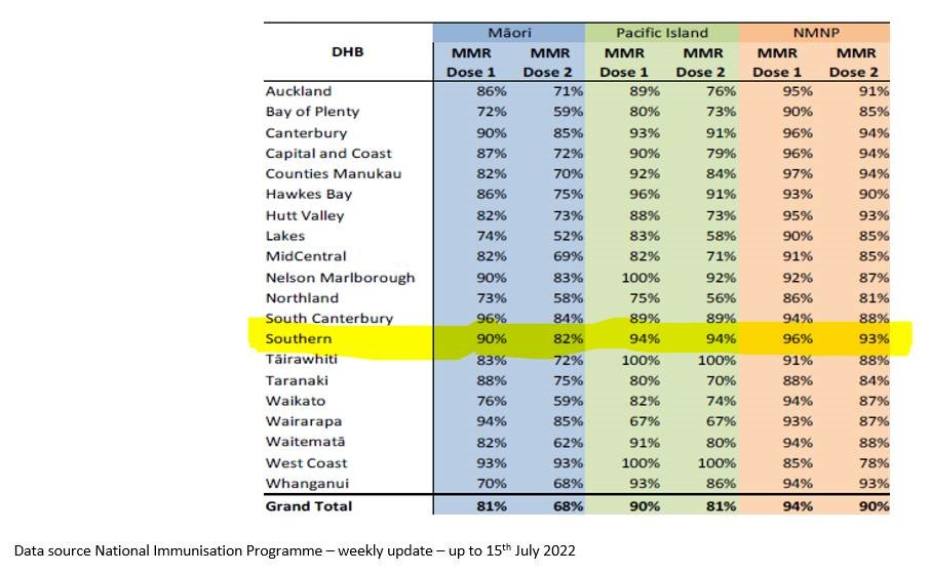 Pertussis (Boostrix) immunisation rates in Pregnancy
Recent Te Wai Pounamu South Island data shows that 61% of pregnant people in Southern have had a pertussis booster (The South Island rate is 62.4%) but only 31.4% of pregnant people across the South Island have been immunised, and 36.5% of Pacific people. This is compared to 69.8% for European/other people. So while thi is at South Islnad not Southern level, the rates are nearly double for European people. Lets all be mindful of this in our efforts to support equitable protection for everyone.
Boostrix Immunisations soon available at community pharmacies
From 1 September, free Boostrix immunisations will be available at participating community pharmacies, for both pertussis and tetanus protection, with the immunisation logged into the NIR.
New roles in the primary health care team – clinical assistants
Some of you may have heard Dr Louise Poynton, the medical director at Tū Ora Compass, speak at the RNZCGP conference about clinical assistant roles. The clinical assistant role assists the GP and NP with Inbox management, under the supervision of the clinician. It is a way of increasing patient safety (e.g. ensuring classifications kept up to date, Follow-up appointments are not missed, tests ordered by hospital not missed) and decreasing GP and NP paperwork - hopefully decreasing burnout. Dr Poynton and her team recently did a short webinar on this topic, which I will get a copy of and post, if that is possible.
Dr Emma Laurence at Dunedin South Medical Centre is interested in exploring this further, and if others are interested too, she would be keen to hear from you, as people could learn from eachother. Let me know if you would like me to put you in contact with her.
And now for a public health announcement…
We've had a few instances in the last few weeks where Public Health South have received a notification about e.g. measles or mumps from a GP without calling PHS to notify them. In one instance no testing happened but they had informed a school hostel that a student had mumps.
Please remember that for: suspected measles, mumps, pertussis, rubella, and Monkeypox – you need to call Public Health to notify on suspicion and get advice on testing and isolation please. The lab will not process those tests if it has not been discussed with Public Health first. If you do suspect one of these illnesses then you must test and the patient needs to isolate until the result is through or as appropriate.
And be on the look out for Monkey Pox in September, as the Winter Pride festival is in Queenstown 26 August to 4 September, and Australian visitors are expected from communities where Monkeypox is circulating currently. The new HealthPathway for Monkeypox is available at https://southern.communityhealthpathways.org/search?q=Monkeypox
ACC GP led MRI programme
The ACC GP led MRI programme would like to thank everyone who has made time to attend the training and encourage as many more GPs as possible to attend the upcoming sessions. WellSouth and ACC are absolutely committed to get as many referrers as possible on board.
All attendees receive an email on completion of training as acknowledgment of their right to order MRI's under the agreed guidelines.
An electronic referral form is in rapid development and we apologise for the unintended delay to MRI access this has caused but an announcement will be made shortly when this is in place and referrals can be made and accepted.
As outlined at training, the fully funded visit for "ACC GP MRI referral" ($148.35 GST incl) that is passed on, in full, from ACC to the referrer by WellSouth is to be claimed for the subsequent "Post-MRI Review" consultation.
We would suggest that direct access to the report and images would optimise this visit for patient and referrer. Referrers can sign up for this with Pacific Radiology by completing the attached form and sending it to otago-pacs@pacificradiology.com.
Pacific Radiology Privacy and Security Agreement
Have you got a view about Sexual Health Services in the district?
Te Whatu Ora Southern, Sexual Health Health Service are conducting a Service Review. They would like to identify any gaps in service provision and any barriers your patients face when accessing their Service. Both positive and negative feedback is sought on aspects such as the referral process, appointment wait times, communication, patient satisfaction etc... If you have any comments to make regarding the experiences you or your patients have had when interacting with this Service, you are invited to email them at: sexualhealth@southerndhb.govt.nz
Are you interested in being in a colposcopy working group?
Dr Kate Coffey, a Dunedin based Obstetrician Gynaecologist, is seeking a primary care rep on a quarterly colposcopy meeting. The total commitment may be up to 1 hour a month. If you are a GP, NP, or RN and this sounds like you, please get in contact with me and Kate at Kate.Coffey@southerndhb.govt.nz You will be helping improve reporting and communication around colposcopy, it will earn CME credits, and we can see about some potential funding for your time.
Consultation on potential quality performance indicators for breast cancer care
Are you interested in being involved in the selection of breast cancer care quality indicators? If so, please have a look at the attached email from Te Aho o Te Kahu, Cancer Control Agency, and take the survey to provide your input.
Genetic Health Service NZ South Island Hub Service is short staffed, still refer to the Hub but not a named SMO
We have received the following message from Clive Felix, the Service Leader of the Genetic Health Service NZ:
The South Island (SI) Hub of the National Clinical Genetic Health Service, (GHSNZ) based at Christchurch hospital currently do not have an SMO on-site.
A plan has been developed to cover urgent SMO work in the interim. This includes an on-site SMO visiting from Wellington on Tuesday each week.
Please continue to refer into the SI Hub, as a single point of entry. Please do not refer to individual SMOs at this time.
Thank you for your patience whilst we work through this challenging time.
If you have any concerns about any aspect of service delivery please do not hesitate to contact me.
Nga mihi
Clive Felix
Clive Felix
Service Leader - GHSNZ
|Wellington| Capital, Coast and Hutt Valley
Capturing Gender identity information: A good news story
Until this week, MedTech Evo PMS has been frustratingly inadequate in capturing gender identity data for our patients. The most recent upgrade of Evolution has corrected this. The patient data page (F3) now has the following:
Assigned sex. Choices are Male, Female, Indeterminate and Unknown. This allows appropriate screening to happen automatically eg many trans men still need cervical smears and mammograms.
Gender. There are at least 40 options here, with the additional option of a custom entry if none of these are the preferred choice. Will default to the same as assigned sex.
Pronouns. Multiple options, can cope with multiple choices for a patient (eg both he/him and they/them) and has the option of a custom entry. Will default to the gender choice.
Titles. Increased choices. Will default to the gender choice.
There is an intention to link this with similar upgrades on Éclair, but that has not yet happened at the time of writing. In order to write an ERMS referral for a patient, it is unfortunately necessary to switch back to a gender that Éclair recognises, but hopefully this will soon be remedied.
Amity Health Centre have shared the following message that they sent out to their gender-diverse patients, that you may want to use as the basis of a similar message:
Kia ora,
As you may be aware, our computer system has not, until now, been good at accurately reflecting the gender preferences of gender-diverse people. There have been limited choices (male, female and unknown), and no ability to differentiate between sex assigned at birth and current gender. In addition, there was no ability to select preferred pronouns and the optional titles were very narrow.
We are delighted to let you know that this has now changed. For all patients there is both a sex assigned at birth category as well as multiple gender choices. There is also the ability to enter personalized gender descriptions, pronouns, and titles if none of the available choices are a good fit.
Please let us know what your preferred gender, pronouns, and title are.
So, at last, the non-Covid space is longer than the Covid space – let's take that as a sign of better things to come!
He waka eke noa – we are all in this together.
Have a good week and I'll touch base in a fortnight.
Ngā mihi nui
Carol