Update No. 9 - January 19, 2023
Tēnā koutou katoa
Happy New Year all, if it's not too late to say so. Any advice on when the official time period for this greeting ends is welcomed! I hope you have had a chance to have a break and refresh before 2023 gets into full swing. It will be a busy one again, with ongoing implementation of the health reforms, while the tail of Covid hangs around. Never a dull moment!
Key points today:
Key Covid updates
Changes likely coming in Covid in the Community funding

Information on Enhanced Border Surveillance - Incoming travellers direct from China
Other topics
Call for Expressions of Interest for WellSouth's Clinical Quality Committee

Upcoming changes to HPV primary screening for cervical screening

A message from the Clinical Director of Mental Health services – hypnotics, phone a friend psychiatrist, and the HealthOne break glass

Radiology Update – ERMS

CT head GP access for headaches only

Increased International Polio risk

Mpox vaccination update
Other Covid information
Southern numbers

Covid-19 vaccination for high risk children aged 6 months to under-5 starting 9 February 2023
Key Covid updates
Changes likely coming in Covid in the Community funding
The messaging I am receiving is that clinical criteria for clinical assessment funding is likely to change in February. This is in line with where the country is in the pandemic response. Potential changes aim to target those that are most at risk of the adverse effects of COVID-19 – that includes those that are clinically vulnerable and/or respiratory compromised, Māori and Pacific patients, people over 65 years old and those with disabilities where COVID-19 will affect their health. This is moving the funding response for Covid towards COVID-19 being managed in a similar way to other public health diseases and respiratory illness, and to ensure primary care can return to focus on usual day-to-day and planned care. Some currently funded services, such as desk-top reviews, may be discontinued. Oral antiviral prescribing will continue to have a strong focus going forward.
So let's watch this space and as soon as anything is confirmed we will pass that information on.
Information on Enhanced Border Surveillance - Incoming travellers direct from China
As you are aware, incoming travellers to New Zealand are encouraged to complete a RAT if they get COVID-19 like symptoms while traveling here and if RAT is positive, are encouraged to get a PCR test (in order for whole genome sequencing to be done).
Recently, there was a decision made by the Government to introduce some enhanced border surveillance measures in relation to incoming travelers directly from China only.
These measures include:
A new flyer for incoming travelers directly from China (different from the generic flyer currently provided to incoming travelers)

Information on the flyer includes:
Voluntary testing as follows:
asking passengers to test with a RAT within the first 3 days of arrival (vs testing when you become symptomatic)
Requesting travellers to complete the survey or phone the RAT assisted channel with their result (vs MyCovidRecord or the assisted channel)

If they test positive, advising travellers to get a PCR test and that their household members need to test for 5 days (and advising where they can access more RATs)

Providing advice on where travellers can get a PCR test done (either a CTC or GP)

Advice on what to do after travellers' first 3 days of arrival (from day 4 onwards)

Information on consent
SMS text messages and emails are also being provided to incoming travellers from China with this information.
With the introduction of this enhanced border surveillance, please find following some important points to note:
Between 20 January and 20 February 2023 please ask all patients who present requesting a PCR test if they are a recent arrival from China. If they have arrived from China on or after 20th January 2023, then please follow this process:
General practices can decline to provide a PCR test, but should direct the traveller to a provider who can.

The traveller must consent to the swab being taken.

Travellers should be advised to isolate for 7 days from the day of the positive RAT result and should stay in isolation unless they receive a negative PCR result

The service is fully funded. General practices can claim $120 (excluding GST) for conducting the PCR test. There is no charge for the traveller to have the PCR test done by a general practice.

The general practice cannot make any simultaneous claim against any other funding stream.

General practices are not required to complete any additional activities (eg assessments etc) as part of conducting the PCR test.

General practices are not obliged to provide any ongoing Covid care to travellers who are not enrolled with them.

NHI numbers are not required (or to be used where they are known) for the PCR samples for travellers from China

BHR numbers are being provided to these travellers (via email and text message) A NHI can be created if there is no BHR number.

The BHR number should be used as a reference on the order for the PCR test

Please ensure the BHR number is clearly visible on the sample and the sample request form.

Please note: ALL of the positive PCR samples need to be clearly labelled as a sample from China to enable the labs to prioritise these samples and send them on to WGS.
The enhanced border surveillance is due to commence on Friday 20th January for a four-week period only.
Attached is a copy of the flyer that is being handed out to incoming travelers from China.
Please remember to update your healthpoint site with information on where and when people can access PCR testing.
If you have any queries, please send them to: COVID-testing@health.govt.nz with "Enhanced Border Surveillance" as the subject title.
Opportunities to contribute
Are you interested in becoming a member of WellSouth's Clinical Quality Committee?
Firstly I wish to thank Dr Phil White from Dunedin, and Maureen McNeill from Wanaka, for their membership in our Clinical Quality Committee. They are standing down after long commitments to the group, and their dedicated contribution has been valuable. Thank you both.
We are seeking Expressions of Interest from clinicians interested in being part of our Clinical Quality Committee. The CQC's purpose is
To provide expert advice and guidance to the WellSouth Management Team with the implementation/development of clinical programmes, models of care, and clinical services delivery.

Establish effective and proactive clinical development to improve health outcomes.

review operational service reports and monitor activity linked to regional and national quality programmes and provide feedback on improvements to address quality
I chair this group, and we meet every 2 months for 2 hours on the first Thursday morning from 8-10 am, on the even months of the year.
We are seeking one general practitioner, 2 nurses or nurse practitioners, and a community pharmacist to fill vacancies and additional membership to the group's membership. The terms of reference are attached. This is a really good way to be involved in shaping the direction of WellSouth as we move forward in the new health system.
If you are interested, please email me by Thursday 27 January, with a short paragraph about why you would like to be involved. Many thanks for considering this.
Other general information
Upcoming changes to HPV primary screening for cervical screening
The National Cervical Screening Programme has produced a video that introduces the sector to the transition to HPV primary screening. This video has been designed to be an educational tool for the health sector to provide an overview of the changes that will be taking place from July next year. This is the first of what will be a series of educational and learning tools that will become available in the run-up to the transition to HPV testing in July 2023. You can view the video via the link below:
https://www.nsu.govt.nz/health-professionals/national-cervical-screening-programme/hpv-primary-screening/hpv-primary
A message from the Clinical Director of Mental Health services – hypnotics, phone a friend psychiatrist, and the HealthOne break glass
Dr Evan Mason, the clinical director of Mental Health Services at Te Whatu Ora Southern has asked me to pass on this message to you all. Its good to see that psychiatrists are available for advice as he outlines.
Dear WellSouth Colleagues
Re Investigation recommendations re hypnotics – Psychiatrist available – Break Glass
I have had an investigation recommendation to remind my colleagues about not prescribing long courses of hypnotics and making themselves aware of what other prescribers are using, and I thought it would be useful to pass the email with my suggestions on the WellSouth too. The Mental Health Service don't have a rigid policy about who prescribes for patients, and individuals will differ in how they prefer to work. I have just had one of my colleagues come back and ask me if I really meant to suggest Psychiatrists don't prescribe at all for outpatients (third suggestion in my email below), but no that isn't my intention unless there is a particular reason to.


Also to remind you that there are psychiatrists available to talk to at the hospitals. The first contact should be the psychiatrist at EPS or SMHET for general enquiries. I have had a few calls directly as well, that is fine too.
Thirdly, sometimes GPs complain that information they need is not readily available. In some cases, you might need to 'Break the Glass' to access information. The box is only there to check/record your intentions. Providing health care is a valid reason for accessing that information.
Happy New Year,
Evan Mason
027 2299837
From: Evan Mason
Sent: Friday, 30 December 2022 14:05
To: …
Cc: …
Subject: Memo re Hypnotics Medications
Dear Doctors
I have recently received a Incident Investigation report which identified that a patient who had died, had been dispensed prescriptions for zopiclone 7.5 mg, 30 tablets each from both his Psychiatrist and his GP within a week of each other. This is a reminder that all prescribers need to know what their patients are being prescribed and be clear about who is responsible for what. Consider –
Checking HealthOne before all prescriptions

Establishing agreements with GPs regarding prescribing

Not prescribing for outpatients, instead advising GPs to prescribe

Not prescribing physical health medicines for outpatients
Here are BPAC's Key practice points for Zopiclone –
Ensure non-pharmacological approaches are initiated at the same time, such as sleep hygiene or time in bed restriction

Assess whether patients have factors which contribute to a higher risk of prescribing

Discuss with patients that evidence shows that hypnotics only provide benefits over and above non-pharmacological approaches for the first few weeks, and that long-term use is associated with adverse outcomes, including motor vehicle accidents, falls and potentially an increased risk of dementia in older age

Have an exit plan and agreed length of treatment from the beginning

Advise patients to try to fall asleep first (using sleep hygiene techniques), and then only take a hypnotic medicine if they remain awake, e.g. after two hours

Prescribe short courses, e.g. ideally for a maximum of ten days or less

Review the patient's need for pharmacological treatment before issuing repeat prescriptions

Advise patients to withdraw a hypnotic slowly if they have been using it for longer
Thank you,
Evan
Radiology Update - ERMS
We are now actively working on making all radiology referrals accessible via ERMS for primary care and hope to roll this out very soon.
We are aware this has been something we have all been wanting for a while so look forward to making it happen.
From Nicola Garthwaite GP Liaison for Te Whatu Ora Southern Radiology.
CT head pathway
Just a reminder to GPs that the CT head pathway is for headaches only. There have been quite a few requests coming through for cognitive decline, which is not approved for primary care CT head access at this stage.
Thanks
Kate Dixon, Health Pathways editor
Increased International Polio risk
The attached flyer regarding increased polio risk arrived in my inbox 2 days before Christmas! We sent it out, but I am resending it as you may have not looked at that email!
Mpox vaccination is coming soon
The following summary was circulated last week, but I'm including it again in case you missed it.
From 16 January 2023 designated mpox consultation clinics will become available throughout Aotearoa at locations arranged by the local Health District.

At these consultation clinics health professionals will discuss the risk of exposure to mpox, and options, benefits and risks of vaccination for people at risk of mpox. There will be 40 clinics nationwide and consumers will have a choice of where they prefer to be seen.

Following the consultation, including full informed consent, the vaccine may be made available by the medical practitioner and provided through the mpox consultation clinic.

The vaccine cannot be given without a prescription, and due to limited supply, it will only be available at these consultation clinics.

From Tuesday (10 January), people can complete an initial assessment to check if they are at risk of mpox at https://www.burnettfoundation.org.nz or by ringing the new dedicated mpox Healthline on 0800 116 672 between 8am and 8pm. If a consumer asks you about how they can access the mpox consultation, please ask them to visit the Burnett Foundation website to use the assessment tool which will tell them what to do next. If they cannot access the website, they can ring Healthline on 0800 116 672. This is a new dedicated mpox number.

Nobody can advertise or promote the vaccine or its availability because it is not approved for use in New Zealand, although it can be discussed with a GP within the usual doctor-patient relationship. Consumers will be offered a consultation with a doctor at a dedicated consultation clinic to discuss their eligibility, options and the risks and benefits.
Clinical guidelines
Medical practitioners may initially supply the vaccine to groups who are eligible for pre-exposure prophylaxis, including:
Close physical contacts of people infected with mpox, such as sexual partners and people who live in the same household. 

Gay, bisexual and other men who have sex with men (GBMSM) who have multiple sexual partners, and trans, and non-binary people and cisgender women who are in intimate relationships with these eligible men.

Those recommended to have the vaccine by medical specialists – we recommend only medical practitioners with additional training through IMAC prescribe the vaccine. If you are a doctor and are unsure, please phone your local sexual health, public health, infectious diseases specialist or IMAC for advice depending on the situation.
This vaccine can also be prescribed for physical contacts of people infected with mpox after they have been exposed to mpox. If this is within four days after first exposure to mpox it will provide the highest chance of avoiding the disease, but it can be given up to 14 days after exposure. If people think they have been exposed to mpox they should call Healthline on 0800 116 672
If a patient of yours might be suitable to be prescribed a vaccine due to recent exposure to confirmed mpox please phone your local public health unit who are managing active cases.
If you have any questions or queries, please email immunisation@health.govt.nz.
Vaccinations can only be made available under section 29 of the Medicines Act 1981. This allows for 'unapproved' vaccines to be provided to individual medical practitioners for a particular patient after assessing the patient's needs. Unapproved medicines have not been assessed for their quality, safety or efficacy – more information is available at https://www.medsafe.govt.nz/profs/RIss/unapp.asp.
Eligible people may be offered a consultation with a medical practitioner at a dedicated clinic. As part of this consultation the option of receiving the vaccine as well as the potential risks and benefits will be discussed. Consultations will only take place at Sexual Health centres or other locations arranged by the local Health District for mpox. The initial supply of the vaccine is limited with 5,000 vials of the vaccine have been obtained, allowing for up to 20,000 doses to be administered. In the initial phase, the Health Districts' mpox consultation service is prioritising first dose for the eligible population. Timing of the recommended second dose is a minimum 28-day interval and can be up to 2 years after the first dose.
Advertising or promoting the availability of unapproved medicines is prohibited by section 20 of the Medicines Act 1981. This means that the vaccine cannot be advertised, nor its availability promoted. It can only be offered by a medical practitioner to a consumer as a proposed medical treatment and then administered after a full informed consent process.
It's possible a mpox vaccinated consumer experiences post vaccination effects, including the potential risk of myocarditis symptoms. We're advising the consumer immediately to seek medical attention on the regular Healthline 0800 611 116 number or their trusted health professional.
As part of communications, MOH are encouraging anyone with any concerns about mpox to seek advice from the place they normally receive health advice, which could be their GP, sexual health clinic or the dedicated mpox Healthline on 0800 116 672.
In Southern at this stage there will be 3 locations where you can receive a MPox vaccination:
Dunedin Sexual Health on a Tuesday and Thursday evening from 5.00pm – 7.00pm from the 24th of Jan.

Invercargill-TBC

Qtn.- Queenstown Medical Centre from the 24th of Jan.
Other Covid information
Southern Numbers
The graph below shows where we currently are with the third Covid wave receding. Kraken's aside, it is modeled that things will bottom out over the next 2 or 3 months before a slower rise for the late Autumn-Winter months. Of late, the number of older people reporting a positive RAT test has reduced, and this is being reflected in the reduction of people in hospital because of Covid – down to three people today, which is great news. But there are still just under 1000 people with active Covid reported within the last 7 days in Otago and Southland, and there are still small numbers of deaths each week, so its not yet over!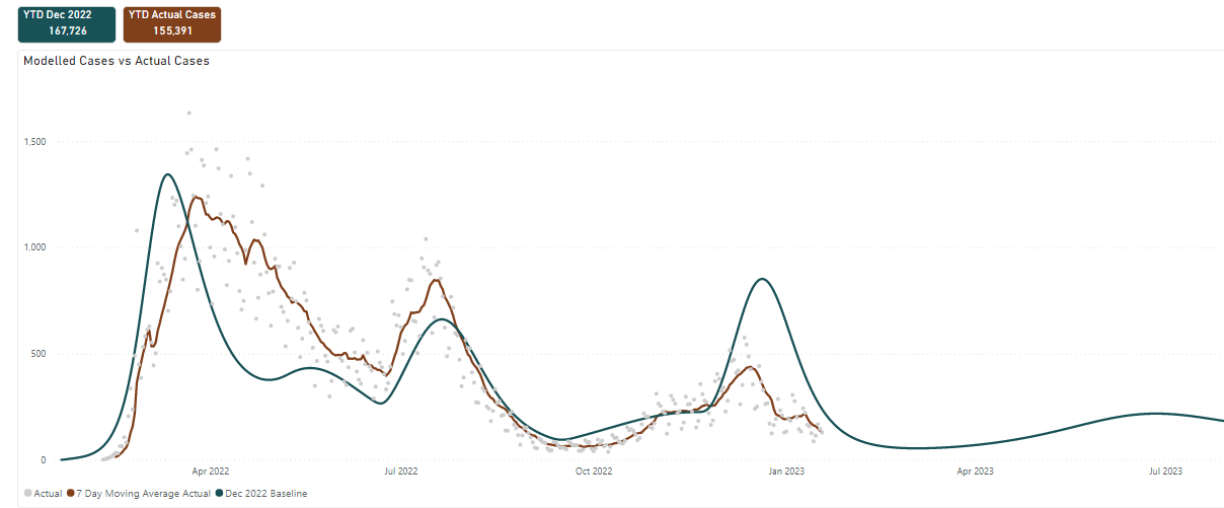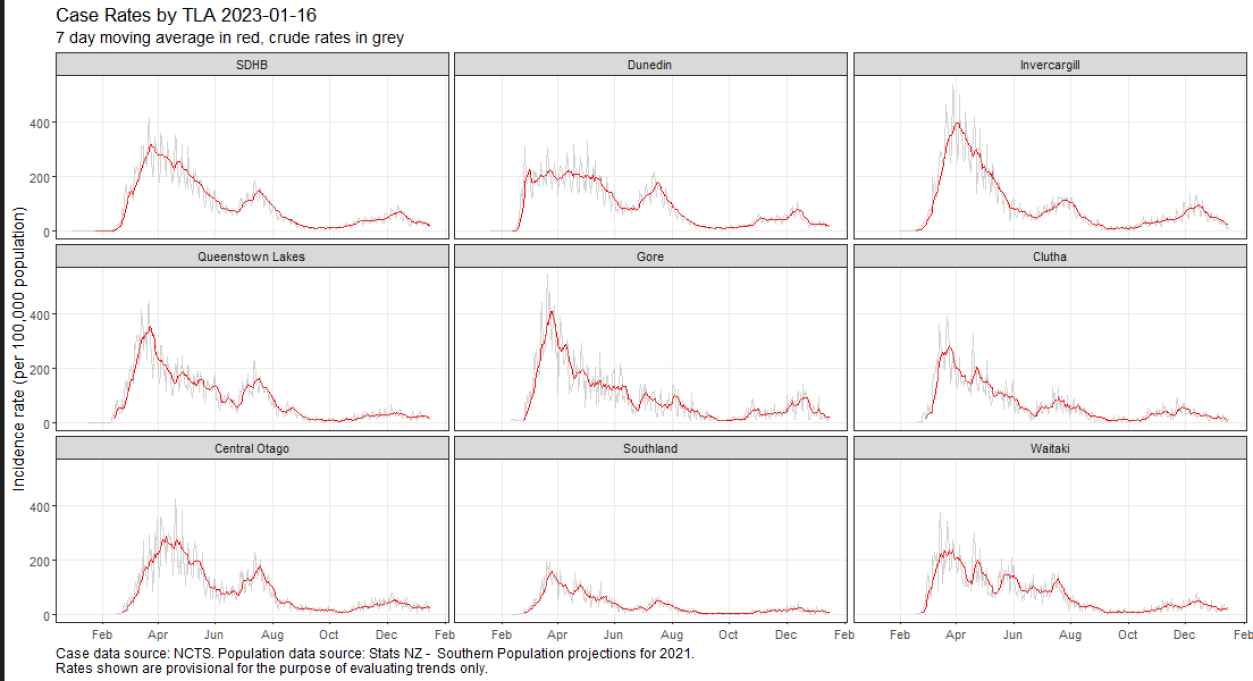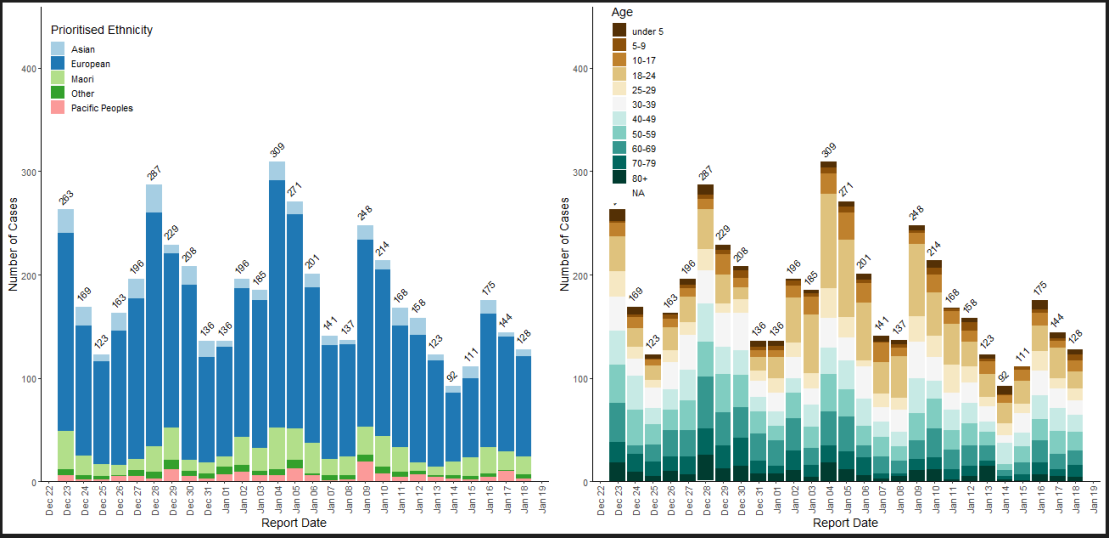 Covid-19 vaccination for high-risk children aged 6 months to under-5 starting 9 February 2023
A reminder that this is starting early next month. The criteria are not 100% finalised, but is likely to be no more than 1000 children in our district. Plans for this 3 course vaccination being rolled out are currently being developed by the Covax team.
So, great to see some information starting to come through on HPV primary screening for cervical cancer screening – this has potential to be a game-changer for equity in this area. Let's all get behind that.
And enjoy the summer evenings!
Ngā mihi nui
Carol