Update No. 53 - July 14, 2022
Tēnā koutou katoa
This is an 'out of cycle' update, to provide a heads up on information from the Ministry of Health about changes to oral antiviral medication availability, and some up to date information on the current wave of Covid in Southern.
Key points today:
Covid second wave is here
Oral anti viral prescribing criteria to be widened shortly
Oral anti viral medication will soon be reclassified as a restricted medicine, dispensible by community pharmacists
Updated guidance on reducing the risk of harm in primary care settings from Covid
PCR swabs for Possible Re-infection within 90 days no longer requested
The Southern picture
Yesterday was the first time in quite some weeks that we have more than 5000 known active cases of Covid in the Southern district. We are second to Canterbury in Covid rates per 1000 population. The highest rates are in Queenstown Lakes, Central and Dunedin. The infection rates in older age groups continue to increase. NZ Europeans have the highest by ethnicity, noting all this data is reported not actual. Hospitals are full, and a third of aged residential care facilities have positive residents and positive staff. Home based support services are only delivering essential cares in many parts of the district due to workforce shortages, and this is impacting on discharges from hospital.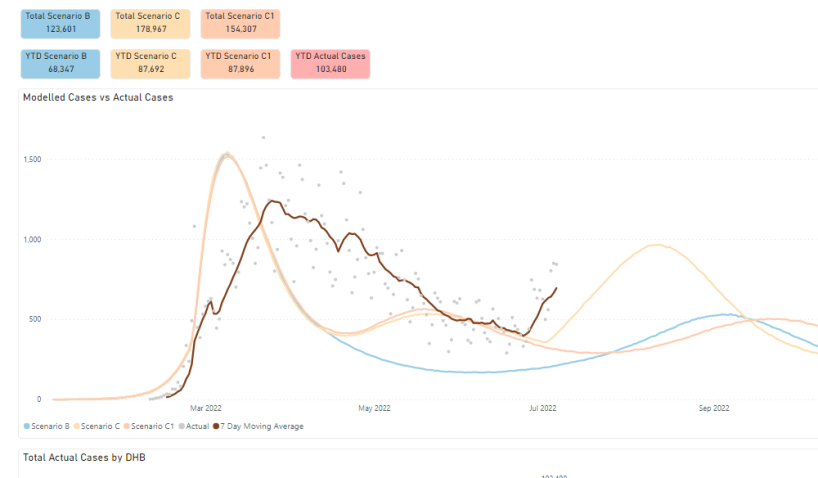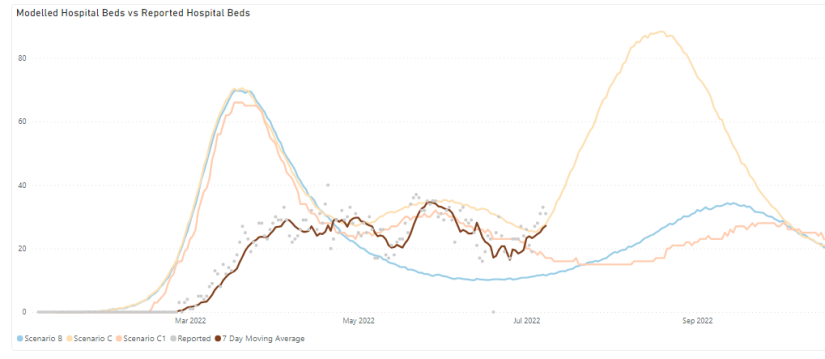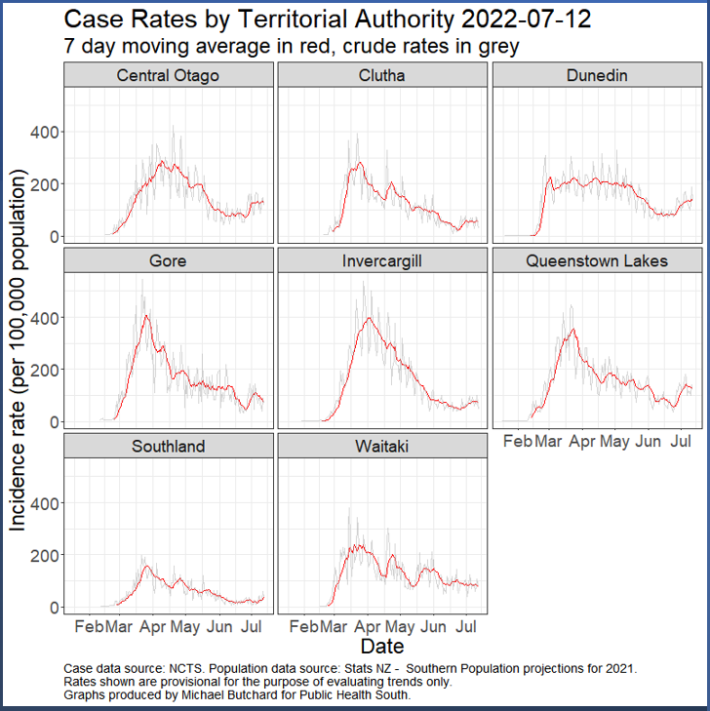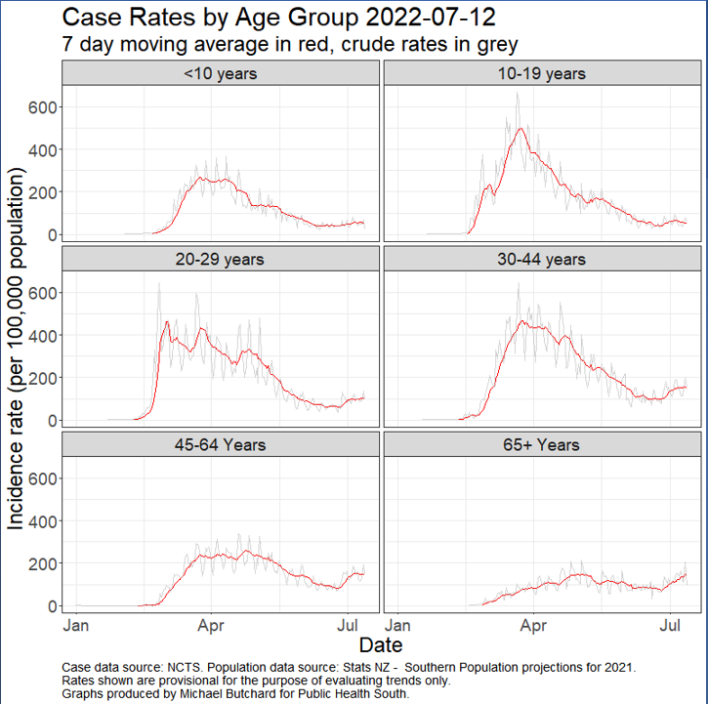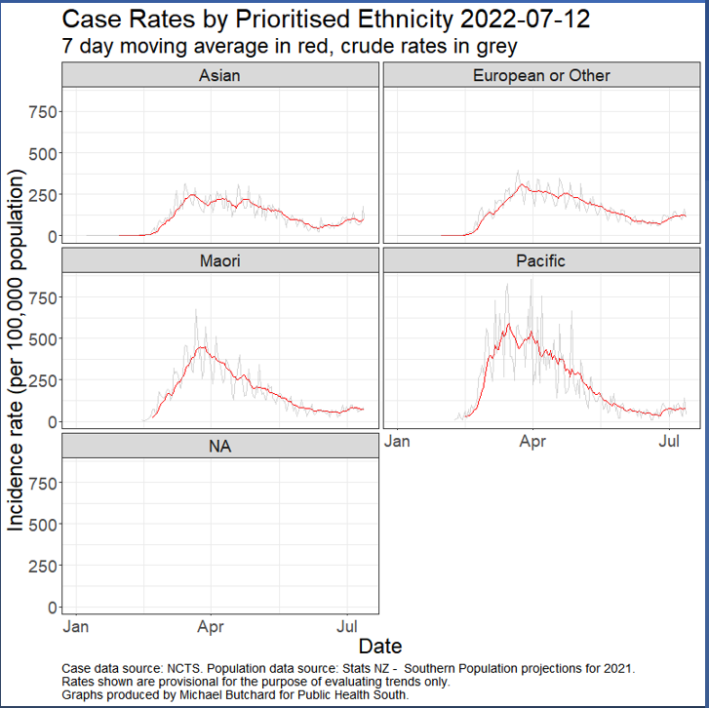 Managing COVID-19 Care in the Community
Changes being announced today regarding oral antiviral medication availability
The Ministry of Health are announcing that access to oral antiviral medication will be increased, through two measures:
Broadening the access criteria. Currently the criteria have been set by Pharmac, sot that the highest 2-3% of Covid positive people at risk of hospitalisation are eligible. They are broadening the criteria to target the top 10% of those at highest risk of hospitalisation will become eligible. As soon as we have the information on the new criteria we will update the Thalamus tool and will let you know when that is done.
The oral antivirals will soon be reclassified as restricted medicines, which means that the medication can be dispensed by a pharmacist without a prescription from an authorised prescriber. The aim is to increase access, and has this has already been implemented in other countries, for example Canada. We are fortunate that HealthOne is available to our community pharmacists in the South and this will help make this process smoother. Further details on the processes to underpin this will be released shortly.
Both of these changes are being signalled today, and implemented as soon as the nuts and bolts can be put in place. We will update HealthPathways when we have the information available.
Covid-19 primary care guidance about infection prevention and control measures
The attached pdf provides a summary of current MOH guidance regarding IPC measures in primary care settings. It is adapted from a document that the Auckland Covid resposne hub has put together, and our local technical advisory group has endorsed it. It is intended as a guide, and you are welcome to use where it is helpful.
Primary Care Response 2022 Southern Health System pdf
Covid Reinfections Pilot is ceasing
The Public Health and Pathology teams have reviewed the Covid re-infections pilot. Given that the MoH is now reporting on re-infections, and these can be entered as new infections into the system, the pilot's purpose has been acheived and the pilot will cease. Therefore, we do not need to do a PCR on probable re-infections – people can just be encouraged to do RATs and if >28d since their last infection they will be able to upload the result into My Covid Record and be treated as a case. If GPs clinically want to do a PCR then of course they will still be able to do that and could continue to use the SURV-REINF.
BA5 Variant of Concern
The expectation is that the BA5 variant will be dominant in NZ in the next week or so. It is appreciably more infectious that previous Omicron variants and we expect case numbers to rise in the coming weeks. People who become seriously unwell will increase, not because it is a more serious variant, but by sheer weight of numbers. We need to continue taking measures to reduce the risk of harm from COVID-19, including ongoing mask use and booster vaccinations, as well as hand hygiene and maximising ventilation in indoor spaces.
So we are in for a few weeks of pretty turbulent times. Hang on, hang in, and hang together.
Ngā mihi nui
Carol
Dr Carol Atmore, Medical Director, WellSouth