To access COVID-19 testing, call 0800 VIRUS 19. For up-to-date information on COVID-19: Click Here
Mood Boosting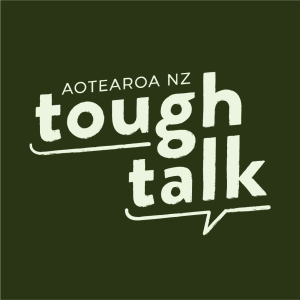 Tough Talk Season 1: The Conversation
EP1: Adam Sharplin
Adam Sharplin talks about how hunting, training for kickboxing, and spending time with his family contributes to his wellbeing. He also challenges men to feel their feelings, own them, and join in on activities with groups of men.
EP2: Ian Mason
Ian talks with Sam O'Sullivan about how focusing on his family and chopping wood contribute to his wellbeing. Together they begin to question some of the ways we were taught to think and behave as men in NZ.
EP3: Leo Murray
Leo Murray talks about how he finds focus through connecting with people, nature, and building community. He believes that true bravery is listening to feedback, feeling emotions as they happen, and aligning our behaviour with our values, even if it means becoming vulnerable to being cut down by others!
EP4: Matt & Wendy Rayner
Matt and Wendy talk about the changes they made together to improve their wellbeing and strengthen their relationship in response to Matt's breakdown. Matt talks about how anxiety and stress along with an injury in his 30's pushed him over the edge.
EP5: Cam Ryan
Cameron Ryan talks about how time in the bush, fishing, and open conversations with mates have improved his wellbeing. For Cam, the natural world is a lens he looks through to understand how we can support each other to grow and change in service of future generations.
EP6: Matiu Te Huki
Matiu Te Huki talks about how expressing his culture though the performing arts helped him overcome his shyness, find his purpose, and progress to becoming a leader. He also offers insight into what it is to be a man, and what he does on a daily basis to nourish his wellbeing.
EP7: Carl Hammington
Carl grew up in a culture that focused on physical prowess and competition, rather than looking after his wellbeing and finding a place within community. He tells the story of developing a "Superman Complex" growing up, wanting to be the best at everything, and taking this attitude to body building.
EP8: Devon Briggs
Devon Briggs, a good mate of Sam's, tells his story of growing self-confidence through skating as a kid, and then his confidence being damaged when his step-dad entered the picture. Learning mindfulness changed his life and he's been riding the upward spiral ever since.
EP9: Henry Samia
As a second generation Samoan New Zealander, Henry describes feeling pulled between two cultures and struggling to find a solid sense of identity. Henry believes that to be strong we need to find our village and be true to ourselves and our sense of purpose.
Ep10: Sas aka Matthew Peppercorn
Sas talks about his journey from using alcohol and cannabis to hide social anxiety and low mood, to living a fulfilling life. Over time, and through helping others as a Mental Health Nurse and Educator, he learnt that his own wellbeing improves when he expresses himself creatively, is connected with his community, and is living a balanced lifestyle.
EP11: Mal Law
Mal Law, the Kiwi Legend who ran 50 mountains in 50 days for Men's Wellbeing, talks about the emotional and physical experience of taking on this massive challenge. Expressing his feelings during the challenge was instrumental to Mal's success.