To access COVID-19 testing, call 0800 VIRUS 19. For up-to-date information on COVID-19: Click Here
Books on Prescription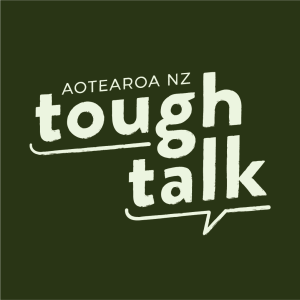 Tough Talk Season 2: Going Deeper
Episode 1: Matt & Sarah Brown | Sharing our Strength
Matt is a world-ranked barber and hair-artist. His barbershop has become a space for men to talk about their life without being judged. With the support of Sarah, he worked through his childhood traumas by being vulnerable and sharing his own story. We recommended to watch with subtitles due to some loud birds.
Episode 2: Caine Tauwhare | The Culture of our Ancestors
Caine shares with us the practice of whakairo, or traditional Māori wood carving. He was taught whakairo from a young age, which he now uses to support people through mentoring and teaching. Caine communicates his wisdom about how whakairo expresses a deep connection to ancestors & land.
Episode 3: Richard Hurt-long | Kevin & Raewyn Crozier | Fighting Internal Fires
In this episode, Richard, Kevin, and Raewyn (Kev's partner) share their experiences of the Christchurch earthquake. Richard and Kev courageously talk about their huge losses as a result of the earthquake and the trauma from responding to the CTV building. They both emphasise how important the support of their fellow firefighters was for maintaining wellbeing through the disaster.
Episode 4: Doug Avery | The Resilient Farmer
Doug is a well-known farmer from Seddon who has experienced his fair share of hard times farming in the drought striken Marlborough region of the South Island. Having persevered through droughts, earthquakes, and more, after losing all hope and coming out stronger on the other side, Doug tells us what tools he's created for his mental and physical resilience.
Episode 5: Sam don Barber | Meet in the Samwich
Sam don Barber is traveling Aotearoa in his van trading haircuts for services to raise awareness of masculinity, communication, and men's mental health. This is a thought provoking conversation that will lead you to question what it means to be a man.
Episode 6: Harlem Ratapu | Transformed by Tangaroa
Harlem is a spear fisherman, bee keeper, and amateur film maker. He talks about how aggression in relationships was the norm for him while growing up, which led to challenges in his relationships as an adult. The natural world taught him how to let go. He discusses how he manages anger and is now a role model for others to live more fulfilled lives.
Episode 7: Zac Franich | Redefining Success
Zac, New Zealand's own bachelor star and contestant of Dancing with the Stars, tells us about the environment of high performance sports – in the competition for "success" there is little energy for empathy. They also go deep into a conversation about masculinity, femininity, and redefining success and desirability.
Episode 8: Paddy Hawke | Owning Our Shame
In part 1, Sam & Paddy explore a common experience: bullying within friendship. We hear about Paddy's personal story of growing up, and how his relationship with his dad affected the way he acted toward Sam.
In part 2, Paddy tells us about his experience with managing stress, heavy workloads and burn-out. He shares a story about a time when he reached a tipping point, which revolutionised his approach to well-being and leadership.
Episode 9: Michael & Joe Walker | Back from the Dead
Michael begins by telling his story of public service success in the Navy, Army, DOC, and much more. He then tells a second thread, which until now had been interwoven invisibly through his story – his mental health journey with depression, anxiety, and surviving multiple suicide attempts.
Episode 10: Tiaki Coates & Harmz de Thierry | Tears of Ranginui
Tiaki and Harmz from Poutama Tāne, a rites of passage organisation for boys and men, talk about their work with supporting fathers and sons through a Te Ao Māori lens.
Episode 11: Adam Sharplin | Breaking the Cycle
Adam is back from Season 1. We investigate the historical roots of Adam's challenge with addiction as a young man and his journey to break the cycle of inter-generational trauma.