Warm Pacific welcome for Senior Clinical Advisor Dr Letava Tafuna'i
Thursday 27 April 2023
Appointment marks dedicated support for Pacific health providers and communities
WellSouth is partnering with Pacific providers to further increase support for the health and wellbeing needs of Pasifika communities in Otago and Southland.
A new Senior Clinical Advisor, Pasifika, is working with Pacific health providers in Dunedin, Invercargill, and Oamaru, as well as general practices across the region to improve care and the long-term health for Pacific aiga.
Dr Letava Tafuna'i, a respected GP and Associate Dean Pacific, Dunedin School of Medicine, has taken on the role and was officially welcomed to WellSouth today.
Letava is working closely with the Southern Pacific Provider Trust, the newly formed collective bringing together Pacific Island Advisory Community Trust, Pacific Trust Otago, and Oamaru Pacific Island Community Group to collaborate to improve and promote services for Pacific peoples south of Waitaki.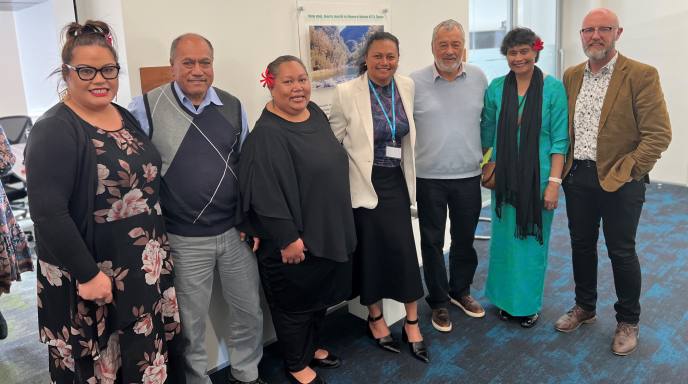 "We know that GPs and primary healthcare providers are dedicated to the care of patients and improving health outcomes. What more can we do and how can WellSouth help?," says Letava, who is Samoan-born and has Fijian heritage as well.
"I can support practices and providers to understand and better meet the particular health needs of the Pacific communities."
In Otago and Southland, there are approximately 11,000 people from Pacific Island nations or of Pacific Island heritage, with a large percentage of the population under the age of 23.
"Diabetes, cardiovascular disease, and other long-term conditions are a concern in Pacific Island populations as they are in other communities, but Pacific people don't always have the same access to treatments and care. We need to close the gap and help with prevention – particularly where we have such a high percentage of young people," Letava says.
Promoting childhood vaccinations and boosters for adults is another priority and Letava has already helped bring WellSouth, Te Whatu Ora Southern and pacific providers together to deliver free vaccination clinics in Invercargill and Dunedin, with another planned for Oamaru.
Reducing barriers and promoting equity
Among Letava's aims is to advocate for Pacific communities, reduce barriers to care, encourage engagement with health providers and to help health providers better understand the needs of their Pacific patients.
"I have a role to play as a connector, doing all I can to reduce disparity and improve health outcomes," says Letava, who also hopes to encourage and support more Pacific Island youth into careers in health services.
In addition to welcoming a Senior Clinical Advisor Pasifika, WellSouth has also recently added two new Pou Tōkeke (Equity) population pharmacists to help providers and patients and ultimately improve health outcomes for Māori and Pacific patients in the region.
WellSouth CEO Andrew Swanson-Dobbs says: "WellSouth is here to listen and to respond, to use our resources and the strengths of our teams to help make our communities stronger and healthier. We are grateful to have partnerships that enable us to have more of an impact and we are particularly excited by what we can do to improve equity for Māori and Pacific communities."
Welcoming Letava, Pacific Trust Otago Chair Tai Sopoaga says: "I am delighted that Dr Tafuna'i has taken on this role within WellSouth, and we look forward to working with her to support our Pacific communities. She brings a strong work ethic and significant experience having worked in Samoa, Fiji and with the indigenous peoples in Australia and of course here in Aotearoa."
Before taking on the new clinical advisor role, Letava was a GP in Dunedin and has worked in primary and secondary care in Auckland, Australia, and Samoa.
View more news