WellSouth working to boost Covid-19 vaccine rates among Māori and Pasifika  
Thursday 23 September 2021
Supporting greater uptake of the Covid-19 vaccine, WellSouth's call centre is reaching out to unvaccinated Māori and Pasifika patients in the district, offering to book their vaccines.
Nine new part-time staff have been contracted to make outbound calls on behalf of general practices.
"We want to make it as easy as possible for people to get the vaccine, and will help book them in at any provider that is convenient, whether a GP, pharmacy, a Māori or Pacific health provider or one of the bigger vaccine clinics," says Peter Ellison, WellSouth Associate Māori Health Strategy & Improvement Officer.
"We're reaching out and making an offer to help and supporting people to access the Covid vaccination at a time and venue that best suits their needs."
The new staff are making the outbound calls between 5.30pm and 8.30pm weekdays when people are more likely to be available to receive calls. Taking a whānau-centred approach, the team will offer to book in anyone in the household over the age of 12, so households shouldn't receive multiple calls.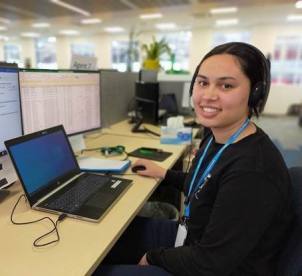 Tiare Scott is one of nine new WellSouth call centre support staff making calls to
Māori and Pacific patients across the district, with the aim of helping to increase vaccination rates.
WellSouth CEO Andrew Swanson-Dobbs says WellSouth works to ensure equity of access to all health services and programmes which is vital for the Covid-19 vaccination programme as well.
"We want to see vaccination rates for Māori and Pacific Island populations, as well as other priority populations, leading the way in the district.
"With the aim of getting 90% of those eligible vaccinated before the end of the year – it is important to exhaust every avenue to reach unvaccinated populations and remove barriers to accessing the vaccine," he says.
Southern is among the top performing districts for the vaccine roll out and the distributed delivery model that uses general practices, pharmacies, Māori and Pacific health providers, along with pop up and drive through clinics, is the reason for the high vaccination rates – currently over 75% of those eligible have at least one dose.
"Rates aren't as high for the Māori and Pacific communities and we are working with these communities to address this equity gap," says Peter.
Calls to Māori and Pasifika will continue as the service is needed. Māori and Pasifika in the community can also call in to the call centre to have a vaccine booked. 03 260-7207 – 5.30 to 8.30, Monday to Friday.
Significant work is already being done by general practices across the district to recall Māori and Pasifika patients and help them and their whānau to be vaccinated.
In addition to this latest call centre initiative, WellSouth has also supported Māori and Pacific vaccine clinics delivered by Te Kāika, Otago Oamaru Pacific Island Community Group and Pacific Trust Otago.
####
View more news